"Looking forward" says White House on Possible Biden-Xi Meet at G20
2 September, 2023 | Akshara Tyagi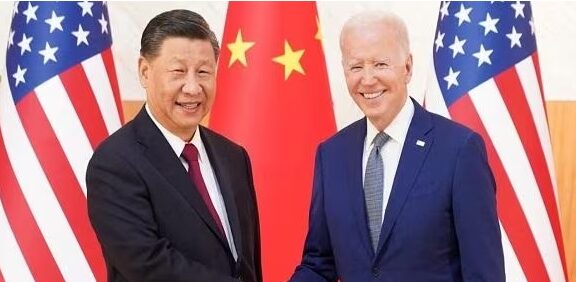 White House anticipates Biden-Xi Jinping meeting at G20 Summit, focusing on dialogue and maintaining China's relationship.
The White House has expressed anticipation for a potential meeting between President Joe Biden and China's President Xi Jinping during this year's G20 Summit in India. They emphasized President Biden's interest in engaging in dialogue and maintaining the existing relationship with China.
On Friday, White House Press Secretary Karine Jean Pierre said, "I'll just let the President's words stand for him. Joe Biden spoke about it during his press conference at Camp David. You heard him speak of it; he's looking forward to having that conversation and continuing that ongoing engagement."
The White House has acknowledged the uncertainty surrounding Chinese President Xi's attendance at the G20 Summit and has noted that President Biden has reiterated his eagerness to sustain dialogue and engagement with President Xi on multiple occasions.
"So, as it relates to his attendance—President Xi's attendance to the G20—I would leave that to, you know, his spokesperson to answer that question, not for me to answer," said the White House Press Secretary.
Earlier on Thursday, sources with knowledge of the situation from India and China indicated that President Xi Jinping is likely to forgo attending the upcoming G20 Summit in India, scheduled for next week.
Instead, Chinese Premier Li Qiang is expected to represent Beijing at the meeting taking place on September 9–10 in New Delhi. This information was provided by two Indian officials: a diplomat based in China and an official from another G20 country. However, both the Indian and Chinese foreign ministries' spokespersons did not respond to requests for comments.
In the meantime, Prime Minister Narendra Modi held a conversation with Chinese President Xi during the BRICS Summit. During this interaction, Prime Minister Modi expressed India's concerns regarding unresolved issues along the Line of Actual Control (LAC) in Ladakh.
Both leaders agreed to instruct their respective officials to increase their efforts towards a speedy disengagement and de-escalation.
Since 2020, India and China have been embroiled in a border standoff due to actions by the Chinese Army. There have been some instances of disengagement at certain friction points along the LAC in eastern Ladakh.
Earlier this month, India and China held the 19th round of Corps Commander-level talks at the Chushul-Moldo meeting point on the Indian side.
Also Read: Delhi decks up for G20 summit on September 9-10
Catch all the Latest Business News, Breaking News Events, and Latest News Updates on NewsX