Delhi: Yamuna River Water Level Drops Below Danger Mark
19 July, 2023 | Anamika Singh Parihar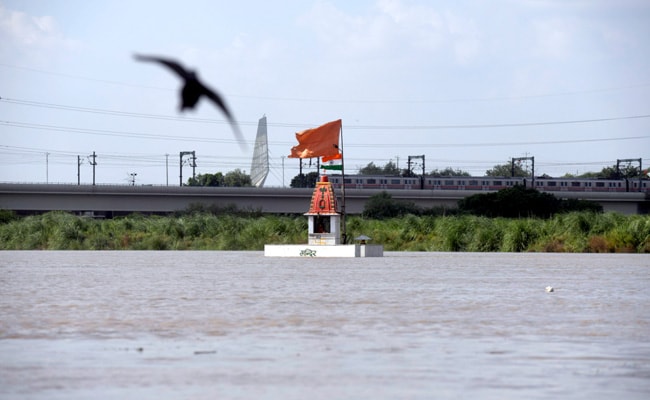 The water level of the Yamuna River went down below the danger mark on July 19 morning.
The water level of Yamuna went down below the danger mark and touched 205.25 meters on Wednesday morning. It was recorded at 205.25 metres at 6 a.m. on Wednesday while it was recorded at 205.35 metres at 7 p.m. on July 18. A slight increase was recorded in the water level of Yamuna on July 17 due to heavy rains in some parts of Haryana.
205.33 meters is considered a danger mark for the river. The Yamuna River in Delhi breached the danger mark at 5 p.m. on July 10.
In Delhi, the water level of Yamuna River breached the record of 45 years and reached its highest-ever mark at 207.55 marks on 12 June.
Indian Meteorological Department (IMD) on July 18 announced rainfall is expected in Delhi and some parts of the National Capital Region.
Multiple parts of Delhi continue to deal with the problem of flood-like situations and waterlogging while heavy rains lashed various parts of the National Capital on.
The State Government has announced the lifting of the ban on heavy vehicle entry into the national capital from July 19 amid the situation going back to normal in Delhi.
The entry of heavy vehicles into Delhi was banned from the Singhu Border, Badarpur Border, Loni Border, and Chilla borders thanks to waterlogging by the State Government on July 13. However, heavy vehicles with food items and other essentials were not part of the ban.
National Disaster Response Force (NDRF) has deployed 17 teams for rescue work in flood-affected districts of the national capital. 1606 people have been rescued from these areas. More than 7241 people and 956 livestock have been evacuated by the NDRF teams. Pre-hospital treatment has been given to many rescued people. Many rescued people are living in 44 camps including community buildings, schools, and some temporary relief camps.