Yatra to 'baba barfani' halted for second consecutive day
8 July, 2023 | Poorti Buttan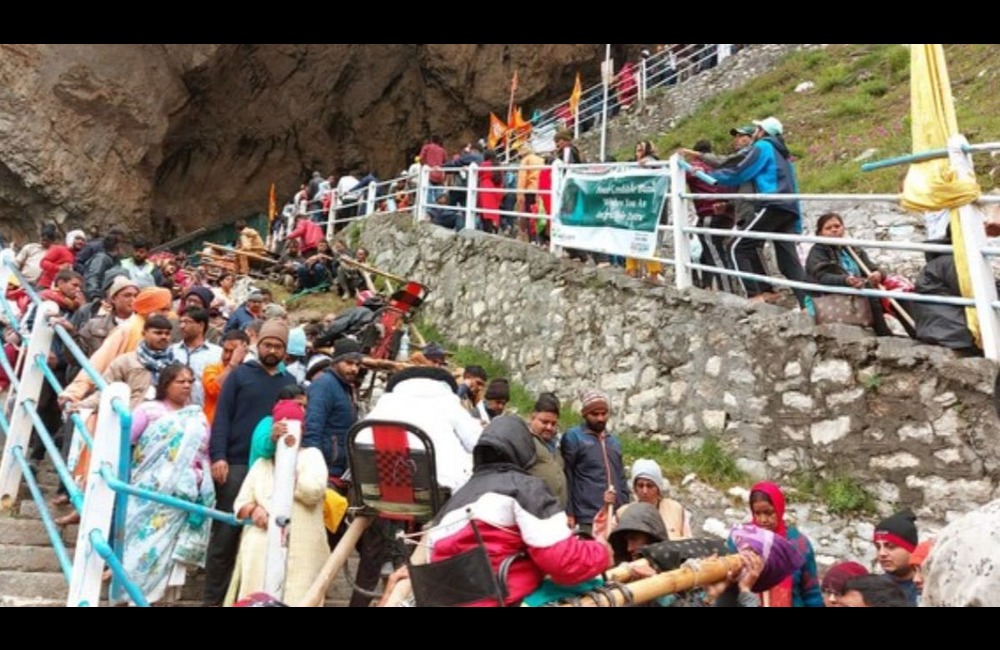 Owing to the inclement weather conditions and the landslide that hit the Baltal route of the Amarnath yatra, the officials have suspended the yatra for two consecutive days from July 7.
As the rain continued to lash the majority of Kashmir, the Amarnath Yatra was postponed for the second day in a row owing to unfavorable weather conditions in the state. Due to the bad weather, the c is still suspended from the Pahalgam and Baltal routes today.
Officials on July 7 declared that no pilgrim was allowed to move towards the holy cave shrine. According to the officials, the unfavorable weather conditions prevailing in the union territory led to fresh batches of the pilgrims being prohibited from moving forward with their pilgrimage owing to blockage and closure of the Srinagar-Jammu Highway due to landslides.
As a landslide hit the Baltal route of the Yatra track because of the heavy rain,the journey of the pilgrims halted and the devotees were stopped at the Baltal and the Nunwan base camp on July 7. Reportedly, there were no casualties during the landslide. The officials plan to resume the yatra as soon as the weather clears.
According to the reports, around 80,000 pilgrims have made their way to the holy cave shrine of Amarnath and paid their obeisance thus far.
The Traffic Police in Jammu and Kashmir has posted a tweet advising the general public to not use the NH-44, Mughal Road, and the SSG Roads that have faced blockage owing to the landslides till the clearance.
The official spokesperson has also reported that pilgrims are being assisted in the entire journey by state agencies and civil departments and all the essentials and facilities are being provided to them. "All the departments including Police, SDRF, Army, paramilitary, Health, PDD, PHE, ULB, Information, Labour, Fire and Emergency, Education, and Animal Husbandry have saturated the overall requirements and arrangements of SANJY by the deployment of their men and machinery", added by the spokesperson.
Situated at a height of 3,888-meter-high cave shrine in the south Kashmir Himalayas from the twin trails of Pahalgam in Anantnag district and Baltal in Ganderbal district, the 62-day annual pilgrimage was opened for the devotees on July 1, 2023. The yatra is supposed to be concluded on August 31, 2023.