5th Kalvari-class submarine 'INS Vagir' commissioned into Indian Navy
23 January, 2023 | Pragati Singh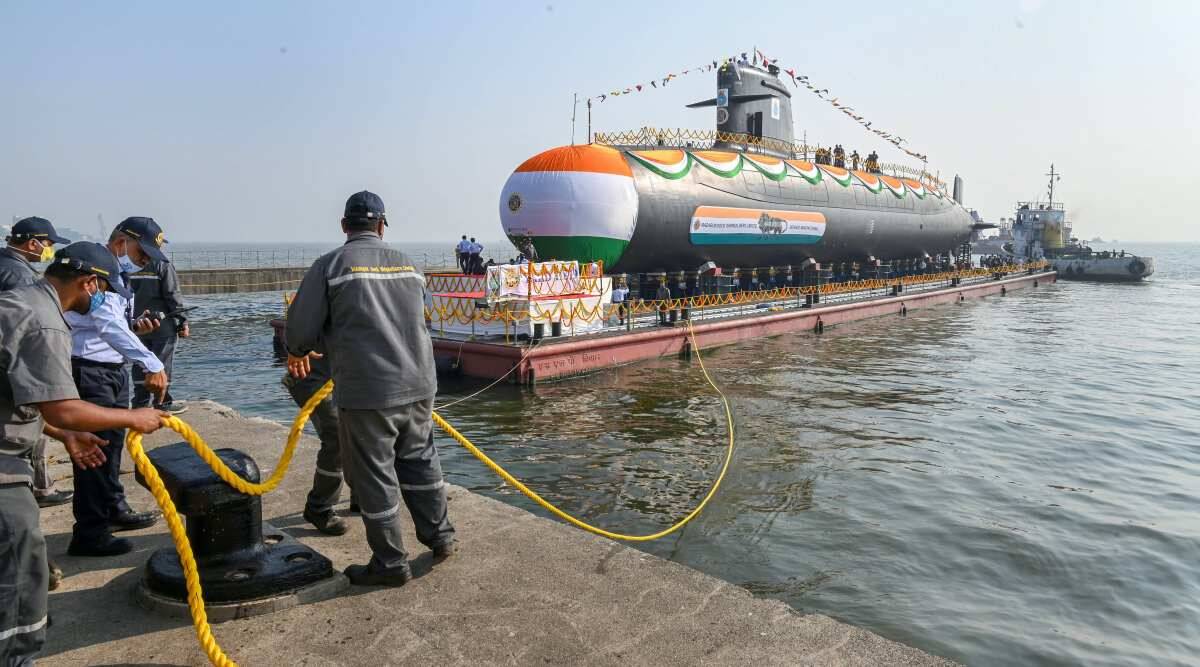 Indian Navy commissioned INS Vagir, the fifth submarine of the Project 75 Kalvari class, on Monday at the naval dockyard in Mumbai.
In the presence of Chief of the Naval Staff Admiral R Hari Kumar, the Indian Navy commissioned INS Vagir, the fifth submarine of the Project 75 Kalvari class, on Monday at the naval dockyard in Mumbai. The submarine, renamed 'Vagir' and launched on November 12, 2020, holds the distinction of having the shortest build period among all indigenously produced submarines to date.
According to the defence ministry, 'Vagir' had her first sea sortie in February 2022, kicking off sea testing, and has gone through a series of rigorous acceptance tests as well as severe and challenging sea trials before being commissioned. MDL handed the submarine to the Indian Navy on December 20, 2022.
'Vagir' will strengthen the Indian Navy's capabilities to advance India's maritime interests by performing a variety of operations such as anti-surface warfare, anti-submarine warfare, information gathering, mine laying, and surveillance missions.
"Vagir is a lethal platform with a formidable weapon package. Vagir is the third submarine inducted into the Navy in a span of 24 months. It is also a shining testimony to the expertise of our shipyards to construct complex and complicated platforms," said Admiral R Hari Kumar.
Daljinder Singh, coxswain of the fifth Kalvari submarine 'INS Vagir,' stated on Saturday that the submarine is prepared to meet any threat if war breaks out between India and China.
While talking to ANI, Singh said, "This submarine is the latest technology of the Indian Navy. It is a silent submarine. It has good anti-submarine weapons like the advanced version of mines. It has advanced versions of combat and advanced version of sonar, and radar systems."
"All the technology used in the submarine is Indian. If there is a war between India and China, then we are ready to face it," Singh added.
While Commanding Officer CDR Divakar S told ANI, "INS Vagir can be deployed both closer to the shore as well as mid-ocean. It will be ready to meet all the requirements of the Navy and the country. It is a big step towards becoming Atmanirbhar Bharat. This is the fifth Kalvari class submarine."
Four Kalvari class submarines have already been delivered to the Indian Navy.
The former 'Vagir' was commissioned on November 1, 1973, and performed a variety of operational roles, including deterrence patrols.
After nearly three decades of service, the submarine was retired on January 7, 2001. 'The Sand Shark' (Vagir) denotes 'Stealth and Fearlessness,' two attributes associated with the submariner's mindset.
The induction of Vagir marks another stride in the Indian Navy's consolidation of its status as a builder's Navy, as well as a reflection of MDL's capabilities as a top ship and submarine manufacturing yard.