First batch of pilgrims commence annual Amarnath Yatra in Jammu and Kashmir
1 July, 2023 | Muskan Menghani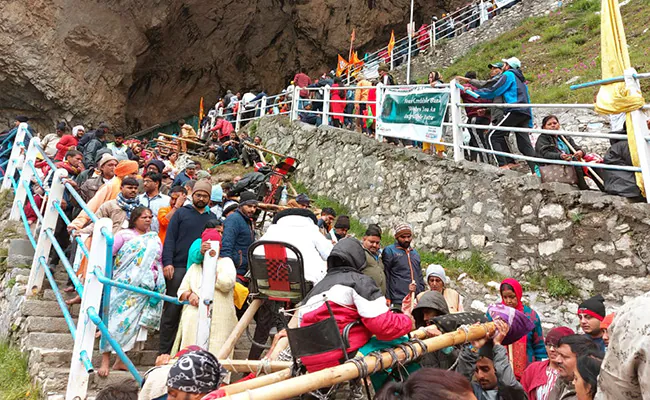 First group of pilgrims embark on their journey to the revered Amarnath Cave from the Baltal base camp in Ganderbal
The eagerly awaited annual Amarnath Yatra commenced on Saturday as the first group of pilgrims embarked on their journey to the revered Amarnath Cave from the Baltal base camp in Ganderbal. The Yatra was flagged off by senior members of the Shri Amarnath Ji Shrine Board, along with the police and Deputy Commissioner of Ganderbal, Shyambir.
"Today we are sending off the first batch of passengers from here. I wish everyone a happy journey. Passengers are requested to take advantage of all the facilities available to them. Right now there are around 7,000 to 8,000 passengers. Registration is still going on. Our volunteers are everywhere to help," Shyambir, Deputy Commissioner of Ganderbal said.
Spanning a duration of 62 days, the Amarnath Yatra will conclude on August 31. Pilgrims will undertake a challenging 12-kilometer trek, reaching an altitude of approximately 13,000 feet, from the base camp to the sacred Amarnath Cave shrine nestled in the South Kashmir Himalayas.
The first batch of pilgrims arrived at the Baltal base camp on Friday, where they were warmly received by the district administration at the Tikri Kali Mata Temple in Udhampur district.
Two routes are available for the annual pilgrimage: the Baltal route in Ganderbal district of central Kashmir and the Pahalgam route in Anantnag district of south Kashmir. Earlier, on Friday, Lieutenant Governor Manoj Sinha led the first group of Amarnath Yatra pilgrims from the Jammu base camp, marking the beginning of the spiritual journey.
In preparation for the Yatra, several "langar" committees started their services to cater to the pilgrims. Along the Jammu-Srinagar National Highway in Udhampur district, these committees set up shelters, cooking facilities, and stocked essential supplies. A total of 22 langars have been established at various locations along the NHW-44 this year.
Lieutenant Governor Manoj Sinha, who is also the Chairman of the Shri Amarnath Ji Shrine Board, inspected the arrangements made for food, accommodation, security, registration counters, medical facilities, sanitation, transportation, and other necessary services. He emphasized the need for increased staffing in healthcare, sanitation, and other essential areas. Additionally, Sinha engaged with visitors and inquired about the facilities provided.
Furthermore, Ramesh Kumar, Divisional Commissioner Jammu, informed the Lieutenant Governor that additional buses had been stationed at crucial pilgrimage sites, allowing Samba and Kathua to accommodate more pilgrims compared to the previous year. With heightened preparations and dedicated efforts, authorities aim to ensure a smooth and secure Amarnath Yatra for all devotees.