Toronto's Indian community takes a stand against pro-Khalistani protests
9 July, 2023 | Priya Rani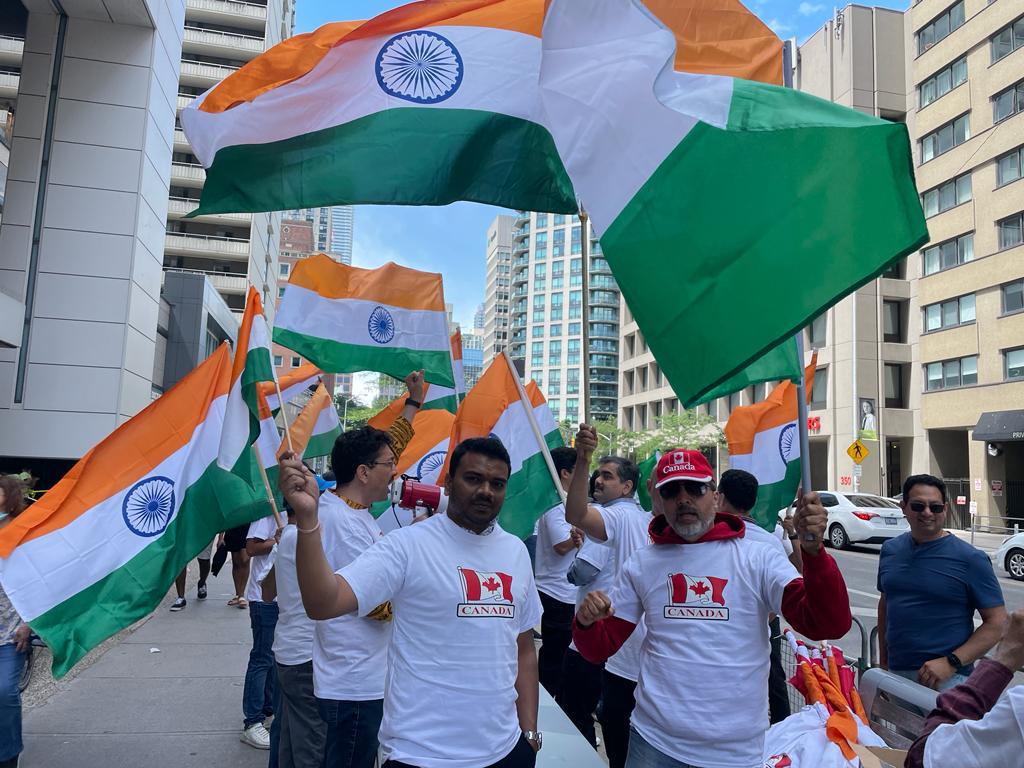 Indian community in Canada come together displaying the Tricolour to defend consulate
Members of the Indian community in Canada gathered outside the consulate in Toronto, displaying the Tricolour, in a united effort to protect Indian diplomats and the consulate office while countering a pro-Khalistan protest. The Indian diaspora raised slogans such as "Bharat Mata ki jai" (Victory to Mother India), "Vande Mataram" (I bow to thee, Mother), "Long Live India," and "Khalistan Murdabad" (Death to Khalistan). They carried placards stating "Khalistanis are not Sikh" and "Canada stop supporting Khalistani Canadian terrorists."
The pro-Khalistani protesters were seen disrespecting the Indian Tricolour in a video.
Members of the Indian community, including Sunil Arora and Anil Shiringi, expressed their solidarity with the Indian Consulate and condemned the threats made against Indian diplomats by Khalistani elements. They stood up against the Khalistani's threat and emphasized the importance of peaceful coexistence in Canada. Another member of the Indian community, called upon the Canadian government to address the issue and take appropriate action against those promoting separatism.
Following the alleged killing of Khalistan Tiger Force chief Hardeep Singh Nijjar in Canada, pro-Khalistani elements had announced rallies outside Indian missions in various countries, including the UK, US, Canada, and Australia. Posters threatening Indian ambassadors and the consulate general in Toronto were circulated, raising concerns about the safety of Indian diplomats.
India has expressed its concerns to Canada over the threats to its diplomats and the circulation of posters linking them to the alleged killing of Nijjar. The posters named Indian High Commissioner Sanjay Kumar Verma and Consulate General Apoorva Srivastava, accusing them of involvement in Nijjar's death. These incidents highlight the ongoing tensions involving Khalistani separatist elements in Canada.