Startups garnered over 40 lakh jobs: PM Modi virtually attends Rashtriya Rozgar Mela
13 April, 2023 | Vaishali Sharma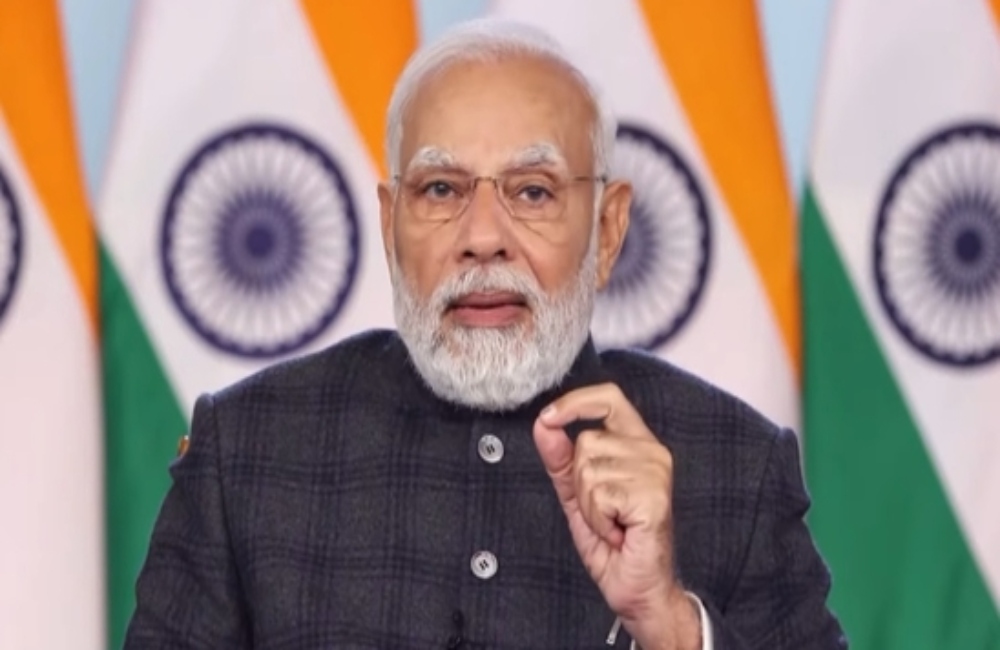 PM Modi virtually handed out appointment letters to 71,000 new recruits at the Rashtriya Rozgar Mela on Thursday.
Prime Minister Narendra Modi virtually handed out appointment letters to 71,000 new recruits at the Rashtriya Rozgar Mela on Thursday, claiming that startups have produced over 40 lakh direct and indirect jobs in the country.
The Prime Minister stated that the Rashtriya Rozgar Mela demonstrates the government's commitment to raising youth spirit and providing job opportunities.
"Startups have created more than 40 lakh direct and indirect jobs; this shows India's resilient startup culture. Today India is the fastest-growing economy in the world. The policy and strategy being followed by today's New India have opened up new possibilities and opportunities in the country," PM Modi said on the occasion.
Stating that over 70,000 youth have got government jobs in various departments of the central government on the day of Baisakhi today, the Prime Minister said that the process of giving govt jobs in NDA and BJP-ruled states is going on at a fast pace.
"Appointment letters have been handed over to more than 22 thousand teachers in Madhya Pradesh yesterday," he said.
Mentioning the growing Defence sector in the country, PM Modi said that India has exported Defence equipment worth Rs 15,000 crore.
"An approach was dominant in the country for decades that the Defence equipment can only be imported. We did not believe in our own country's manufacturers. Our government changed this approach. Our armed forces have prepared a list of 300 such equipment and weapons which will be made in India only. Today, India is exporting Defence equipment worth Rs 15,000 crore," he said.
Detailing the self-reliance in various sectors of the country including drones, the Prime Minister said that youth are engaging in new-age technologies.
"New India's youth are increasingly involved in drone manufacturing and becoming drone pilots. For decades our children used to play with toys imported from abroad. We started promoting the indigenous toy industry, and this created new employment opportunities for our Yuva Shakti. The capital investment in infrastructure projects propels employment generation & creates diverse opportunities for Yuva Shakti," he said.
He lauded the health sector in the country and said that it is becoming the best example of employment generation.
"The ports sector is developing. The health sector is also becoming the best example of employment generation. Every infrastructure project is generating employment opportunities. Farm mechanisation has increased in the Agriculture sector which has increased job opportunities in the rural area," he said.
"Till 2014 there were 74 airports in India, now there are 148 airports. Due to the increase in airports, new employment opportunities have also opened up," the Prime Minister added.
Meanwhile, the Rozgar Mela is a step towards fulfilling the Prime Minister's vow to give the highest priority to job creation.
The Rozgar Mela is expected to serve as a catalyst for additional job creation and to create important possibilities for youth empowerment and engagement in national development.
As a part of this programme, Union Minister of Ports, Shipping and Waterways and Ayush Sarbananda Sonowal would give over the appointment letters to the newly selected youths at Railway Rang Bhavan Cultural Hall, Guwahati.
Rameswar Teli, Union Minister of State in the Ministries of Petroleum and Natural Gas and Labour and Employment, would hand out the appointment letters at the Imliyanger Memorial Centre in Dimapur.
In this program, appointment letters would be distributed to 207 candidates in Guwahati, 217 individuals in Dimapur, and 225 candidates in Siliguri from various government departments.
The new recruits, selected from across the country, will join various positions/posts under the Government of India including Train Manager, Station Master, Sr commercial cum Ticket Clerk, Inspector, Sub Inspectors, Constable, Stenographer, Junior Accountant, Postal Assistant, Income Tax Inspector, Tax Assistant, Sr Draughtsman, JE/Supervisor, Assistant Professor, Teacher, Librarian, Nurse, Probationary Officers, PA, MTS, among others.
The newly appointed will also be able to teach themselves through Karmayogi Prarambh, an online orientation course for all new appointments in various Government agencies.