AAP complains with DGP Punjab about plot to overthrow govt as 8 Cong MLAs defect to BJP
15 September, 2022 | Riya Girdhar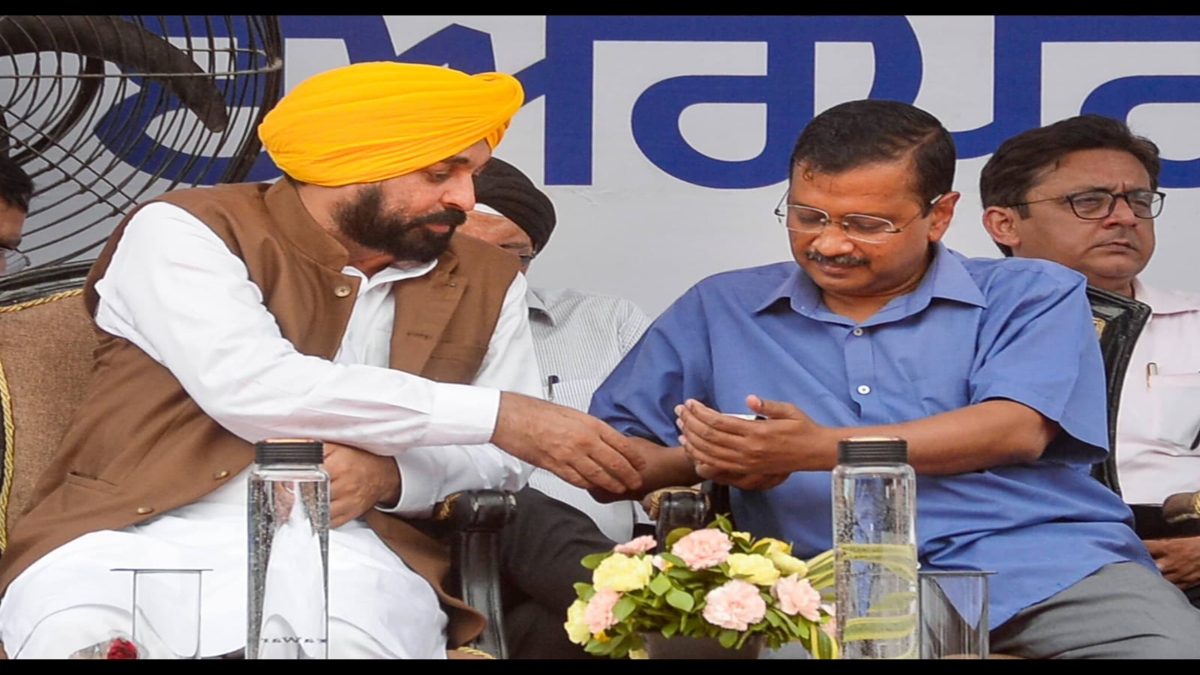 Chief Minister Bhagwant Mann declares in a video from Germany that he has complete faith in his MLAs.
A group of 12 AAP MLAs were led by Punjab Finance Minister Harpal Cheema to file a complaint with Director General of Police Gaurav Yadav about the "efforts being made by BJP to topple the Aam Aadmi Party government in Punjab" on the same day that eight Congress MLAs in Goa switched parties to the BJP.
A day after claiming that AAP MLAs in the state were being given between Rs 20 and Rs 25 crore to join the BJP, Cheema moved to file a complaint and provide evidence on Wednesday. AAP MLAs in the state put up a united front for the media, but Chief Minister Bhagwant Mann urged them not to betray their "motherland" in a video from Germany.
"They attempted Operation Lotus in Delhi as well, but it was unsuccessful. Mann stated in a video message from Germany, where he is taking part in a trade fair, that no MLA was sold. "Punjabis are devoted to the motherland," Mann claimed he wanted to convey to the BJP.
"I want to inform them (BJP) that when Alexander set out to conquer the world, Punjabis stopped him. Our legislators will be devoted to their country, I have no doubt. They paused, resisted being sold, and buckled. The BJP believes that they can seize power through corruption if they are unable to win a democratic election. There is no question in my mind that my coworkers would demonstrate their commitment to the homeland. We have all shared dreams of bringing Punjab back to life. We'll make that fantasy a reality. The good deeds of AAP escape the comprehension of the BJP. They are doing all of this as a result, according to Mann.
At a news conference in Punjab, Cheema declared that Operation Lotus had failed there. "If anyone is opposing the BJP, it's AAP. BJP won't be successful in this. Legislators support Arvind Kejriwal and AAP. Even if they were handed Rs 2,500 crore, they wouldn't leave the AAP, he claimed.
Before filing a complaint with the DGP, Cheema spoke to the media alongside the deputy speaker of the Vidhan Sabha, Jai Krishan Singh Rori, and the following members of the legislature: Budh Ram, Manjit Singh Bilaspur, Kulwant Singh Pandori, Dinesh Chadha, Narinder Kaur Bharaaj, Taranpreet Singh Sond, Raman Arora, Pushpinder Singh Happy, Rajnish Dahiya were also a part.
Cheema claimed that all of the MLAs present had evidence that they had received calls (from BJP). "I'm not telling you that. First, we want to include it in our complaint. Then we'll make it known to the public," he said.
Sheetal Angural, a Jalandhar MLA, allegedly received a threatening call on Tuesday, urging him not to make the proof of BJP calls to him public, according to Cheema. "He was under threat of being killed. We will present the DGP with all available proof, Cheema stated.
After Congress MLAs from Goa defected and joined the BJP, Cheema claimed that the BJP's accusations that he was lying had been refuted. The events in Goa on Wednesday were evidence that the BJP was making progress by launching Operation Lotus in states that were not BJP, he noted.
Later, Aman Arora, a cabinet member, spoke to the media and declared that all MLAs supported Mann and Kejriwal and would not permit the BJP's plans to succeed.
The state BJP unit praised AAP on Wednesday for taking the initiative to file a complaint, stating that "the guilty must be exposed," but questioned why Cheema withheld the identities of the MLAs who received these calls and why they had not yet filed a FIR.
"We applaud AAP's decision to file a formal complaint with the DGP…
Let the matter be thoroughly investigated, and let the guilty be made known to the public. The identity of the callers will only become clear at that point, according to BJP Punjab chief spokesperson Anil Sarin.
"Go, file a FIR…" Police and Sarkar are yours. Allow people to be seen. Ashwani Kumar Sharma, the state BJP president, declared that the BJP will not flee. Sharma responded to the AAP's claims that the BJP's Operation Lotus had failed in Delhi by saying, "Even in Delhi, they did the same drama. They were only diverted and unable to demonstrate anything. The identical plot is being used right now.
Tarun Chugh, national general secretary of the BJP, has called for a CBI investigation into the claims made by the AAP leaders.