AAP MLA Raghav Chadha speaks at NBF Conclave
21 October, 2022 | Riya Girdhar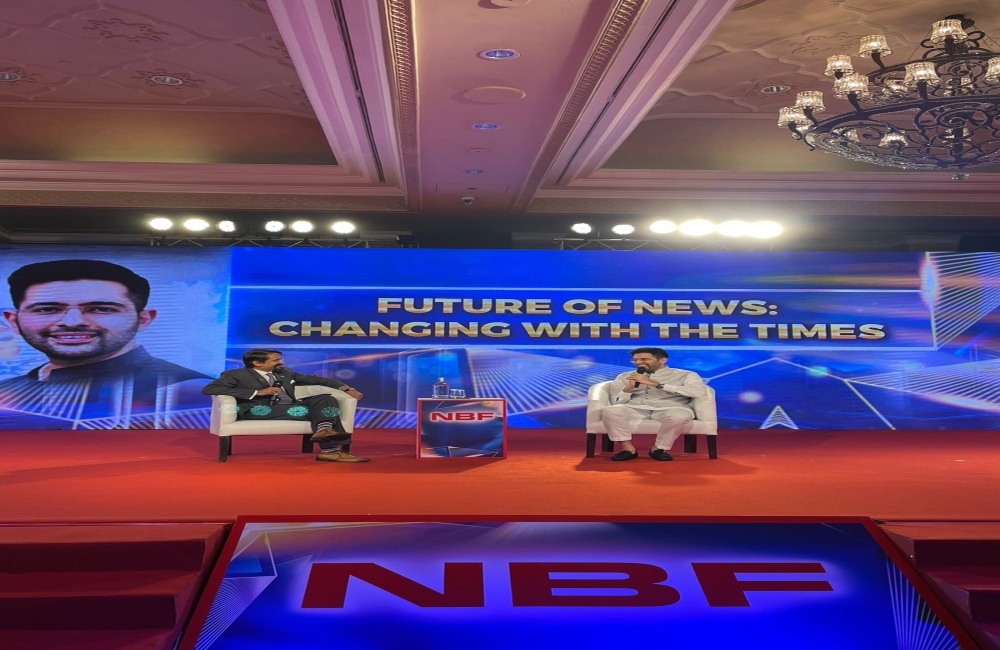 The NBF conclave is taking place at the Taj Palace, New Delhi which seeks to have a discourse about the future of the news industry.
In an enlightening conversation with NewsX's Rishabh Gulati spoke to AAP MLA Raghav Chadha on Media and opposition
RISHABH GULATI – You've been a National spokesperson for your party for very many years. How has your relationship, understanding and experience with the media evolved from then to now?
RAGHAV CHADDHA – I would define my 11-year-long relationship with the media as 'kuch khatta, kuch meetha'. It has been a mix of both. The journey started when I was as young as 21 or 22, when news anchors and co-panelists did not take me seriously. From that day to being a member of the parliament in the Upper House has been quite a journey. In the last decade, I have also seen the media evolve and change. There have been times when media has been indulgent, impartial, independent and times when media has performed the duty of bloodhound rather than a watchdog. Hence, I've experienced both sides of the spectrum.
RISHABH GULATI – Having watched the evolution of the Aam Aadmi Party, it's a revolution that has happened in the past decade, but there was once an energetic activist named Arvind Kejrwial who was given a lot of exposure by the media and it's the media who amplified its cause and made a contribution to who he is today.
RAGHAV CHADDHA – There have been times when in this country where pressure groups and social movements have got a lot of attention from the media. That section of media most represented the sentiment of the people. Now since you've referred to my leader Mr. Kejrwial as an activist in his earlier avatar, of course during the India vs corruption days, there was reportage and coverage around the movement and the cause of the movement and that was primarily because it resonated with the people. The cause of the movement met the cause of the people.
When we became a political party, we recieve perhaps the first and the worst media blackout. In December of 2013, Arvind Kejriwal had filed an FIR against a leading industrialist of this country. He had shot off a letter to his anti-corruption branch and an FIR was registered subsequently. As a result, the leading industrialist who is also a big media baron ensured that AAP and the government of Delhi is blacked out from the media. Hence, the 2015 election that we fought was despite the media blackout and inspite of no media coverage, through sheer grassroot support and political electoral hardwork on the ground, we were able to come back with the highest majority a party has ever receive.
RISHABH GULATI – Is there a neutral media, is there a right, left or centre of media but overall, does it give a balanced approach? What is your assessment?
RAGHAV CHADDHA – To say that there is a section of media tilting towards the left, a section of media tilted towards the right essentially showcases that rather than putting facts, events and news, opinions are being put forward. However, when an opinion transforms into indoctrination, that is where the problem begins. I don't believe with some being left, some being right and some are centrists, I don't believe in that being a balanced approach.
RISHABH GULATI – Doesn't it cut both ways because you are the opposition, or atleast the challenger in some states, but you're also incumbant now. Is it just perpetual opposition or complaint against centre with the media. What about your government?
RAGHAV CHADDHA – We witness both sides, however, the larger point is that rather than being a bloodhound opposition, it is important to be the watchdog for the government. People who are not in power are being blamed for issues like inflation, unemployment, rather than the government. Therefore, I feel like a section of media which is practicing a different kind of journalism needs to speak truth to power.
RISHABH GULATI – There is opposition, and then there is opposition for opposition sake. Is there a role in the media that if something good is happening that is part of team India it should be able to applaud the good as well as the bad?
RAGHAV CHADDHA – If anything good is happening, certainly the opposition, national media and all platforms of media should be constructive and appreciative. Opposition for the sake of opposition is something I personally and my party does not believe in. When the Prime Minister launched the Swatch Bharat Abhiyan, the first political party to wholehartedly support as well as participate was my leader Mr. Arvind Kejriwal and my party, the Aam Aadmi Party.
RISHABH GULATI – With the advent of the new generation of media, this concept of live TV and it's importance, have we reinvigorated it a bit?
RAGHAV CHADDHA – TV Media is here to stay. TV Media is one form of media that has the potential to influence the minds of a significant part of our population and the penetration of tv media is only increasing in this country. I applaud all the media groups that reach out. Social media is unregulated form of media, which helps people express themselves. Everyone should be open to criticism live we as politicians are.
Parties than have centralized mechanism of assigning spokesperson and panelists is a very good form of management. Purely done by parties, particularly done by my party for optimum utization of man power. New entries in every organization than should be given an opportunity to perform. Access of journalists to politicians, or members of govt has not reduced, has increased in the last year. It is incumbent upon media today to put news not noise, to put forward sense and not sensationalism, to put forward journalism not jingoism. Unfortunately, section of media today spreading propaganda.