Adani Ports changing coastal landscape through green initiatives
25 April, 2023 | Vaishali Sharma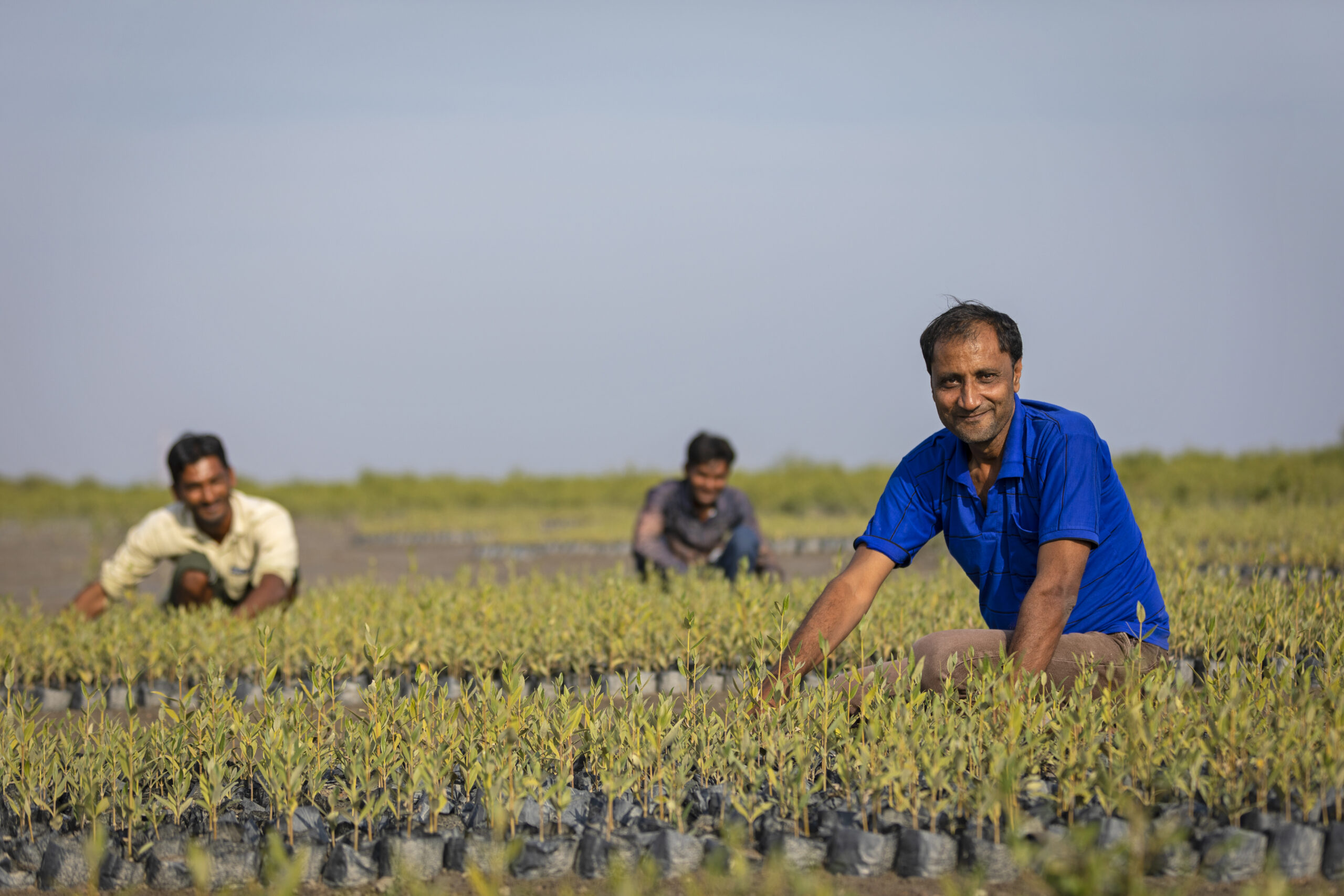 Mangrove and tree plantation undertaken by Adani Ports and Special Economic Zone (APSEZ) has completely transformed the once barren terrain of Mundra.
The life of a fisherman revolves around the sea, fish, and the fishing net. However, the life on the coast may not be a smooth sail, as regular income from regular work in the coastal region is often hard to come by. Yakub Manjaliya is a fisherman, who lives in a coastal settlement for fishermen in Mundra, Gujarat, for 8-10 months of the fishing season. He spends the rest of the year with his family in his village doing odd jobs. For over 400 years, fishing has been the only source of livelihood for this community despite challenges like irregular work, shelter, means of transport and access to potable water.
Mundra's landscape, however, has changed over the years with the Adani Group's investments in the region. Mangrove and tree plantation undertaken by Adani Ports and Special Economic Zone (APSEZ) has completely transformed the once barren terrain. APSEZ is making sure that all environment conservation and safety protocols are followed for the protection and better management of this critical ecosystem, which provides source of livelihood to millions. The plantation project provides sustainable alternative livelihood to local fishermen in the off-season months. Steps are taken to minimise the adverse effects of the unsustainable anthropogenic activities detrimental to this environment.
Maintaining Coastal Ecosystem
In line with the goal to build resilience towards climate change and commitment to reduce impact on the environment, several measures are undertaken by APSEZ, which has signed the India Business and Biodiversity Initiative (IBBI) declaration to act responsibly in several biodiversity areas such as target setting, inclusion in management systems, and engagement with stakeholders. The company identifies biodiversity impacts and uses Comprehensive Environmental Impact Assessment to focus on terrestrial and marine life. As a signatory to the initiative, which is a commitment by the Board, biodiversity automatically features as a top agenda of the Board.
Almost 95% of the trade volumes in India are carried through maritime transport. So, having world-class mega ports is equally imperative for the Indian coastline as is maintaining its biodiversity. APSEZ has strategically built a string of ports (pearls) across the coastline of India along with ICDs (inland container depots) and warehouses, woven intricately with self-owned rakes, covering more than 90% of the hinterland.
Infrastructural transformation coexists with the region's rich biodiversity across all its ports. From multi-fold augmentation in mangrove cover to turning a highly saline and arid land green through tech-led horticulture techniques, the Adani Group's vision of building sustainable value creations is not just propelling India's economic development but catering to the nation's climate goals.
Till date, APSEZ has created a green belt across all its ports, ICDs, and agri-logistics sites covering an area of over 1,182hectares. Across all its locations, over 23 lakh trees and saplings have been planted.APSEZ has also done mangrove afforestation on over 4,000 hectares and mangrove conservation onaround 3,000 hectares.
Pledge to grow 100 million trees by 2030
Adani Ports strives to undertake green initiatives in line with the broad vision of the nation, and also adheres with International Marine Organization's alignment to nine UN Sustainable Developmental Goals (SDGs), which includes obligations on safe, efficient and sustainable ports.
On 1t.org, the World Economic Forum's "Trillion Trees Platform", the Adani Group Chairman Gautam Adani pledged to grow 100 million trees by 2030. This commitment makes it one of the most ambitious corporate commitments ever made (https://www.1t.org/pledges/growing-100-million-trees-by-2030) to 1t.org so far. The 100 million would include mangroves as well as terrestrial trees.
Strategic Steps to Protect Environment
Along its more than 7,500 kilometres of coastline, India is blessed with a variety of coastal and marine ecosystems that offer a wide range of services like fisheries, coastal tourism, and other essential livelihood activities. Mangroves and sand dunes provide protection from storms and tsunamis.
In Tankari village of Jambusar taluka Gujarat's Bharuch district, a bio-shield has been developed on the seacoast. Mangrove plantation, protected by natural bamboo fencing, helps protect the seacoast, boost fisheries and overall biodiversity in the region.
Plantation of piludi plants – an oilseed plant that acts as a source of additional income for nearby communities – and Sharu and Unt Morad – used as cattle fodder – has been done in the area. Fruit and medicinal plants have also been planted as these have substantial economic value and also help in blocking saline winds.
The entire process of creation of a nursery, plantation, mangrove conservation and protection of the bio shield in Bharuch and along the coast in Mundra is carried out with the help of local villagers and fishermen like Yakub, providing them with livelihood opportunities.
Similarly, at Yarada beach near Gangavaram port, Adani Ports completed the annual beach nourishment work by placing over one lakh cubic meters of sand near the shore to combat soil erosion and protect infrastructure and natural surroundings. Through beach nourishment, which involves adding sand or other sediments to beaches to increase their volume and protect them from erosion, Adani Ports aims to help improve coastal and marine ecosystem as it would, in turn, aid in creating new habitats for flora and fauna like seabirds, sea turtles, and other marine organisms.
The green initiatives undertaken across all ports are well on track to make the ports cleaner and greener. It is also a key component of 'blue economy', which has been defined by the World Bank as "sustainable use of ocean resources for economic growth, improved livelihoods and jobs, while preserving the health of the ocean ecosystem".