After being questioned for over 9 hours, Kejriwal claims CBI has no evidence against AAP govt
17 April, 2023 | Pragati Singh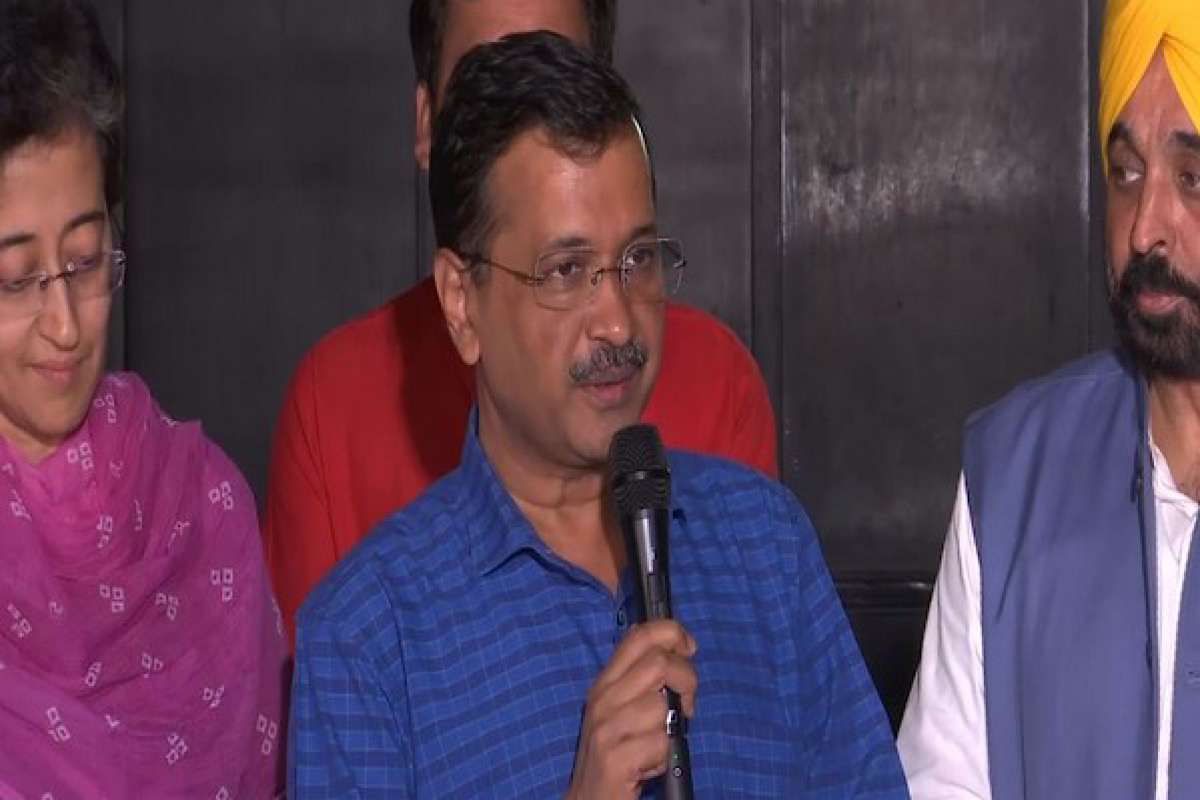 Chief Minister of Delhi has been served with a notice under Section 160 Cr.P.C. for his examination in this case on April 16, 2023.
The investigation into Delhi's liquor policy case reached Chief Minister Arvind Kejriwal on Sunday, when the AAP convenor was questioned for nearly 9 hours in the case in which former deputy chief minister Manish Sisodia, who held the excise portfolio as well as several other ministries, was arrested last month.
Kejriwal, who was questioned for more than nine hours on Sunday at the CBI headquarters in the national capital, stated that the probe agency has no evidence against the Aam Aadmi Party government that "it has committed any wrong in the framing of now scrapped new excise policy."
At around 11 a.m., Kejriwal arrived at the CBI office, accompanied by Punjab Chief Minister Bhagwant Mann and other party leaders. He was interrogated for nearly nine years.
"CBI questioning was conducted for 9.5 hours. I answered all the questions. The entire alleged liquor scam is false and is out of bad politics. AAP is 'kattar imaandaar party'. They want to finish AAP but the country's people are with us," Kejriwal said while speaking to the media after coming out of questioning.
When asked about the questions posed to him during the interrogation, he stated that they covered everything from the policy's conception to its conclusion.
"They asked everything including why we started the policy and how we did it. They asked me nearly 56 questions starting from 2020 till the end," he said.
The Chief Minister went on to say that he had not been summoned again.
"They have not indicated that they will call me once again. They don't have an inch of evidence to prove that the AAP government has done anything wrong," Kejriwal said.
The CBI said in a statement that it recorded Kejriwal's statement in connection with the Excise policy case on Sunday and that it will be verified and compared to "available evidence."
According to a CBI statement, the Chief Minister of Delhi has been served with a notice under Section 160 Cr.P.C. for his examination in this case on April 16, 2023, and for answering various questions related to the case. He joined the investigation today, and his statement has been recorded in accordance with Section 161 of the Criminal Procedure Code.
"The statement will be verified and collated with the available evidence," the statement said.
Earlier in the day, AAP leaders staged a protest in the national capital in response to Kejriwal's questioning. Various party leaders, including senior leaders Raghav Chadha, Sanjay Singh, and others. However, the police later released them.
AAP supporters demonstrated in Amritsar, Punjab, in response to Kejriwal's questioning. Kejriwal paid tribute to Mahatma Gandhi at Rajghat in the national capital on Sunday, ahead of his appearance before the central investigative agency in connection with the excise policy case.
Kejriwal was joined by his Punjab counterpart Bhagwant Maan, AAP MP Sanjay Singh, and other party leaders.
Before going to the CBI office, Kejriwal stated that if the Bharatiya Janata Party (BJP) government gives the orders, the central agency will arrest him.
In a video message released on Sunday morning, Kejriwal said, "They (CBI) have called me today and I will definitely go. They are very powerful, they can send anyone to jail. If BJP has ordered CBI to arrest me, then CBI will obviously follow their instructions."
Raghav Chadha referred to Kejriwal as "Lord Krishna" and the Bharatiya Janata Party (BJP) as "Kansa" earlier today.
"Kansa knew that Lord Shri Krishna would finish him and, hence, made every effort and hatched many conspiracies to inflict harm on Shri Krishna. He could not even harm a hair on his head. Similarly, today the BJP knows that the AAP will bring their downfall," Chadha said.
Chadha stated that the party, which arose from the anti-corruption movement, has been through many struggles and is not afraid of CBI, ED, or police detention.
"We want to give the BJP a message that our party was carved out of the anti-corruption movement and has seen all kinds of struggle. We aren't scared of CBI, ED or police detention. BJP suffers from Kejriwal phobia. It is because of Kejriwal's fear that the BJP has come down to such an act. We have not been told our crime or the IPC regulation that we have broken," said Raghav Chadha while talking to ANI.
As Aam Aadmi Party leaders were detained for protesting outside the CBI office in the national capital on Sunday, party leader Jasmine Shah questioned whether the "central government has converted Delhi to North Korea" which is ruled by a dictatorship.
Addressing a press conference here, Shah said, "Kejriwal did not try to duck the summons. He will cooperate in the future also. But does that mean that you will not allow a common man to protest? Have you made Delhi a North Korea? It is a matter of shame. The country is watching that democracy is being strangulated."
The AAP leader also claimed that the right to protest is "dead" in the country.
"The right to protest is a sacred right in any democracy. Police were deployed outside the residences of MLAs and said that they would not let them get outside. They picked them who came outside their residences. Delhi Police detained all the leaders who were protesting silently and waiting for Arvind Kejriwal to come out. The police took them to an unidentified place. The right to protest is dead," he alleged.