"With nice people, you are nice, with difficult people, you push back": Jaishankar highlights India's geopolitics
7 May, 2023 | Pragati Singh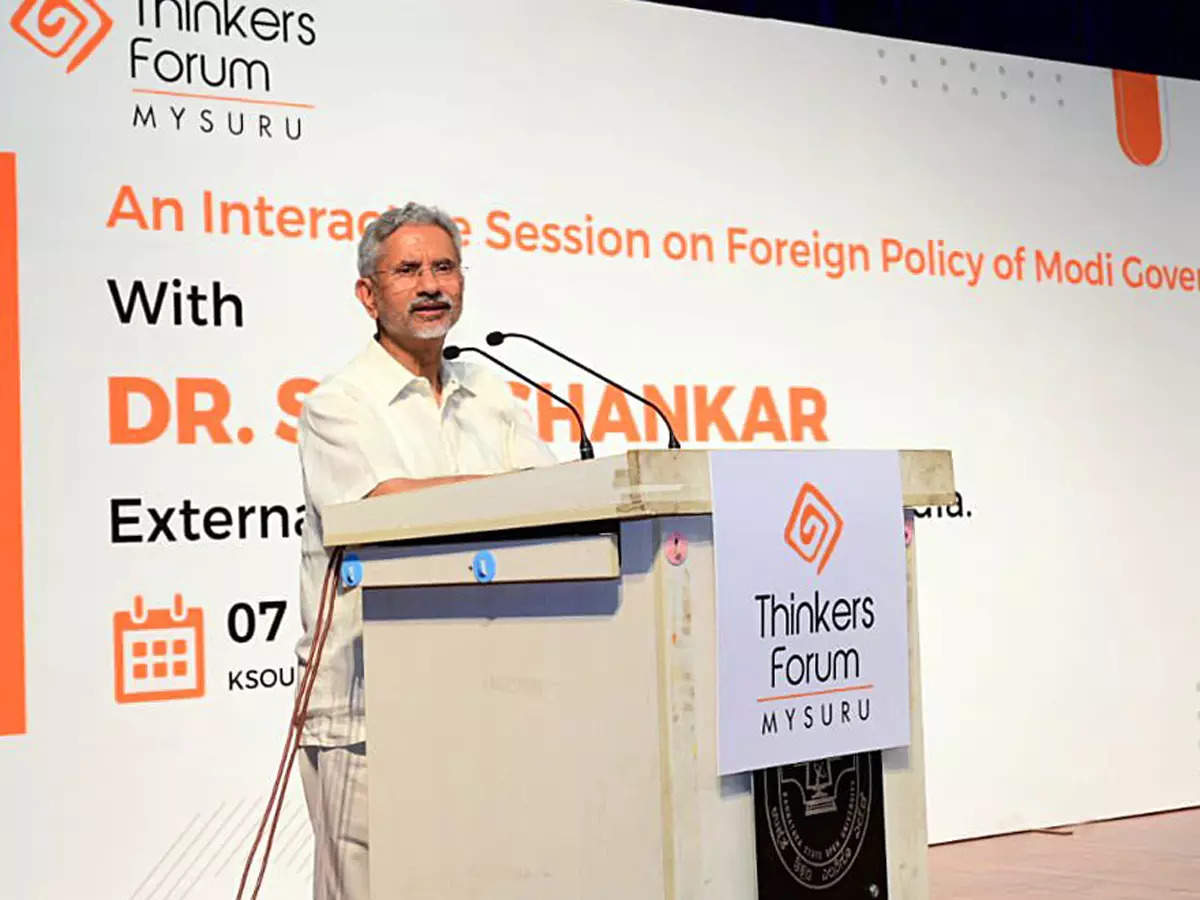 A lot of countries in different ways today are feeling they are feeling pushed.
At an interactive session on the "Foreign Policy of the Modi Government" held in Mysuru on Sunday, External Affairs Minister S. Jaishankar highlighted India's response to international geopolitics.
"I think there are moments when it is, as I said, with nice people, you are nice. With difficult people, sometimes it's necessary to push back. But I would say this because this has been my experience in the last year," Jaishankar said in response to inquiries about speeches given by former Pakistani Prime Minister Imran Khan that praised India for its independent foreign policy. Imran Khan, a former prime minister of Pakistan, praised India for its independent foreign policy and showed a video of EAM Jaishankar during a rally in Lahore last year.
"India and Pakistan got independence at the same time, if New Delhi can take a firm stand and make their foreign policy as per the needs of its people then who are they (Shehbaz Sharif's govt) who are toeing the line," said Imran at the rally.
At his campaign rallies, Imran played his videos as an illustration of national pride. Jaishankar's videos of confronting European hypocrisy have also gained widespread popularity in Sri Lanka.
"It's sometimes you're made to sit and almost hold it saying, how can India do this? How do you take this position? At that stage you ask yourself saying, what do you do? Do you then be conciliatory or do you put your point of view across? And if somebody is being very self-centered, they're only looking at their interest, their point of view, not by rights. Tell them that there are other points of view and there are other interests, etc," said Jaishankar.
In response to whether the time has come for South Asian countries to make their presence felt in international geopolitics and his emergence as the face of South Asian pride, Jaishankar said, "A lot of countries in different ways today are feeling they are feeling pushed. They are feeling that they're not being heard. And to the extent they see others who are pushing back, I think, as I said, they may take solace from it. Sometimes they take courage from it. Many of them kind of say, okay, I can't do it, but I'm glad you are doing it. So there's a bit of that."
He also made fun of Congressman Shashi Tharoor, who had earlier urged Jaishankar to "cool off a little bit" following his comment about the West's "bad habit" of criticising other nations.
"I have known him for a long time and consider him as a friend but on this issue, I think we need not be so thin-skinned, I think it's very important that as a government we take something in stride. If we react to every comment, we are doing ourselves a disservice. I will strongly urge my friend Jai to cool a little bit," said Tharoor.
Responding to Tharoor's advice "not to have such a thin skin and must cool it," Jaishankar said, "I ask you a question because I think the Shashi Tharoor issue came out of that. Actually, I was in Bangalore that day. I landed in Delhi. Like, everybody immediately switched on their phone the moment the plane touches down. And I saw that picture of that guy climbing up the flagpole and pulling down a national flag. Honestly, tell me if you saw it, didn't your blood boil (UK Khalistan incident)? Do you want me to have a thick skin on that? I think there are issues if somebody sort of, I would say, insults your country or dishonours what you hold dear or attacks your core positions. Absolutely. I have thin skin. I think we should have thin skins."
Jaishankar claimed that depending on the situation, he has a thick skin and a thin skin.
"When people say you can say, like, personal stuff. I tend to have I'm trying to develop a thick skin, okay? It's part of my political incarnation. So I don't respond to some tweets, as you notice. But on certain matters, I don't think it's a thin skin issue," said Jaishankar.
Answering to "technocrat vs politician debate," Jaishankar said that he made a "conscious decision to go into politics, there are people who can't believe I am in politics..", and praised his peers – Atal Bihari Vajpayee, Swaran Singh and Sushma Swaraj.
"Look, there's one thing you have to be to be a diplomat. That answers your question. You have to be an optimist. And therefore the one thing you should not be is a pessimist. You have to be an optimist because you are often in situations when things look very tough, very grim, it looks like there's no solution," he said.
Jaishankar discussed his transition from a diplomat to a politician and lamented the lack of respect he receives from his political peers.
"If you people keep describing me as a technocrat, my political colleagues don't take me seriously. So, look, I happened to be a person who had a career in diplomacy and then made a conscious decision to go into politics," he said.
Read Also :