Amritpal Singh on the run, manhunt launched to nab him: Punjab Police
19 March, 2023 | Pragati Singh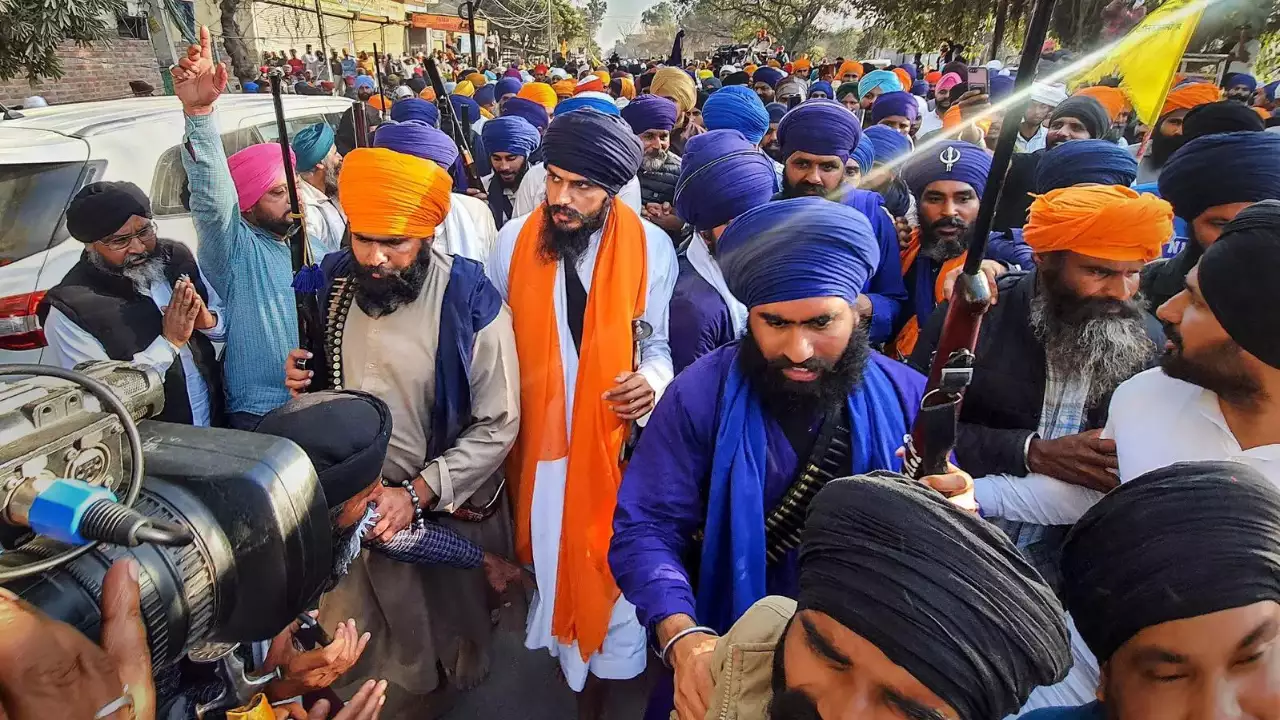 Multiple operations of Waris Punjab De were intercepted by the Police on Saturday afternoon along the Shahkot-Malsian Road in Jalandhar district.
So far, 78 people have been arrested and several have been detained in connection with the crackdown launched against the chief of suspected pro-Khalistan outfit 'Waris Punjab De,' Amritpal Singh, and his aides, according to Punjab Police, who added that the Khalistan sympathiser is still on the run.
"Punjab Police on Saturday launched a massive state-wide Cordon And Search Operations (CASO) in the state against elements of Waris Punjab De (WPD) against whom several criminal cases stand registered," police said,  police said, adding that 78 people have been arrested and several others have been detained for questioning as part of the operation.
According to the official spokesperson of the Punjab Police, multiple operations of Waris Punjab De were intercepted by the Police on Saturday afternoon along the Shahkot-Malsian Road in Jalandhar district, and seven people were detained on the scene.
"Several others including Amritpal Singh are on the run and a massive manhunt has been launched to nab them," he added.
So far, nine weapons have been found during the state-wide investigation, including one.315 bore rifle, seven 12-bore rifles, one revolver, and 373 live rounds of various calibers.
The Spokesman stated that WPD components are implicated in four criminal cases including promoting discord among classes, attempting to kill, assaulting police officers, and obstructing the proper performance of public employees' responsibilities.
"Case FIR No. 39 dated February 24, 2023, stands registered against WPD elements for the attack on Ajnala Police Station," he added.
He stated that all people implicated in criminal offenses will be dealt with according to the law and that anyone wanted by the police should submit to the legal process. Their fundamental rights to legal representation would be safeguarded, he emphasised.
Meanwhile, the police have asked all residents not to believe bogus news or rumors."Situation in the state is completely stable. All persons indulging in mischievous activities for disturbing peace and harmony in the state shall be dealt with strictly," the police said.
Earlier in the day, mobile Internet services in many regions of Punjab were also banned till 12 noon on Sunday. The police action occurred almost three weeks after Amritpal supporters battled with police officers at the Ajnala police station on Amritsar's outskirts last month, seeking the release of one of Amritpal's close aides, Lovepreet Toofan.
On February 23, hundreds of his fans attacked the Ajnala police station, brandishing swords and high-calibre guns and threatening the officers with severe repercussions if Lovepreet Toofan, who had been detained for allegedly assaulting and abducting a man, was not released. Supporters with swords and firearms stormed the police barriers set up outside the Ajnala police station.
The police then stated that "in light of the evidence given," Lovepreet Singh Toofan will be released. Lovepreet Singh was freed from jail on February 24 after a judge in Ajnala granted the police's motion.
In response to the event, chief minister Bhagwant Mann stated that these "1000 individuals" do not represent Punjab and are "paid by Pakistan" to disrupt the state's calm.