Another quake of magnitude 5.4 jolts eastern Turkey
7 February, 2023 | Pragati Singh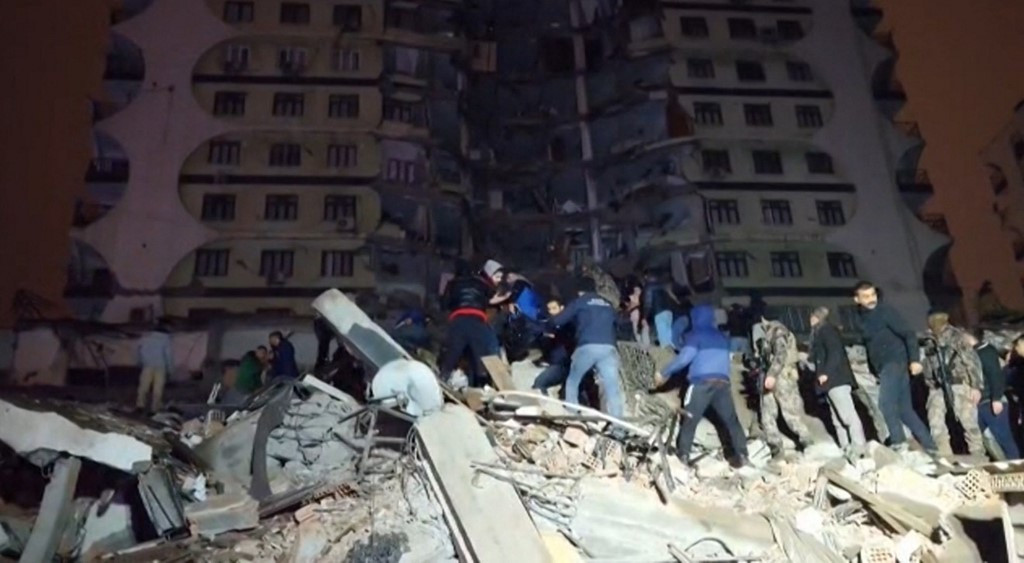 Tuesday saw a second earthquake in eastern Turkey, this one measuring magnitude 5.4.
Tuesday saw a second earthquake in eastern Turkey, this one measuring magnitude 5.4, according to the United States Geological Survey (USGS). According to USGS, the fifth earthquake occurred at a depth of 6.8 km near 38.116°N 38.669°E around 12:41 pm (local time). A massive magnitude 7.8 earthquake that shook the area early on Monday has now been verified to have killed at least 4,940 people across Turkey and Syria, according to CNN.
In Syria, the death toll has increased to 1,559 across areas controlled by the government and the opposition, officials said. The death toll in Turkey increased to at least 3,381 as of around 9:45 am local time on Tuesday, according to Orhan Tatar, an official with the country's disaster management agency.
Tatar claimed that at least 20,426 injuries had also been reported in Turkey, while officials told CNN that at least 3,648 casualties had been reported in Syria. According to him, 11,000 buildings have reportedly been damaged in Turkey thus far. According to Tatar, there are about 25,000 emergency personnel working at the affected scenes.
At least 10 ships and 54 planes are being used by rescuers to carry the injured and aid in search activities, he said. According to the US Geological Survey, the earthquake, one of the biggest to hit the area in more than 100 years, struck 24.1 kilometres (14.9 miles) beneath the surface of Turkey's Gaziantep province, 23 kilometres (14.2 miles) east of Nurdagi.
The 7.8 magnitude earthquake that rocked southern Turkey on Monday morning local time has been followed by at least 100 aftershocks measuring 4.0 or more, according to the United States Geological Survey. The aftershocks tend to become less frequent and stronger as time passes since the initial earthquake.
5.0 to 6.0-plus aftershocks, however, are still expected to happen and pose a threat of further harm to any structures already damaged by the initial earthquake. Rescue workers and survivors are continuously put in danger because of this.
According to CNN, two Israeli charity organisations have booked a flight to Gaziantep on Tuesday to provide personnel and supplies to earthquake victims in Turkey. Minister of Information Marriyum Aurangzeb said in a statement on Tuesday that Sharif would  "express condolences and solidarity with Turkish President Recep Tayyip Erdogan and the people of Turkey over the loss of precious lives and destruction caused by yesterday's deadly earthquake."
Two search and rescue teams have also been sent to Turkey from Pakistan. According to the White Helmets, also known as the Syria Civil Defense, hundreds of families are still buried in the wreckage of collapsed houses in northwest Syria as a result of the strong earthquake on Monday.
The White Helmets said on Twitter that more than 2,200 people have been injured and more than 790 casualties have been confirmed deceased in rebel-held areas of northwest Syria. However, "the numbers are expected to rise significantly because hundreds of families are still under the rubble," the group said.
The agency stated that the earthquake in northwest Syria destroyed more than 210 houses. Both nations saw the collapse of thousands of structures, and according to CNN, relief organisations are especially concerned about northwest Syria, where more than 4 million people already depended on humanitarian supplies.
Syria, a nation already affected by civil strife, is experiencing extensive devastation as a result of the earthquake. According to authorities, there have been more than 1,500 fatalities and 3,600 injuries reported across the nation.
According to a UNICEF official, the violence has already caused about 4 million people in northern Syria to be displaced and dependent on aid. The risk of diseases like cholera spreading and the lack of access to good drinking water and shelter in the face of frigid weather are currently among the top concerns.