Bangladesh Muktijuddha Mancha: Pakistan Must Apologise for 1971 War Crimes
15 December, 2022 | Pranay Lad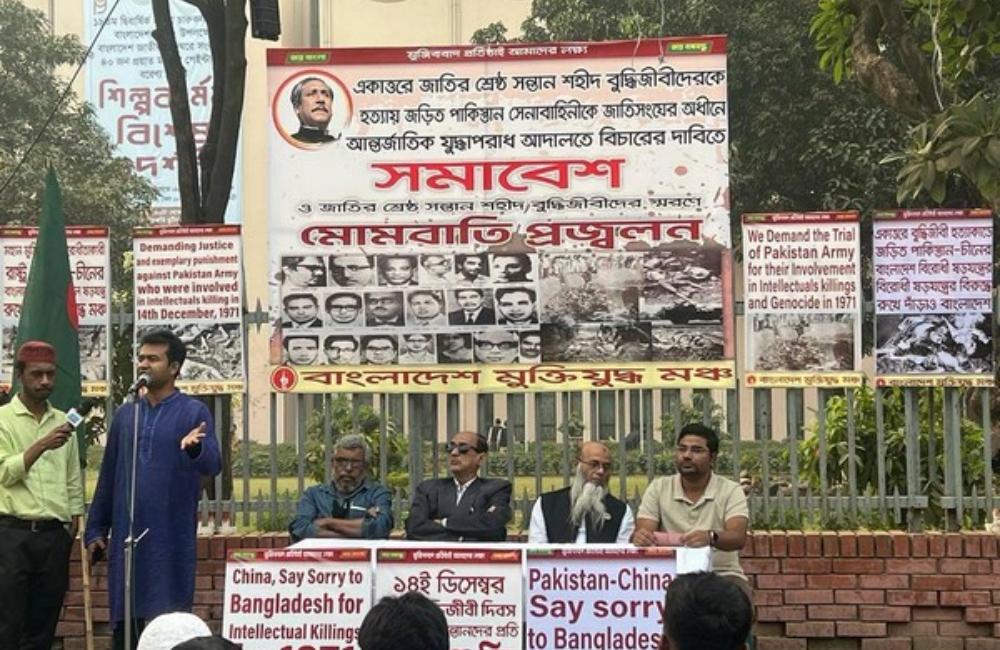 In a letter to Pakistan's PM Shehbaz Sharif, Bangladesh Muktijuddha Mancha (BMM) demanded an unconditional apology for the attack and the crimes committed during the 1971 Liberation War
Bangladesh Muktijuddha Mancha (BMM) sought an unequivocal apology from Pakistan's Prime Minister Shehbaz Sharif for the aggression and crimes committed during the 1971 independence war.
"Request the government of Pakistan in general and the Pakistani Army in particular, to offer an unconditional apology to our Prime Minister and leader Sheikh Hasina and to the people of Bangladesh for the brutalities in Bangabandhu killing, 21st grenade attack, and the atrocities of 1971 liberation struggle," writes BMM in the memorandum. The memorandum further asked that Pakistan stop openly or secretly cooperating with those who opposed our fight for liberation and hold the Pakistani army accountable for massacres and genocide committed during the 1971 Liberation War of Bangladesh.
In the statement, Bangladesh Muktijuddha Mancha recalled the 1971 battle for Bangladesh's independence and claimed that thirty lakh persons perished in that conflict and two lakh women were sexually assaulted by Pakistani forces. The party added that the murder of Bangabandhu Sheikh Mujibur Rahman was directly related to Pakistan's ISI.
"Pakistan began plotting against Bangabandhu's administration as payback for their participation in the Liberation War's capitulation. Bangabandhu and his family were brutally murdered by Pakistan with Zia-assistance, Mostaque's making it the world's most heinous political assassination "The document states this.
Shiekh Hasina, the daughter of Bangabandhu, was murdered on August 21, 2004, by the BNP-Jamaat-Huji, who were also supported and given grenades by Pakistan. Human protection was developed by certain Awami League leaders to preserve Sheikh Hasina's life.
Sheikh Hasina was ultimately spared, but the grenade attack resulted in the deaths of 24 Awami League leaders, it said.
Muktijuddha Mancha of Bangladesh added that Pakistan could not escape accountability for these murders. Party issued a warning to Pakistan, stating that if it continues to support terrorism in Bangladesh, their government will be forced to sever all diplomatic ties.
The party completed the sentence by saying, "We demand that the United Nations place the Pakistan military under the International War Crimes Court for their complicity in genocide and intellectual crimes in 1971.
The most recent piece of good news for Bangladesh is the US House's condemnation of Islamabad's conduct and request to President Joe Biden to acknowledge the "genocide" Pakistan committed against Bengalis and Hindus during the 1971 conflict.
Congressmen Ro Khanna and Steve Chabot have introduced legislation that recognises Pakistan's atrocities against ethnic groups as crimes against humanity, war crimes, and genocide.
"…condemns the atrocities committed by the Armed Forces of Pakistan against the people of Bangladesh from March to December 1971; acknowledges that such atrocities against ethnic Bengalis and Hindus constitute crimes against humanity, war crimes, and genocide; calls on the President of the United States to recognise the atrocities committed against ethnic Bengalis and Hindus by the Armed Forces of Pakitan during 1971 as crimes against humanity, war crimes, and genocide."