Bengaluru Floods: K'taka CM blames Congress for flood menace
6 September, 2022 | Pranay Lad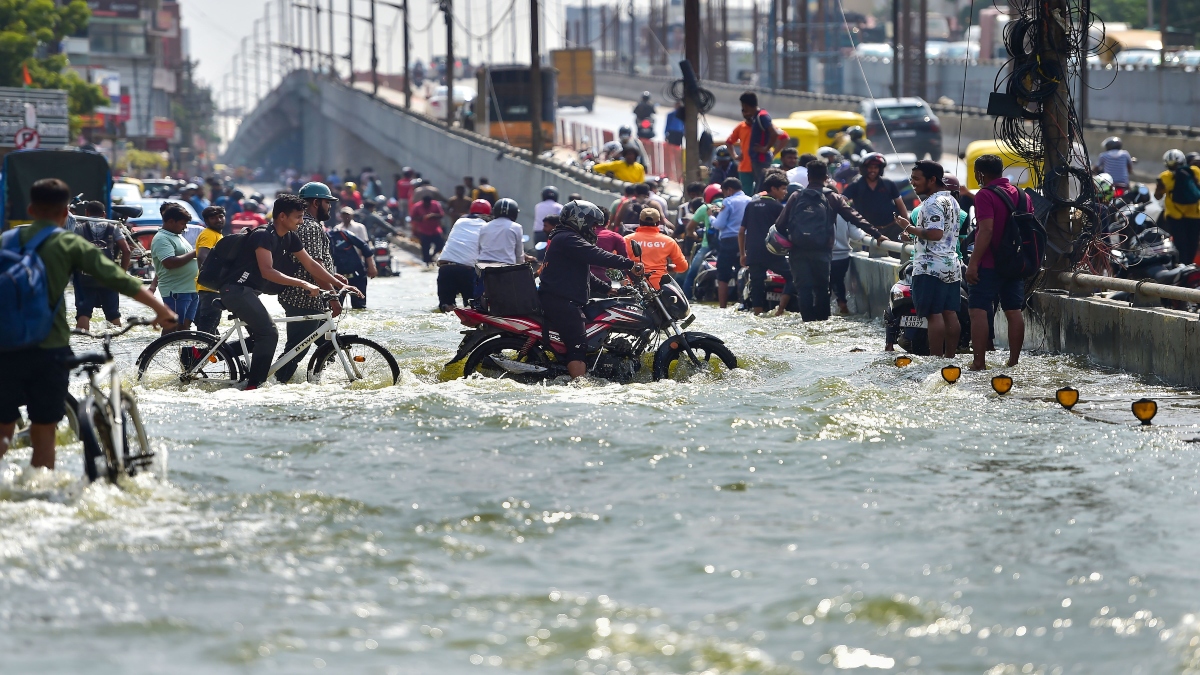 As Bengaluru continues to suffer from severe waterlogging caused by heavy rains, Karnataka Chief Minister Basavaraj Bommai blamed the previous Congress government for the city's present predi...
As Bengaluru continues to suffer from severe waterlogging caused by heavy rains, Karnataka Chief Minister Basavaraj Bommai blamed the previous Congress government for the city's present predicament on Tuesday.

Bommai told reporters, "Rains in Karnataka, particularly in Bengaluru, has been extraordinary. This much rain has not fallen in the last 90 years. All of the tanks are full and overflowing. There is constant rain. It is still pouring today."

According to the Chief Minister, there is a widespread belief that Bengaluru is in trouble. However, this is not the case.
"The whole city of Bengaluru is not affected. The issue is concentrated in two areas, namely Mahadevapura. The state of Mahadevapura is due to the presence of 69 tanks in a tiny space. Everything is overflowing. Furthermore, all of the establishments are located in low-lying locations. There has also been encroachment "He stated.

Bommai blamed the current scenario in Bengaluru on the former Congress administration.
He stated, "This occurred as a result of the previous Congress government's mismanagement and unprepared administration. This is the outcome of the Congress government's poor administration. They never considered the lakes' upkeep. They granted authorization in the lakes and buffer zone on the right, left, and centre."

The Chief Minister stated that the administration is working around the clock to address the city's waterlogging situation. He stated that control rooms had been established to handle concerns.
"We accepted it as a challenge. Our officers, engineers, employees, and SDRF team operate around the clock. We've removed a number of encroachments. And we shall keep clearing them. We are installing sluice gates at the tanks to improve tank management. We've begun dewatering in most sites. We have provided Rs 1,500 crore for water drainage in Bengaluru, and another Rs 300 crore for encroachment removal. We will make certain that there is no hindrance to the flow of water in the future "He stated.
When asked about the interruptions in Bengaluru's drinking water supply, Bommai remarked, "Rainwater wreaked havoc on two water pumping stations in the Mandya region. The first pumphouse's water level has dropped, and supply will resume. Another pumphouse is scheduled to be emptied by this afternoon. Meanwhile, water will be delivered by tankers and boreholes."

Due to waterlogging, there were traffic jams in many districts of Bengaluru on Tuesday. Due to massive waterlogging, traffic was moving at the speed of a turtle on the outer ring road of Marathahalli-Silk Board Road, a vital stretch in the city.
Meanwhile, due to the waterlogging, many IT professionals in India's silicon valley had a new experience and had to rely on tractors to go to work.
Yemalur, near the HAL Airport, has been swamped in water. On Monday, several IT workers from nearby organisations used tractors to get to work.
"We can't take too many sick days from work since it's affecting our work. We're waiting for tractors to drop us off for Rs 50 "ANI spoke with a lady who works in an IT business.

Chief Minister Bommai has informed IT businesses that a meeting would be held to tackle the anticipated loss of Rs 225 crore caused by rain and waterlogging in Bengaluru. He stated that he would contact them to discuss the losses and compensation they had incurred as a result of the rain and flooding in the state capital.
"We will contact the IT businesses and chat with them about the problems they are experiencing as a result of the flooding. We will also examine the compensation and other relevant losses caused by rain "According to Bommai.
It comes after the IT industry requested that the Chief Minister address the problem of the outer ring road.
Waterlogging caused traffic congestion and interruptions in the life of ordinary people in numerous sections of Bengaluru.
Earlier in July, strong rains caused significant flooding in Karnataka, necessitating rescue operations and relief efforts. Chief Minister Bommai was also forced to request financial aid from the central government.
Read more: Bengaluru: Silicon Valley Sinks