RaGa's Bharat Jodo Yatra Enters Delhi, Sticks to Love Shop Narrative
24 December, 2022 | Pranay Lad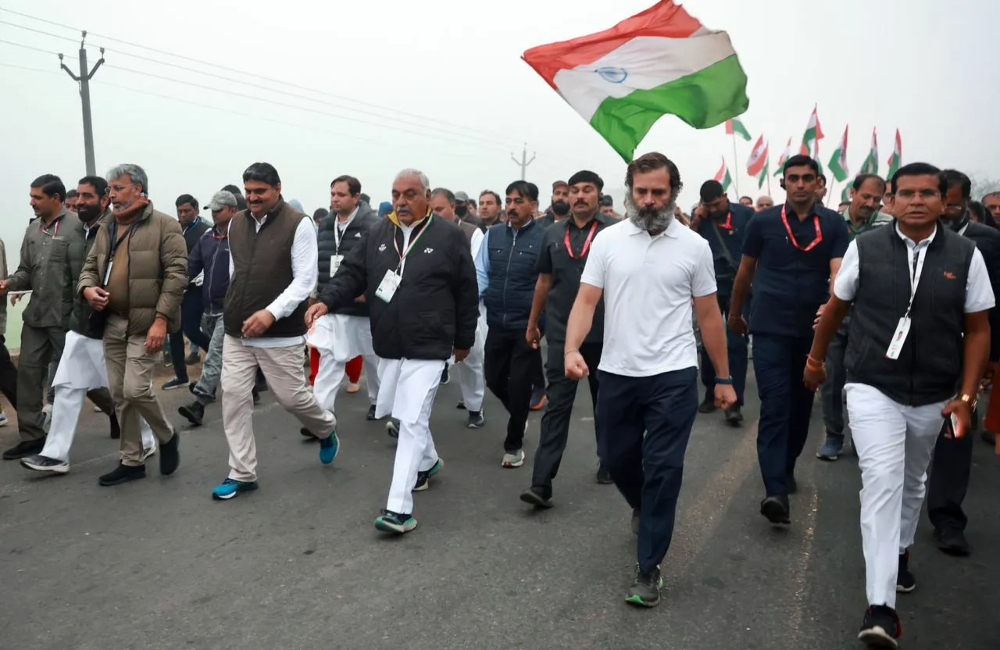 Bharat Jodo Yatra, a mission by Congressman Rahul Gandhi to contact as many people as possible, arrived in the nation's capital on Saturday morning.
Around six in the morning, the padayatra left from the NHPC metro station in Faridabad and crossed into Delhi from Haryana. The flag-transfer ceremony for the Yatra was held close to the Badarpur metro station. "While some are promoting hatred, the country's average citizen is increasingly speaking of love. Lakhs of people have joined the yatra in every state. I told the RSS-BJP members that we were come to set up shop in their "bazaar" of hatred "Rahul Gandhi, a Congressman, declared as soon as he arrived in Delhi.
Around 4:30 p.m., Bharat Jodo Yatra is supposed to arrive at the Red Fort. The Yatra will also stop by Rajghat to honour Mahatma Gandhi, the Father of the Nation.
The Center has issued a warning to the yatra due to an increase in Covid cases across the nation.
The Delhi Police issued a travel caution earlier on Friday, alerting locals about route alterations and traffic detours.
"The traffic on numerous routes has altered in anticipation of the Bharat Jodo Yatra of the Indian National Congress in Delhi on December 24, 2022. Residents are urged to avoid the affected routes and use public transportation as much as possible "Delhi Traffic Police reported.
The Yatra has so far travelled across sections of Tamil Nadu, Kerala, Karnataka, Andhra Pradesh, Telangana, Madhya Pradesh, Rajasthan, Maharashtra, and Haryana. It began on September 7 in Kanyakumari.
According to the Congress, it is the longest foot march by an Indian politician in Indian history.
Rahul Gandhi wants to mobilise the party apparatus and bring the populace together in opposition to the BJP's "divisive politics in the country" through this yatra.