Bharat Jodo Yatra Resumes from Golya in Rajasthan's Dausa
15 December, 2022 | Pranay Lad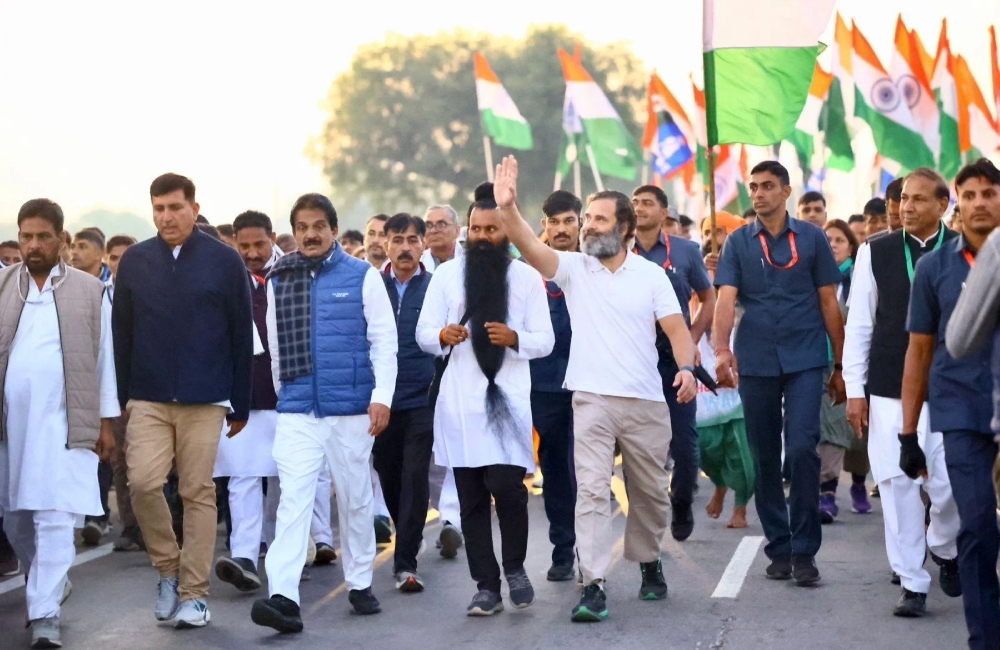 The ongoing Bharat Jodo Yatra mass movement organised by the Congress party continued on Thursday in Rajasthan's Dausa district's Golya village.
The Congress' ongoing mass march 'Bharat Jodo Yatra' commenced on Thursday from Golya village in Rajasthan's Dausa district.
It left for Molai village the day after the foot march sparked a contentious debate over Raghuram Rajan's decision to join Rahul Gandhi on Wednesday. Social media videos showed Rajan and the former head of the Congress party joking about and talking while walking as the padayatra continued from Sawai Madhopur.
The campaign's official Twitter account posted on Thursday, "it's a fresh morning loaded with new energy," and "to unify India, we have grown through storms."
After the party general secretary and her husband Robert Vadra attended the rally on Monday and made a resolution about women's empowerment, Rahul and Priyanka Gandhi took the lead in the yatra on Tuesday.
Jhalawar, Kota, and Sawai Madhopur districts have been visited by the yatra.
The yatra will go through Rajasthan, the lone state under Congress administration, for 17 days before arriving in Haryana on December 21. People were spotted joining the march in great numbers while carrying banners and party flags.
By the end of next year, the Bharat Jodo Yatra, which started on September 7 in Kanyakumari, would have travelled 3,570 kilometres. According to the Congress, it is the longest foot march by an Indian politician in Indian history.
Rahul Gandhi wants to organise the party apparatus and bring the populace together in opposition to what he calls "divisive politics in the country."
The Bharat Jodo Yatra now resides in Rajasthan after previously travelling through portions of Tamil Nadu, Kerala, Karnataka, Andhra Pradesh, Telangana, Madhya Pradesh, and Maharashtra. Next year, it will conclude in Kashmir.