BJP, Congress exchange barbs in Karnataka on ticket distribution, move on reservation
8 April, 2023 | Pragati Singh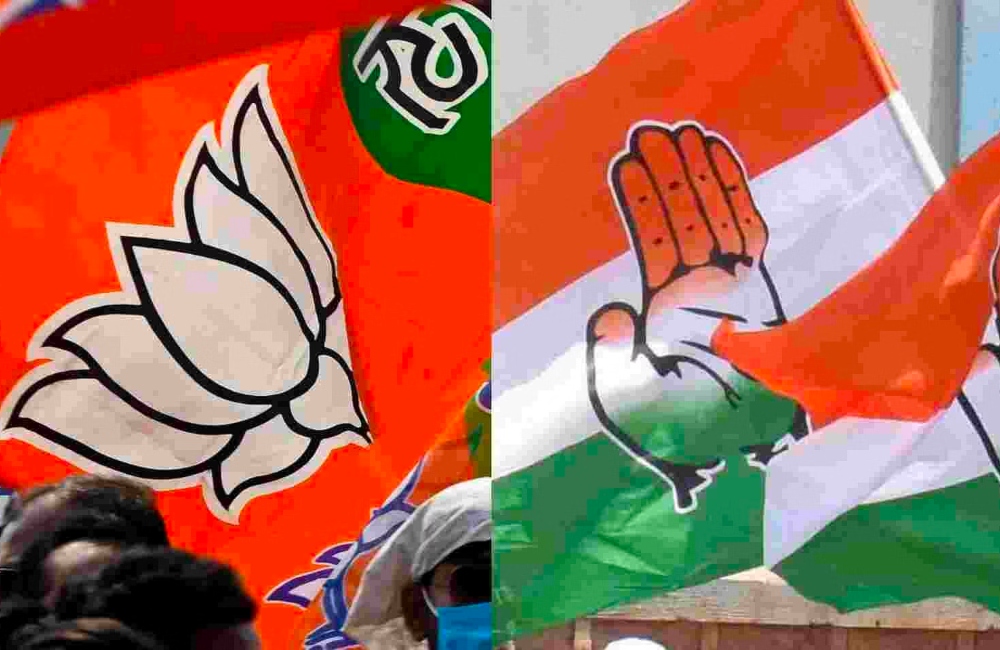 BJP's national leadership will select the candidates, while the state unit would recommend a slate of names.
BJP and Congress leaders traded barbs on Friday during the Karnataka election contest, as campaigning intensified in the southern state with less than a month until voting. As the Congress chastised the BJP for the "delay" in releasing its candidate list, Karnataka Chief Minister Basavaraj Bommai said that the opposition party in the state did not have candidates for several seats and had to rely on other parties.
The two parties also clashed over the Karnataka government's decision to remove religious minorities from the backward classes list, which provided them with 4% reservation, and instead place them under the 10% quota for economically disadvantaged groups.
According to Bommai, the BJP's national leadership will select the candidates, while the state unit would recommend a slate of names.
"We will have a meeting on April 8-9 and apparently, tickets will be distributed on April 10. The process of ticket selection is going on as per the rules. We held meetings for three consecutive days and took the opinion of party workers, leaders, and people. The final list will be discussed as we have cleared 3 names (for each constituency)," he said.
He also responded to Congress leader DK Shivakumar's statements that they will reverse the BJP government's decision to include religious minorities on the list of backward classes.
"They can't touch it, let's see what they can do," Bommai said.
Congress leader Siddaramaiah, who is viewed as a possible chief ministerial candidate if the party wins the election, said the party expects to win at least 130 of the 224 seats. He stated that this will be his final election and that he will retire from electoral politics. Siddaramaiah stated that he has a friendly connection with Karnataka Congress president DK Shivakumar.
"I am contesting from Varuna assembly constituency as my native village comes under this constituency. This is going to be my last election. I will retire from electoral politics. My relationship with DK Shivakumar (Karnataka Congress president) is cordial. There are no differences between us. Of course, differences exist in democracy but it is not detrimental to the interests of the party," told ANI.
"We are expecting more than 130 seats this time and Congress Party will come to power with a comfortable majority on its own. People have decided to change the government," he added.
Siddaramaiah launched an attack on the Chief Minister and the ruling BJP.
"BJP is a sectarian party. Ours is a secular party. There can't be any disparity among the people of Karnataka. I treat all human beings equally whether they belong to Hindu, Muslim, Christian, or any other community or religion, I treat them all equally," he told ANI.
"Basavaraj Bommai miserably failed to protect the interest of Kannadigas. He has no business continuing as CM. Modi and Shah are coming to Karnataka to get votes and claim it's a double-engine govt but Maharashtra government is blatantly interfering with the freedom of the state," he said
He also chastised the BJP for its reservations policy.
"Recategorising (of reservation) is not proper, not constitutional. It is not valid… We've no objection to increasing the reservation of Vokkaliga and Lingayat but why you abolished the reservation of Muslims… It clearly shows vendetta, hate politics," the Congress leader said.
Former Chief Minister Siddaramaiah has announced his candidature for the Varuna assembly constituency, which has been approved by the party's central leadership.
"It's not that I am interested to contest but Kolar people want me to contest from there," he explained.
So far, the Congress and the Janata Dal-Secular have announced 166 and 93 candidates for the Karnataka elections, respectively. DK Shivakumar slammed the BJP, saying that while the Congress has produced two lists of candidates for the state assembly elections, the BJP has yet to "to release even its first list" He also stated that if the Congress wins a government in Karnataka, it will reverse the BJP administration's decision to remove religious minorities from the list of backward classes, from which they received 4% reservation.
"Till now, Congress party has released two lists of candidates and discussions are going on for a third list and as soon as possible Congress will release the third list too. But the BJP could not be able to release even its first list yet," Shivakumar told the media here.
Shivakumar also took potshots at AIMIM leader Asaduddin Owaisi."I don't want to discuss much on that. Asaduddin Owaisi, is like the A team, B Team, and C Team of BJP. People of Karnataka are very intelligent and Congress will make government," Shivakumar said.
The Congress Party released its second list of 42 candidates for the Karnataka elections on Thursday. There has yet to be a determination on who will run against Kolar.
"BJP government removed four percent reservation for minorities which is against the law and the minority (community) is going to support the Congress party. After the Congress government is formed, we will protect the right of minorities and reservation policy will be changed," Shivakumar added.
The Karnataka BJP government has decided to remove religious minorities from the list of backward classes and redistribute the 4% quota. It said that minorities would be given reservations under the 10% quota for economically disadvantaged groups.
The Karnataka BJP also hit back at Shivakumar. "DK Shivakumar clarified that we will cancel the reservation given to Okkaliga, Veerashaiva-Lingayat, Scheduled Castes, and Scheduled Tribes. For appeasement politics, the right of these communities to be uprooted INC Karnataka will be punished accordingly," the party said in a tweet.
The AICC incharge of Karnataka, Congress MP Randeep Surjewala, has said that the Bharatiya Janata Party (BJP) is "panic-stricken" since it has yet to announce its initial list of candidates for the Karnataka Assembly elections.
"Because Chief Minister Basavaraj Bommai is unwilling to fight election from his seat and his ministers don't want to contest from their seats either. All are running away from their seats. Nobody wants to contest the election therefore, they're dependent on film stars & rowdy sheeters…," he alleged.
Karnataka Health Minister K Sudhakar stated that the BJP has always prioritized social justice when allocating electoral tickets.
"Let's wait for one more day. BJP has always given a lot of opportunities to the youth and women and has maintained social justice. Above all, we have always given priority to workers of the party. So the party is different from all other parties today," he said.
He stated that Congress has not decided on its chief ministerial candidate for the forthcoming election.
"I am seeing more Surjewala than Siddaramaiah and DK Shivkumar. Let them decide on one face how can they say both? They (Congress) are not clear, they have no clarity on who will become the CM face. We have clarity, we have our PM under whose guidance govt will run and we have an able, efficient CM Basavaraj Bommai who is also the chairman of the campaign committee," Sudhakar said.
Meanwhile, the Janata Dal-Secular has written to the Election Commission requesting that the show starring Kannada actor Kiccha Sudeep and advertisements featuring him be halted until the end of the elections, citing the fact that his films, advertisements, posters, and so on can influence votes because he is currently recognised as the BJP's star campaigner.
"Mr. Sudeep does a press conference along with Karnataka CM and an invitation to all media sent on letterhead of BJP. He really says that he is going to do whatever CM says, he adheres to a political party, so he is a politician. According to rule of law of the land, any person who has a political affiliation, cannot be seen on a public platform. That's the reason, we have requested EC to look into the matter of Sudeep's movies, OTT platforms, and advertisements….": JD-S leader Tanveer Ahmed said.
Sudhakar reacted to the JD-S decision.
"It doesn't matter whether they show it on TV or not. Kichcha Sudeep is a hugely popular actor, when he goes in favor of our people, for campaigning we will definitely have great support from the cadre and also he will fetch us votes and seats".
Karnataka assembly elections will be held in a single phase on May 10, with results expected on May 13.