BJP Promises Uniform Civil Code In Karnataka Election Manifesto
1 May, 2023 | Anupam Shrivastav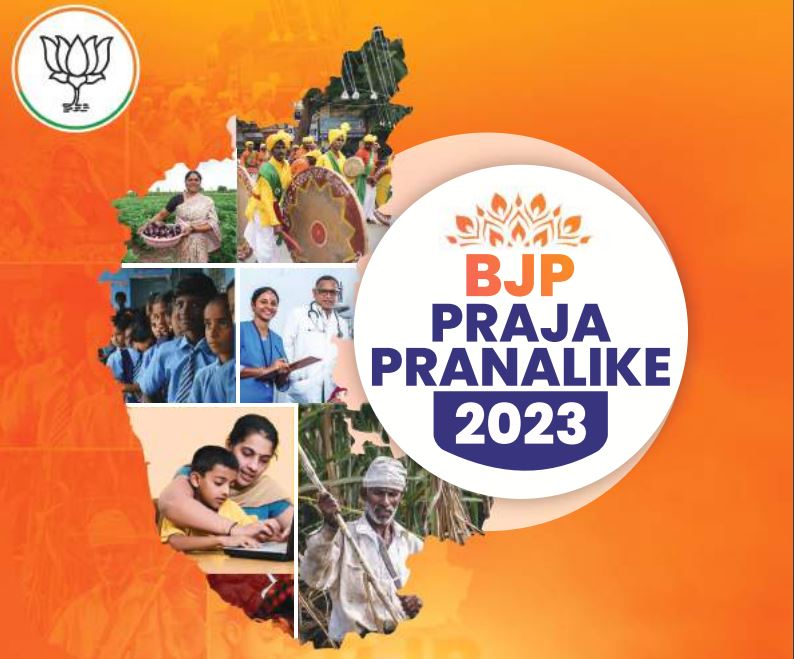 Bhartiya Janata Party launched its Election Manifesto on Monday in which the party promised Uniform Civil Code, an Anti-Terror Wing and ration and Nandini Milk for the poor.
The Bharatiya Janata Party on Monday launched its election manifesto with a promise of Uniform Civil Code for the upcoming assembly polls in Karnataka. The manifesto named 'Praja Dhwani' was issued in the presence of BJP president JP Nadda, Chief Minister Basavaraj Bommai and other party leaders including BS Yediyurappa, and Pralhad Joshi.
The BJP manifesto consists of the following promises: the implementation of the Uniform Civil Code (UCC) in Karnataka on the basis of the recommendations of a high-level committee to be formed for the objective; to improve the "ease of living" of those who live in apartments in Bengaluru by establishing the Karnataka Residents' Welfare Consultative Committee to reform the Karnataka Apartment Ownership Act, 1972, and to modernize the grievance redressal mechanism.
Another highlight of the BJP election manifesto is the creation of a Special anti-terror wing in Karnataka police force to tackle terrorism. This special wing of the Karnataka police will be called as K-SWIFT or Karnataka – State Wing Against Religious Fundamentalism and Terror.
The BJP manifesto also offers to provide three free cooking gas cylinders to all BPL families each year, one during each of the months of Yugadi, Ganesh Chaturthi, and Deepavali, as well as to launch the 'Poshana' programme, which will supply each and every BPL household with half a litre of Nandini milk every day and 5 kg of Shri Anna – siri dhanya through monthly ration kits.
During the launch of election manifesto, BJP president JP Nadda said "We will develop Bengaluru for the next generation by designating it as 'State Capital Region', and executing a comprehensive, technology-led city development program – centered around Ease of Life, cohesive transportation networks and enabling ecosystems for making Bengaluru a Global Hub of Digital Innovation."
There are separate promises made for key 38 sectors of the state ranging from healthcare to women development. During the release of the Manifesto, Chief Minister Basavraj Bommai said that BJP has always had its agenda as Nation First. He went on to say that his party's manifesto was based on 6 lakh suggestions received from various party members with more than 50 sector experts. "Its people's manifesto", said CM Bommai.
CM Bommai also wrote in the manifesto that 'Double Engine' BJP government had solved various long ignored state issues in last 3.5 years including creation of 55 lakh jobs, signing of MoUs amounting to Rs 10 lakh crore. The manifesto also stated how BJP ensured that each and every citizen enjoyed the fruits of Karnataka's development with schemes such as Vidya Nidhi and affordable medical care through Ayushman Bharat-Arogya Karnataka.
BJPs Lucrative promises in 'Praja Dhwani' Election Manifesto
Implementation of Uniform Civil Code
The party has promised implementation of Uniform Civil Code based on the recommendations made by a special high level committee.
Introduction of National Register of Citizens
BJP has said that it would introduce NRC or National Register of Citizens in the state to ensure steady deportation of illegal immigrants.
Creation of Anti-Terror Squad K-SWIFT
Creation of Karnataka – State Wing Against Religious Fundamentalism and Terror, to secure the state from terror threats.
Timely payment of bills to government contractors
In the election manifesto, the party has said timely settlement of dues to government contractors and certification from Quality Control Committee.
100 percent Sanctioned posts with revised Reservation metrics
Party has promised 100 percent job posting within the government with revised reservation metrics.
Food, grain and half liter Nandini milk for poor
For the people coming from weaker sections of society, the party has promised Food, Grain, and 1/2 Liter of Nandini Milk as well. This also consists of 10 kg ration for poor
Zero interest for farmer up to 5 lakh
Farmers can get interest free loans for up to 5 lakhs.