California kidnapping: Indian-origin family, including 8-month-old, found dead
6 October, 2022 | Pranay Lad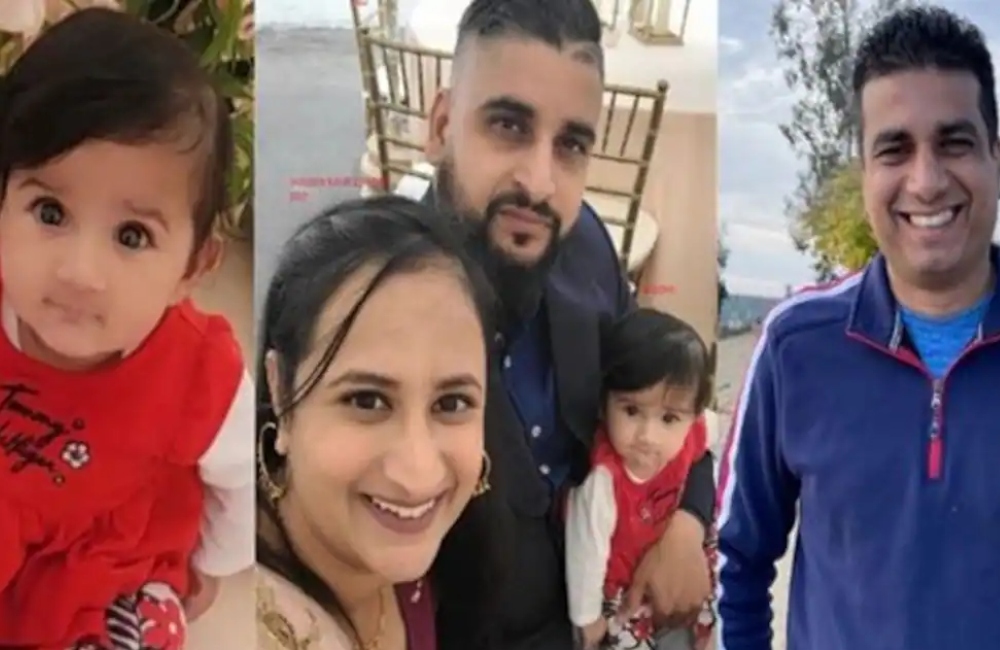 The statement was made following the release of CCTV footage showing a man abducting 8-month-old, her parents, and her uncle from their place of business on Monday in Merced, California.
The infant girl, her parents, and her uncle were found dead on Wednesday, according to the sheriff of Merced County. They had been taken at gunpoint from their central California company two days prior.
Vern Warnke, the sheriff, told reporters Wednesday night that "our worst concerns have been validated."
He claimed the remains were discovered together by a farmworker in an orchard in Merced County.
Authorities published a surveillance video showing a man abducting 8-month-old Aroohi Dheri, her mother Jasleen Kaur, her father Jasdeep Singh, and her uncle Amandeep Singh, 39, on Monday. This led to the announcement.
Authorities said a convicted robber who attempted suicide one day after the kidnappings were responsible for their disappearance.
There are now no words that can adequately express my rage and the absurdity of this occurrence, according to Warnke. I've said this: This guy has a particular spot in hell.
According to Warnke, investigators, including technicians from the California Department of Justice's crime lab, would process the crime scene all night. He did not immediately provide any other information.
In the previous Wednesday's footage that was made public, the suspect initially passes by the property before approaching one of the males. It then depicts him guiding the men, whose wrists were tied with zip ties behind their backs, into the pickup truck's back seat. The suspect then drove away after leading Jasdeep Singh, who was holding her infant in her arms, out of the trailer that served as the company office and into the vehicle.
Nothing was taken from the trucking firm, according to the family, although all of their relatives were wearing jewellery. An ATM card belonging to one of the victims was used after the kidnappings in Atwater, which is located approximately 9 miles (14 kilometres) north, according to Warnke.
In what he thinks to be a financially motivated crime, Warnke claimed that the kidnapper made no requests for a ransom.
Victims' family members had already requested that everyone in the neighbourhood who runs a convenience shop or petrol station examine their security cameras for footage of the suspect or the family. Because the family didn't have any baby food with them at the time of the kidnapping, they claimed they were concerned the infant wasn't being fed.
Brother of the victims Sukhdeep Singh pleaded for people to come out and assist them, saying, "Please help us out, come forward, so my family gets home safe."
In a previous news conference, Warnke stated that police had attempted to talk with Salgado, who had been sedated while in the hospital but had been unsuccessful. They hoped to do so on Wednesday with the assistance of medical professionals.
I can assure you that he has been aggressive every time he has even been close to awareness, Warnke stated.
Salgado had previously been found guilty in Merced County of attempted false imprisonment, first-degree robbery with the use of a pistol, and an effort to deter or discourage a victim or witness. According to the California Department of Corrections and Rehabilitation, he was given a term of 11 years in state prison in that case.
In 2015, he was let out of prison, and three years later, he was discharged from parole. He was also found guilty of possessing a restricted drug, according to the prison department.
Investigators have not discovered any connections between Salgado and the family that would indicate they were acquainted prior to the kidnapping.
Currently, we think it was random." Alexandra Britton, a deputy, said. "We don't have any proof to the contrary,"
According to family relatives, the family's company, Unison Trucking Inc., had only recently opened its office.
According to Merced County Undersheriff Corey Gibson, a farmer in Dos Palos, a town located 48 kilometres (30 miles) southwest of Merced, discovered a victim's phone on a roadway and answered it when the family phoned.
According to Warnke, the suspect was motivated by money and conspired with someone else, even though authorities have not uncovered a motivation or identified whether Salgado had any helpers.
Read more: Reliance Hospital gets threat call; One nabbed from Bihar: Police