Can't Let Another 9/11 or 26/11 Take Place: Jaishankar at UNSC
16 December, 2022 | Pranay Lad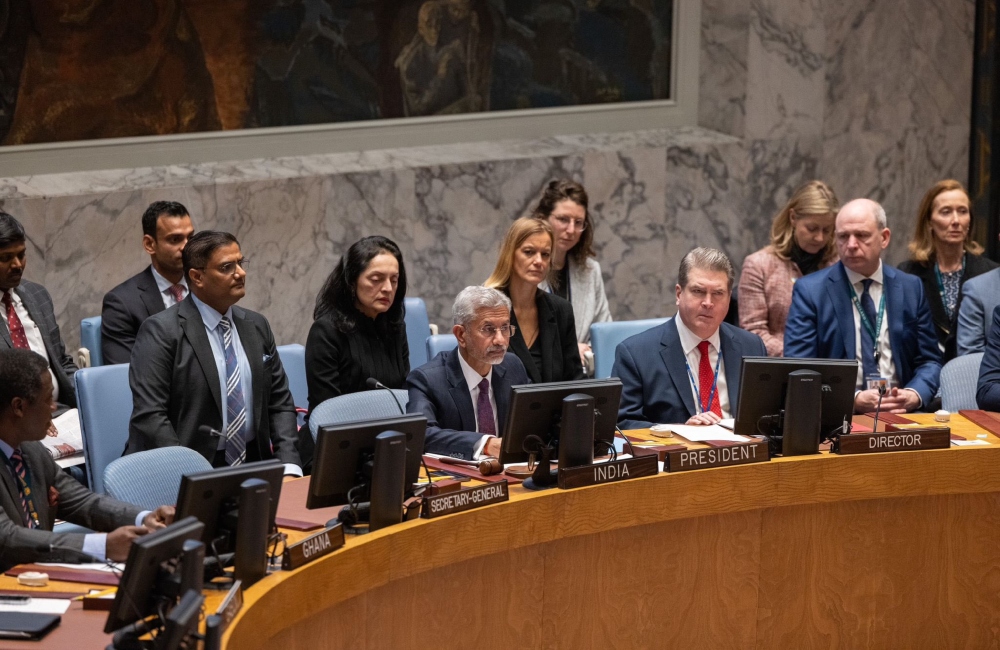 EAM stressed on Thursday that the world cannot allow another "9/11 of New York" or "26/11 of Mumbai" to occur.
The world cannot allow another "9/11 of New York" or "26/11 of Mumbai" to occur, said External Affairs Minister S Jaishankar on Thursday, calling for a comprehensive, modern, and results-oriented response to the problems facing the global counterterrorism architecture.
Speaking at the UNSC briefing on the "Global Counterterrorism Approach: Challenges and Way Forward," Jaishankar stressed that no one of us should ever tolerate such considerations and that no state should try to use terrorism for political benefit. In his speech, Jaishankar made subtle jabs at China for opposing the United Nations' blacklisting of terrorists located in Pakistan and Pakistan for supporting cross-border terrorism against India.
Even in South Asia, he claimed, "whatever gloss may be given to conceal unpleasant facts," ancient habits and established networks are still very much alive and well. This is also true of the current hub of terrorism.
The way in which pertinent UN anti-terrorism bodies operate, according to Jaishankar, is also a cause for legitimate concern.
"We have observed protection levels that, on one level, almost seem justified. Then there are plans that are supported by evidence but are delayed for no good reason. On the other hand, anonymity has also been used to avoid taking ownership of weak cases "added he.
"How do we handle applying different standards to people both inside and outside of this Council? Some people have clung to the idea that terrorism is merely another tool or tactic for far too long. Such cynicism has been used by those who support terrorism to continue. Even for those whose tolerance goes this far, it is not only morally wrong but also potentially harmful," he added.
According to Jaishankar, nurse Anjali Kulthe, a brave victim of the terrorist assaults on September 11, has clearly expressed her account of the human cost of terrorism.
Her statement today serves as a sobering reminder to the Council and the larger international community that the victims of numerous terrorist atrocities, including the 26/11 Mumbai assaults, have not yet received justice, he said.
According to Jaishankar, the world cannot afford to make strategic or attention-deficit disorder compromises in the fight against terrorism.
"We cannot allow another September 11 in New York or a November 26 in Mumbai to occur. Terrorism has been effectively combated and its justification has lost some of its legitimacy during the past 20 years. However, this is still a work in progress. There is never a break in the fight against terrorism. Compromises in terms of attention span or strategy are unacceptable around the globe. The Security Council must take the lead in organising the international reaction in this matter," he added.
The minister stated that a zero-tolerance stance must be demonstrated in order to get past political divides.
"We must respond to this collection of issues by taking a comprehensive, modern, and goal-oriented strategy into account. No state should ever try to use terrorism for political gain, and neither should we all ever accept such calculations. We must put aside our political differences and adopt a zero-tolerance policy when it comes to combating terrorism."
He asserted that the Council is fully aware of the existential threat that terrorism poses to world peace and security.
"It is a challenge that the global community must jointly address because it knows no boundaries, nationalities, or races."
According to Jaishankar, India experienced the horrors of cross-border terrorism before the rest of the world took it seriously.
The briefing, according to him, is a component of India's continuing efforts at the Security Council to refocus on its counterterrorism agenda.
"And that's a long time, given how grave the threat posed by terrorism has actually grown. Al-Qaida, Da'esh, Boko Haram, Al Shabab, and its affiliates have all seen their numbers grow. Lone wolf attacks, which are motivated by prejudice and radicalization found online, are at the other extreme of the spectrum. We must not, however, lose sight of the fact that, particularly in South Asia, ingrained patterns of behaviour and well-established networks still exist."
He emphasised four distinct issues that the architecture for countering terrorism is currently facing, including financing of terrorism and state responsibility, whether via commission or omission.
"The world might no longer be as willing as before to accept the excuses and denials. It knows from hard experience that terror is terror, regardless of justification. The issue of the state from whose territory such actions are planned, encouraged, and carried out now needs to be addressed."
He asserted that it is essential to guarantee the effectiveness and accountability of multilateral counterterrorism mechanisms. They "are occasionally opaque, occasionally motivated by agendas, and occasionally pushed without evidence."
The minister discussed the need to overcome hypocritical approaches to fighting terrorism that raise worries about politization.
"Terrorists are not sanctioned or subject to the same standards of justice. It sometimes seems as though terrorism's ownership is more significant than its commission or its effects."
The minister stated that the next front in the conflict will likely involve fending off threats posed by terrorists, radicals, and extremists who abuse new and emerging technologies.
"They have diversified their sources of finance over time and added more recruiting resources to their arsenal. They make use of the privacy offered by cutting-edge technologies, such virtual currencies, to raise money and manage funds."
According to him, terrorist organisations have been using democratic nations' openness by distributing false information, stirring up animosity, and radicalising beliefs.
"By this point, it has been well documented where, how, and with what level of security terrorist organisations operate. Recruitment, funding, and motivational activities are frequently carried out in the open. We are no longer in a state where it can be asserted that we are unaware. Consequently, it is much simpler to assign blame," he added.
"The funders of terrorism don't give up; instead, they continue to pursue and carry out their goals without interference. They fabricate stories about constraints and challenges in order to do this. At our own risk, we believe such justifications. It is absurd to claim that countries that appear to be competent in all other areas are incapable of combating terrorism. Therefore, accountability must be the cornerstone of counterterrorism," he added.
The minister claimed that when India's current term in the Council began in January of last year, he had offered an 8-point counterterrorism action plan.
I'm delighted that the Presidential Statement (PRST), which the Council endorsed at the start of this meeting, has reflected some of the action five points.
As this year's chair of the Security Council's Counter-Terrorist Committee, he claimed that India had worked hard to incorporate these principles into the UN's anti-terrorism framework and the Council's discussion of terrorism.
Jaishankar stated that the "Delhi Declaration" adopted at the Special Meeting of the Counter-Terrorism Committee in late October, held in Delhi and Mumbai, is a landmark document and "we expect that this Council can build on it further."