Capital Dialogue: Union Minister Dr. Jitendra Singh Elucidates India's Contribution to Space Sector
21 November, 2022 | Pranay Lad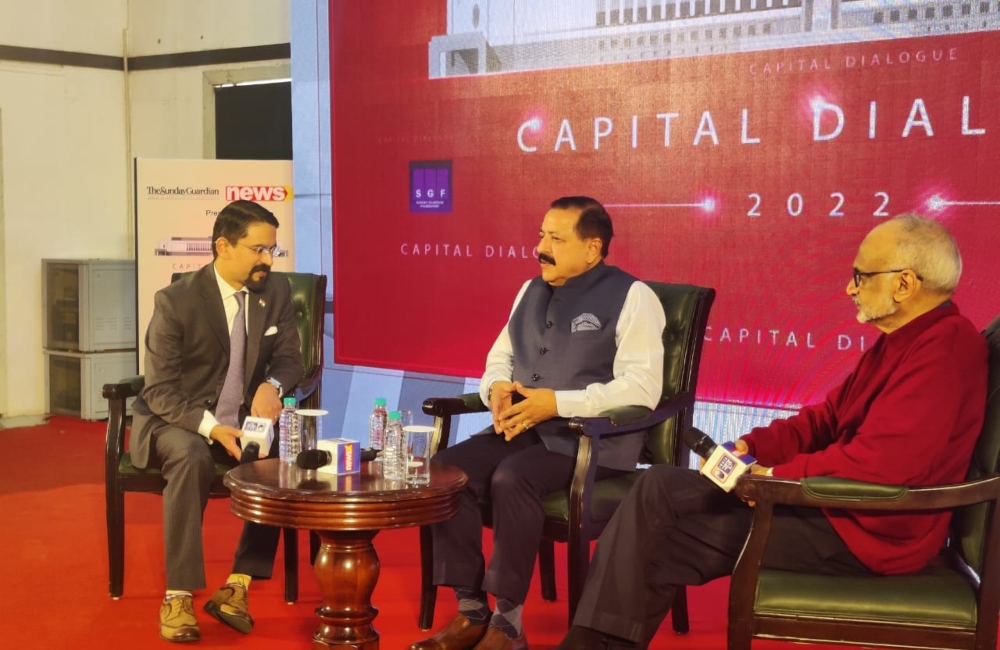 The second episode of Capital Dialogue with Union Minister for Science and Technology, Earth Sciences, PMO, Atomic Energy and Space, Dr. Jitendra Singh will be broadcasted today at 7 pm
NewsX organised 'Capital Dialogue' in partnership with The Sunday Guardian newspaper. The programme is co-powered by Kirloskar limitless and presented by Sunday Guardian Foundation.
The second instalment of Capital Dialogue with Dr. Jitendra Singh, Union Minister for Science and Technology, Earth Sciences, PMO, Atomic Energy, and Space, will air on November 21 at 7 p.m.
In this second episode of Capital Dialogue with Union Minister Dr. Jitendra Singh, we explore India in Space, J&K Development, and Citizen Centric Governance in honour of India's New Parliament.
Upon militant activities and riots happening in Jammu and Kashmir, he said 'Kashmiri Pandit is a very unfortunate exodus that happened, I think such a large section of the population being hounded out of their homes all of a sudden and becoming homeless in their own country, you don't have any instance like that in history of mankind. Having said that you must also realize that this is a part of the overall terror scenario that was prevalent there and the governments in the past were not sincere about getting rid of terrorism. As of today, the overall militancy has gone down in Kashmir. If you look at the statistics, there has been no stone pelting for the last 2-3 years.'
"There was a huge sense of discrimination that was happening but in the last 3-4 years, there have been equal distributions of all the allocations, funds, and resources, some of the projects were allocated simultaneously for Jammu as well as Kashmir. We should ideally think of a situation where you don't have to create some kind of a protective zone but feel secure to walk in," he added.
Dr. Jitendra Singh predicts that untapped coastal and Himalayan regions would cause India's GDP to soar in the following 55 years.
He also added, "His (PM Modi) two or three traits which keep him apart from others include that he has the capacity to take out-of-the-box decisions, his capacity to break taboos & that he has a futuristic vision."
Dr Jitendra reiterated 'When you talk of citizen-centric, I think you would recall of us in this room, one of the earliest dictums that PM Modi gave us was maximum governance, minimum government. To my mind, it would refer to a government which is a facilitator and not an intimidator.'
Sanjeev Rathee, the founder of Space Development Nexus, Wing Commander Khushwaha, the director of the Indian Space Association, Jaijit Bhattacharya, PoK Refugee Leader Rajiv Chunni, ISRO Scientist Tapan Mishra, and many other notable individuals attended this event.
Dr Jitendra also elucidated that 'There was never a dearth of calibre, never a dearth of potential or capacity. The presence of water on the moon was India's mission, Chandrayan when the pictures of water were picked up, which holds a huge relevance to human habitat. This is the amount of potential that India holds.'
'We have used space technology to an extent to the other sectors, we have not confined it to launching rockets. Space technology is being used for road construction, highway construction, railways, robotic surgery, and telemedicine, in a big way,' he also added.
Speaking on the upcoming endeavours, Dr Jitendra also added, 'We have already developed an AI tool, with IIT Kanpur, which has launched a pilot project for corruption petitions so that they can smell between the lines, how much the credibility of the petition, and what more beyond this.'
Lastly, Dr Jitendra reiterated ''Peace and development share a reciprocal relationship, if peace gets disturbed development stops."
Rajeev Chandrasekhar, the Union Minister of State for Electronics and Information Technology and the Union Minister of State for Skill Development and Entrepreneurship, officially launched the "Capital Dialogue" at the beginning of last month.
Capital Dialogue is a series of discussions with ministers which take place every month. Major OTT sites including DailyHunt, Zee5, MX Player, ShemarooMe, Watcho, Mzaalo, Jio TV, Tata Play, and PayTm webcast the show in real-time.