PM Modi releases 8 cheetahs in MP's Kuno National Park
17 September, 2022 | Pravina Srivastava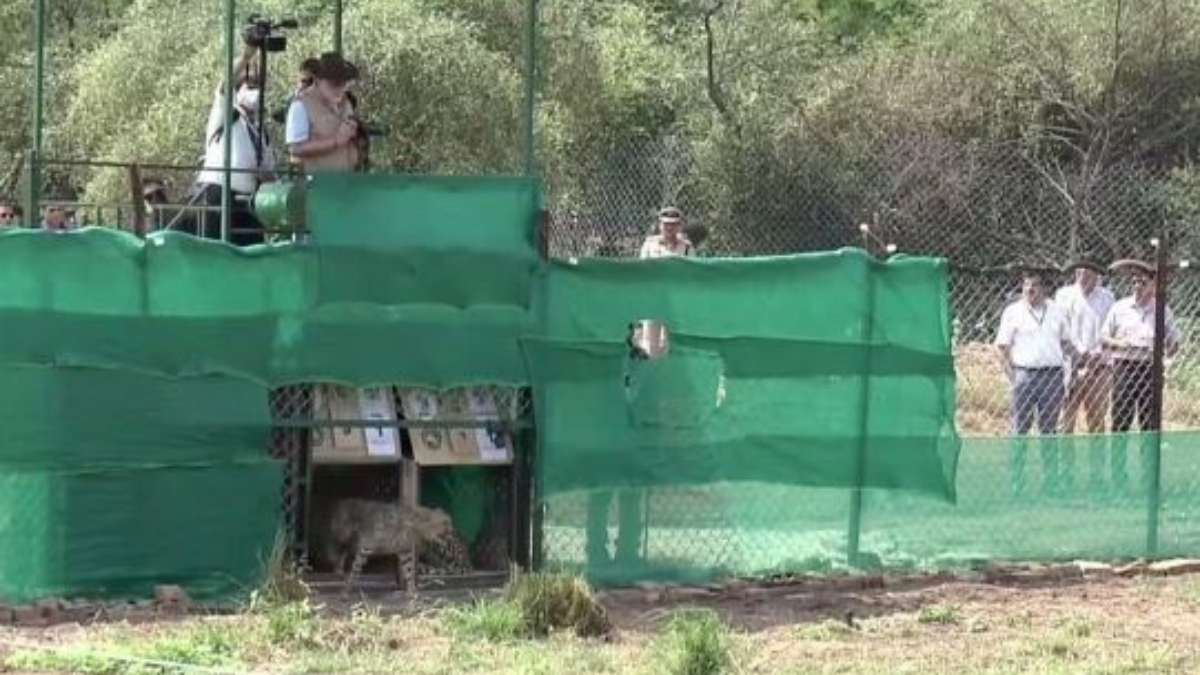 Prime Minister Narendra Modi today released eight cheetahs into Kuno National Park in Madhya Pradesh.
Prime Minister Narendra Modi today released eight cheetahs into Kuno National Park in Madhya Pradesh.
Two cheetahs were let out from cage number one by PM Modi, who then let another one out of enclosure number two, which was around 70 metres distant.
As part of "Project Cheetah" and the government's efforts to revitalise and diversify the country's fauna and environment, 8 cheetahs (5 females and 3 males) were transferred from Namibia in Africa. Cheetahs were declared extinct in India in 1952.
In Gwalior, the eight cheetahs were transported via cargo plane as part of a transcontinental cheetah translocation initiative. Later, the cheetahs were flown from Gwalior Air Force Station to Kuno National Park by Indian Air Force helicopters.
All of the cheetahs have radio collars so they can be tracked through satellite. In addition, each cheetah has a specialised monitoring staff that will keep track of its position for 24 hours.
An MoU that was reached earlier this year allows for the importation of cheetahs.
Cheetahs will aid in the restoration of India's open forest and grassland ecosystems, assist to preserve biodiversity, and improve ecosystem services including soil moisture conservation, water security, and carbon sequestration.
Earlier, SP Yadav, the director of Project Cheetah, "The fastest known mammal is reportedly the cheetah. It travels at a speed of between 100 and 120 km/h. Large meadows, modest hills, and woodlands make up the excellent and stunning environment that has been chosen in Kuno, which is perfect for cheetahs. In Kuno National Park, there have been extensive security precautions installed. There have been preparations made to stop poaching."
The restoration of wild animals, notably the cheetah, was carried out under the ambitious Project Cheetah of the Indian government in accordance with IUCN recommendations.
India has a long tradition of protecting animals. Project Tiger, one of the most effective efforts to conserve wildlife, was started back in 1972 and has helped to preserve not just tigers but also the entire ecosystem.
In keeping with this, the reintroduction of cheetahs represents a significant development in India's history of animal protection.