Airport screening, masks up as China combats huge Covid spike
24 December, 2022 | Riya Girdhar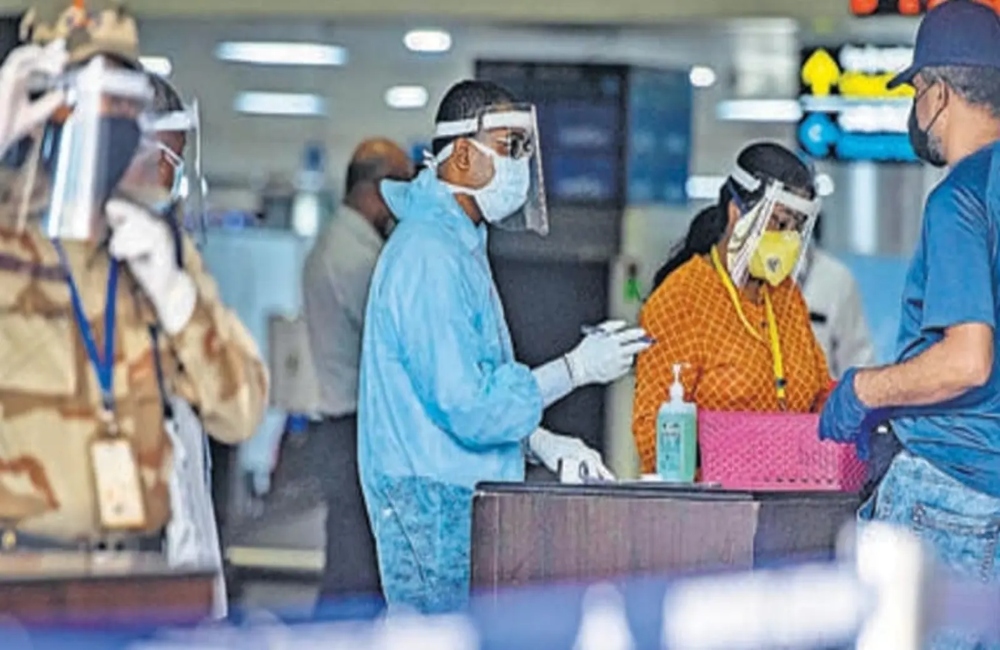 According to reports, China is currently coping with one of the worst Covid outbreaks ever.
With several regions of the world, notably China, experiencing a resurgence in the transmission of coronavirus, India is prepared to start random testing of 2% of foreign travellers at airports starting this coming Saturday. Three years after the first Covid cases were discovered in Wuhan, China, the nation is once more dealing with what some have dubbed the deadliest epidemic in recorded history.
According to a source, story citing statistics from China's National Health Commission, approximately 18% of the population, or roughly 248 million individuals, may have caught the virus in the first 20 days of December. India is now preventing the fourth wave of Covid using all available means.
Top developments in this area include what follows:
1) While not required, masks are strongly advised in crowded areas. The federal government reminded the states of the need for Covid-appropriate behaviour in a letter on Friday as people celebrate Christmas and ring in the new year in New York.
2) In a letter to the states, Union Health Secretary Rajesh Bhushan wrote, "Considering the upcoming festive season and new year celebrations, there is need to put in place necessary public health measures and other arrangements to minimise risk of increase in transmission of the disease by maintaining and strengthening focus on test-track-treat-vaccination and adherence to Covid-appropriate behaviour, i.e. use of mask, hand and respiratory hygiene, and adherence to physical distancing."
3) In response to concerns over the China Covid increase, state health ministers and Union Health Minister Mansukh Mandaviya also met. In a conference with state health ministers to examine Covid-19, it was emphasised the importance of being vigilant. There's no reason to freak out. We have three years of experience managing pandemics. To tackle COVID-19, the federal government will offer every assistance. Following the meeting, he posted on Twitter, "We will act in accordance with the needs.
4) On Tuesday of the following week, nationwide exercises will be held in hospitals to make sure that medical facilities do not collapse under the strain like they did previously.
5) Dr. Mandaviya notified Parliament on Thursday about the upcoming Saturday start date for the random testing of foreign travellers at airports.
6) State administrations have also been evaluating the situation on a local level in the interim. The review meeting was convened on Friday by the chief minister of Madhya Pradesh. "Covid-19 is at our doors once more. Despite the fact that our state is now secure, a new strain of Covid has been found in the nation. After presiding over a meeting of chief ministers, Prime Minister Narendra Modi issued specific directives for increasing readiness and vigilance. In order to assess the state's Covid status and our readiness to handle any unforeseen circumstances, I also called a meeting today, he said.
7) Yogi Adityanath also evaluated readiness for a second day in a row. "Even if the current condition of affairs is quite normal, we still need to exercise caution. Instead of panicking at this moment, be aware and cautious "In reports, he was cited as stating.
8) The West Bengal government, which is led by Mamata Banerjee, informed the centre on Friday that it was "ready and vigilant" to handle any Covid-related scenario.
9) This time, the variety that is of concern is BF.7, which is thought to be what caused the China Covid rise. Omicron, which caused a worldwide rise in Covid cases at the same time last year, has a subvariant called BF.7.
10) The Centers for Disease Control and Prevention reported on Friday that the prevalence of the very infectious Omicron subvariant XBB increased to 18% nationwide.