Chinese 'spy balloon' meant to test US counter surveillance: Analyst
5 February, 2023 | Pragati Singh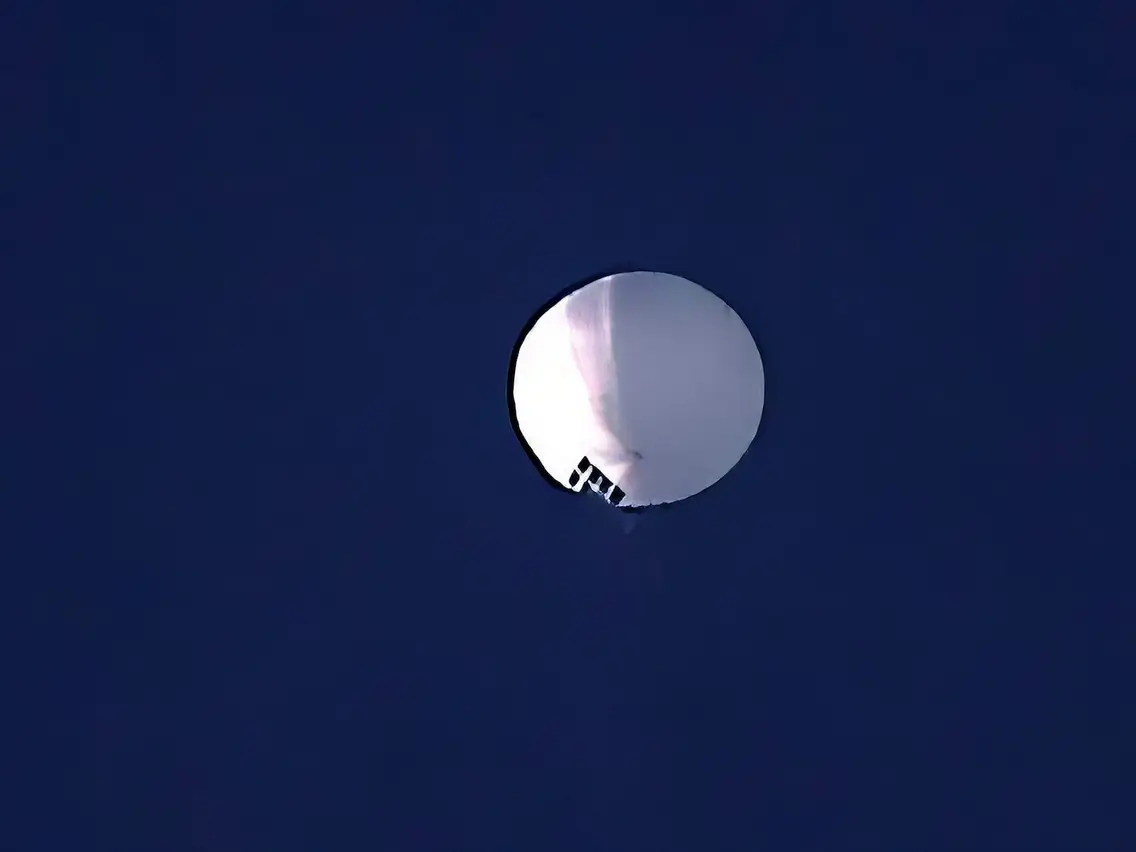 Chinese high-altitude surveillance balloon that was shot down by a US fighter jet off the coast of South Carolina.
According to experts familiar with the case, the Chinese high-altitude surveillance balloon that was shot down by a US fighter jet off the coast of South Carolina was intended to test America's counter-surveillance capabilities.
According to a statement issued by US Secretary of Defense Lloyd Austin on Saturday (local time), the US fighter aircraft successfully shot down the high-altitude surveillance balloon above the water off the coast of South Carolina in US airspace. The balloon was first seen in the skies over Montana earlier this week as it travelled across the middle of the country. According to Ryo Nakamura of Nikkei Asia, it was designed to observe military installations or test America's own surveillance capabilities.
"Most likely, China sent the balloon to test US counter-surveillance capabilities," said Lyle Morris, senior fellow at the Asia Society Policy Institute's Center for China Analysis. He was previously the country director for China in the Office of the US Secretary of Defense.
"Since it likely doesn't have any official markings, Beijing likely thought it could play the 'plausible deniability' card, " he noted. Meanwhile, Jennifer Zeng's book Inconvenient Truths showed that the Chinese spy balloon was created by a state-owned corporation.
"More evidence of the producer of #ChineseSpyBalloon Recruitment notice of #ChinaZhuzhouRubberResearchDesignInstitute says it is a state-owned company, it develops & produces military products, it's a designated research & production enterprise," tweeted Jennifer Zeng of Inconvenient Truths.
China Zhuzhou Rubber Research & Design Institute Co Ltd, the manufacturer of the Chinese surveillance balloons, is a government-owned military research institute with weapon production permits. Its military supporting items were employed in the "Shenzhou V" manned spacecraft and received praise from the PLA General Armament Department. It is an authorised research institute for all military branches of the People's Liberation Army's weather balloons (PLA).
According to Nikkei Asia, Patrick Cronin, Asia-Pacific security chair at the Hudson Institute, believes otherwise. "Using a balloon that was certain to be spotted suggests a high degree of brazenness. Beijing's satellites constantly watch US ICBM fields and other strategic bases, so a balloon seems superfluous," he said.
"I assume Beijing wanted to make a psychological ploy to grab America's attention to send a message as Secretary of State Blinken meets with Xi Jinping: The US should back off its support for Taiwan and forward defence engagement in Asia before tensions get out of hand," he said before Blinken's trip being postponed.
According to the senior official at Thursday's briefing, similar balloon activity has been noticed in the past many years, but these previous events have not been shared to the public, according to Ryo.
The difference "has to do with the time that it is taking for the balloon to leave US airspace," said a source briefed by Washington on the situation. "But I'm very surprised that this wasn't disclosed previously."
Morris speculated that Washington may have gone public this time after privately conveying its concerns to China and failing to modify Beijing's stance. According to Nikkei Asia, the Pentagon stated that the balloon cannot supply China with intelligence that is not already available through spy satellites.
The balloon incident exacerbates tensions between the United States and China. According to Global Times, China has expressed great discontent and outrage over the United States' use of force to shoot down their balloon, which it described as a civilian airship.
Rep. Mike Gallagher, the Republican chairman of the newly formed House Select Committee on the Strategic Competition Between the United States and the Chinese Communist Party, issued a joint statement Thursday criticising the suspected spy balloon with Democratic ranking member Raja Krishnamoorthi.
"Not only is this a violation of American sovereignty… but it also makes clear that the CCP's recent diplomatic overtures do not represent a substantive change in policy," according to the statement.
According to Drew Thompson, visiting senior research fellow at the Lee Kuan Yew School of Public Policy at the National University of Singapore, China's People Liberation Army may have flown the balloon without consulting the Communist Party leadership.
"It is also possible that the PLA is trying to torpedo Xi's effort to improve China's relations with the US and its like-minded partners including Japan and Australia," added Thompson. With fresh measures to curb Chinese military and economic dominance, the Biden administration has kept pressure on China ahead of Blinken's likely visit.