Chief Justice of India DY Chandrachud Commemorates Ram Jethmalani's Legacy in Memorial Lecture
15 September, 2023 | Priya Rani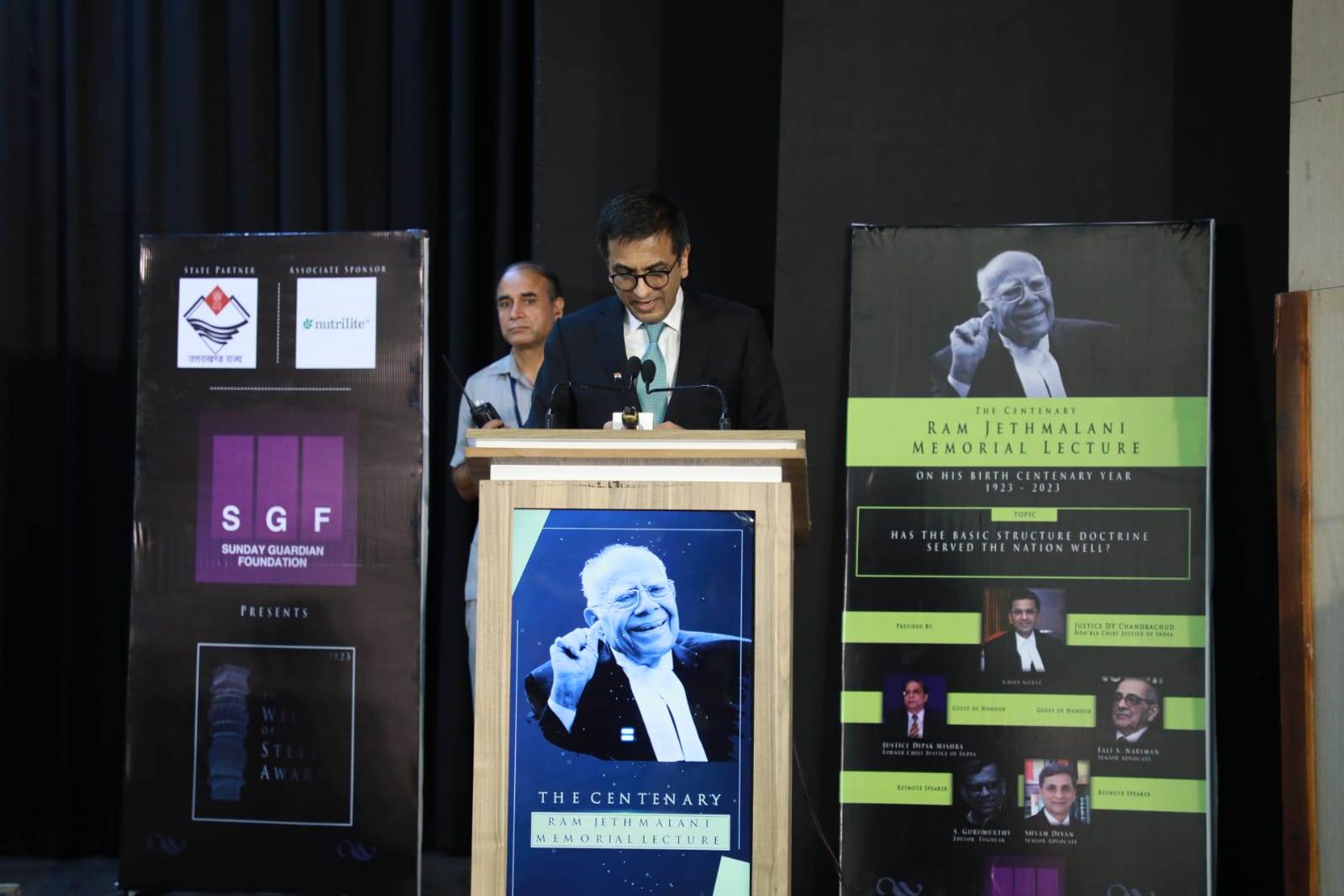 CJI highlights key aspects of Jethmalani's life and his significant contributions to the legal profession and the nation.
New Delhi, 15 Sep 2023 – The Chief Justice of India, DY Chandrachud, delivered a heartfelt memorial lecture today, paying tribute to the renowned lawyer Ram Jethmalani. During his address, he highlighted key aspects of Jethmalani's life and his significant contributions to the legal profession and the nation.
CJI Chandrachud began his speech by reflecting on the uniqueness of Ram Jethmalani, stating, "We have to ask ourselves, can we clone a Ram Jethmalani? Possibly not, because for that, we'll have to clone the social and political time in which he evolved and flourished."
He emphasized that Jethmalani's legacy endures due to his relentless pursuit of justice through legal and constitutional means, even during challenging times. "He lived in times when one could be despondent about the way in which things were turning out. But he never gave up his faith in the constitution," remarked CJI Chandrachud.
Recalling the early years of Jethmalani's legal career, the Chief Justice noted his involvement in the famous Nanavati case in 1959, the last jury trial in India. Chandrachud stated, "Ram was hired as a watching counsel by the sister of the victim, and his role was to help with the prosecution strategy."
Chandarchud further highlighted Ram Jethmalani's role in writing the brief for the prosecution lawyer, Y V Chandrachud, pointing out eight instances of jury misdirection. This led to the High Court convicting Nanavati, a pivotal moment in Indian legal history.
The Chief Justice also shed light on Jethmalani's involvement in the case related to the assassination of Indira Gandhi, where he passionately worked to prevent the execution of the convicts. He raised a constitutional question over the president's refusal to grant them a hearing. Chandrachud noted, "He argued that the pardoning power of the president cannot be exercised arbitrarily and that there must be guidelines. 'Secret guidelines are no guidelines,' he said."
Ram Jethmalani's commitment to pro bono work and his efforts to make legal education accessible were acknowledged by the Chief Justice. "By some estimates, he charged only 10% of his clients, and 90% of his cases were handled pro bono," said Chandrachud. Jethmalani's dedication to ensuring justice for common citizens left an indelible mark on the legal profession.
While discussing the basic structure doctrine, Chandrachud humorously mentioned, "Much as I admire Jethmalani, one thing I wouldn't want to share with him is his ability to court controversy." He expressed his own goal to institutionalize courts for greater transparency, accountability, and efficiency.
The Chief Justice highlighted advancements in the Indian judiciary, such as e-filing, urgent listing, and online portals, empowering citizens to independently track case statuses.
The memorial lecture served as a fitting tribute to Ram Jethmalani's remarkable contributions to the legal field and his unwavering commitment to justice.