Cong marks 100 days of Bharat Jodo Yatra
17 December, 2022 | Riya Girdhar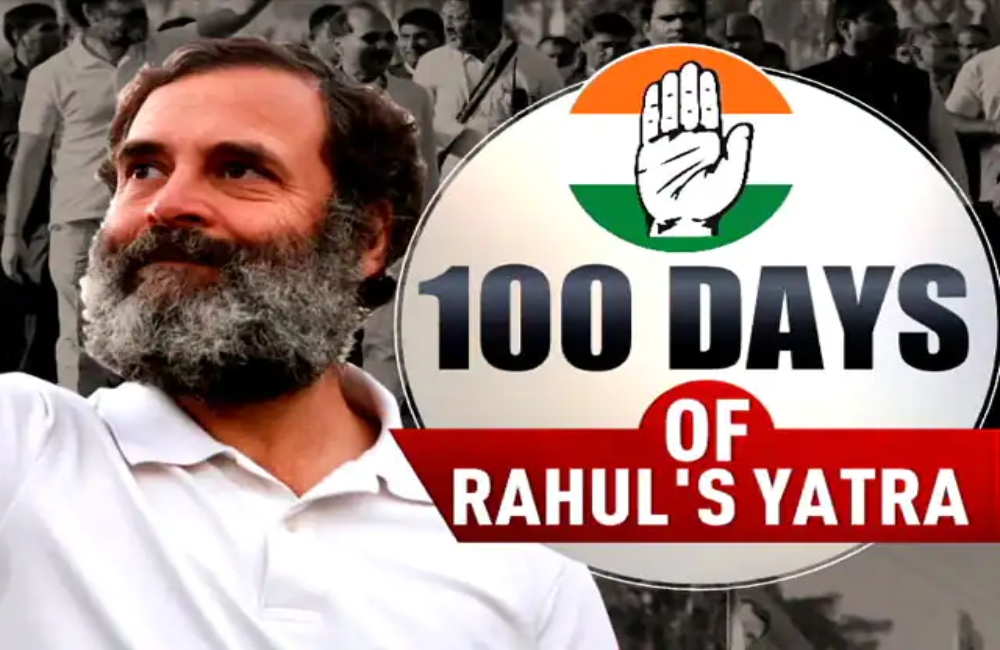 Rahul Gandhi has frequently criticised the BJP in Bharat Jodo Yatra, during his encounters over the last three months.
Rahul Gandhi has been leading the Bharat Jodo Yatra, the Congress' mass engagement campaign, for 100 days since it began in September. The team is now in Rajasthan after travelling through seven states thus far on the foot march. Sukhvinder Singh Sukhu joined Gandhi on Friday, only days after taking the oath of office as the chief minister of Himachal Pradesh, along with other recently elected MLAs from the venerable old party. The grand old party has received no less than a shot in the arm with the Himachal victory.
The grand old party tweeted a picture of Sukhu, Mukesh Agnihotri, Pratibha Virbhadra Singh, the head of the state unit, walking with Rahul Gandhi. "Victory is assured if we proceed together. The Himachal Pradesh Congress Committee President Pratibha Virbhadra Singh, Deputy Chief Minister Sukhvinder Sukhu, and all Congress MLAs took part in Bharat Jodo today, according to the party's post in Hindi.
The demonstration of solidarity comes days after rumours of internal rifts abounded, with Mukesh Agnihotri and Pratibha Singh circling for the top position and Pratibha Singh serving as the widow of the late former Himachal Pradesh chief minister Virbhadra Singh. Last week, Sukhu's name was verified. Vikramaditya Singh, Pratibha's son, would be included in the cabinet, he has said.
After landing in Jaipur on Thursday night, Sukhu was cited by news agency ANI as saying, "Congress won in Himachal Pradesh hence all our 40 MLAs will join in the (Bharat Jodo) yatra tomorrow and thank the Congress leadership for having trust in us." Upon his arrival, he was seen in a photo with Congress President Mallikarjun Kharge.
Rahul Gandhi has travelled through several states throughout the three months of the foot march, including Tamil Nadu, Kerala, Karnataka, Maharashtra, and Madhya Pradesh. The Kanyakumari-to-Kashmir Yatra was started with the intention of reviving the grand old party's connection with the populace following consecutive electoral setbacks since 2014.
Former RBI governor Raghuram Rajan took part in the Rajasthan foot march this week as well. Along with discussing the national economy, he had a conversation with Rahul Gandhi and expressed his thoughts and outlook for the coming year. On Wednesday, stand-up comedian Kunal Kamra tweeted about his involvement.
"I believe that many are hesitant to walk the yatra and are attempting to remain impartial after participating in the Bharat Jodo Yatra for a week. You're not being hesitant out of neutrality, but out of fear. Resistance to authority is also democratic, as it was before 2014, "He tweeted his writing.
Along with Riya Sen and Swara Bhaskar, actors Pooja Bhatt and Swara Bhatt have marched alongside Rahul Gandhi.