Congress, allies stage protests over Rahul Gandhi's disqualification as MP
27 March, 2023 | Pragati Singh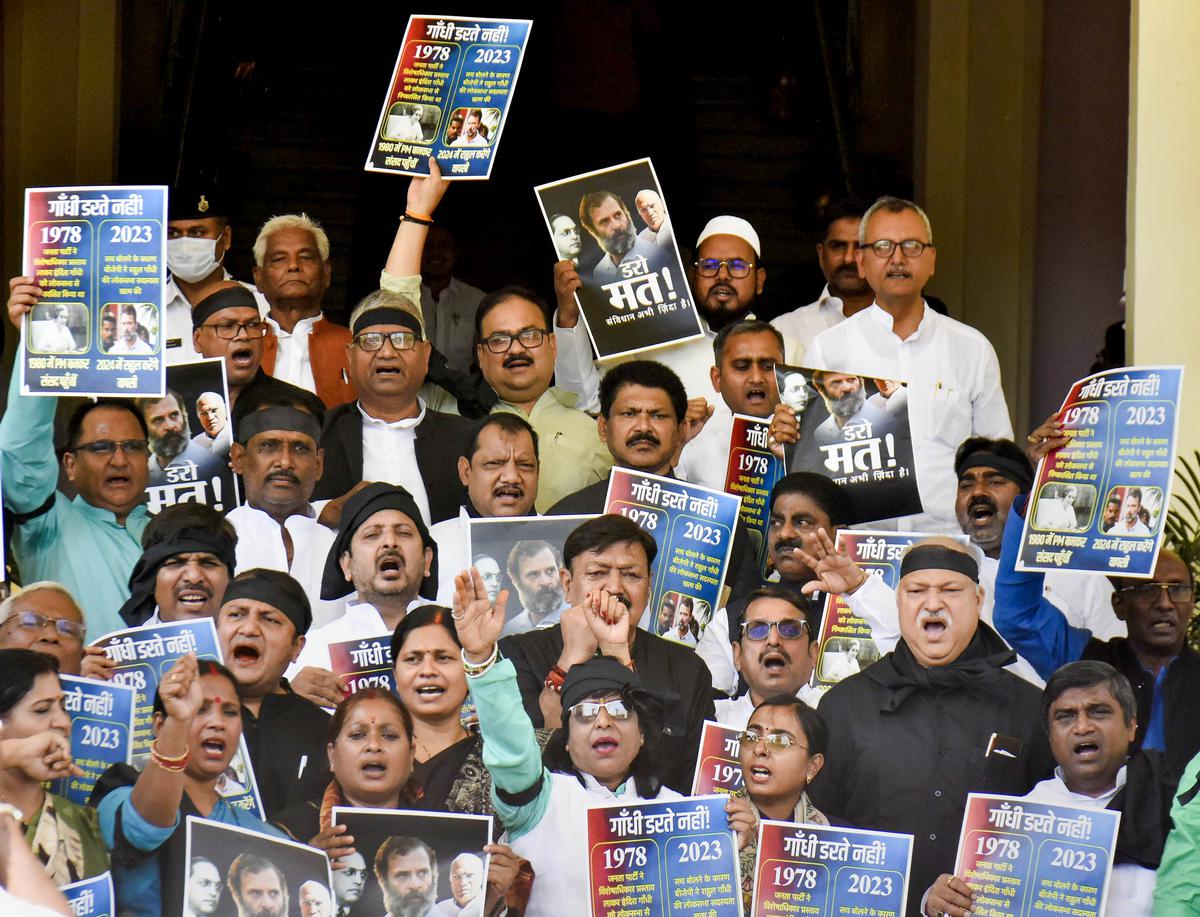 Kharge was seen marching with other MPs while holding their hands.
The Congress and its allies staged protests across the country, including in the national capital, against Rahul Gandhi's removal as Lok Sabha MP, with some wearing black clothes and others wearing black bands in their respective locations. Workers from the Indian Youth Congress were detained in Delhi after protesting Rahul Gandhi's removal as an MP. Congress MLAs wore black shirts to the Odisha Assembly today in protest of the Central Government and Rahul Gandhi's disqualification as an MP. The House was adjourned until 4 p.m. today amid their sloganeering.
In Bihar, where the Congress is allied with the Mahagathbandhan, which includes the JD(U) and the RJD, the alliance's leaders marched in Patna wearing black bands in protest of Rahul Gandhi's disqualification.
Congress MLAs arrived at the Tamil Nadu Assembly in Chennai today wearing black shirts in protest of Rahul Gandhi's removal as an MP. MLAs also carried placards in support of him. Meanwhile, the opposition parties marched from the Parliament complex to Vijay Chowk in the national capital on Monday in an attempt to demonstrate unity against the Centre over the Adani Group issue.
The opposition MPs chanted anti-government slogans at the Gandhi statue in the complex and demanded the formation of a Joint Parliamentary Committee (JPC) on the Adani issue. The protest was also attended by Congress President Rajya Sabha LoP Mallikarjun Kharge and UPA Chairperson Sonia Gandhi. Kharge was seen marching with other MPs while holding their hands.
A Satyameva Jayate banner was also seen. Other opposition lawmakers were seen carrying placards. MPs chanted anti-government and anti-Prime Minister Narendra Modi slogans, linking him to Adani. The march comes after both Houses of Parliament were adjourned minutes after they began.
Earlier today, opposition MPs met in the LoP Rajya Sabha chamber and Congress chief Mallikarjun Kharge in the Parliament building to plan the day's strategy. The meeting was attended by the DMK, Samajwadi Party, JD(U), Bharat Rashtra Samithi, CPI(M), RJD, Nationalist Congress Party, CPI, IUML, MDMK, Kerala Congress, TMC, RSP, AAP, J-K NC, and Shiv Sena (Uddhav faction).
Trinamool Congress MPs also attended the meeting, which marked a significant development following Rahul Gandhi's suspension as a Lok Sabha MP. TMC leader and West Bengal Chief Minister Mamata Banerjee, a BJP critic, backed Rahul Gandhi.
"In PM Modi's New India, Opposition leaders have become the prime target of the BJP! While BJP leaders with criminal antecedents are inducted into the cabinet, Opposition leaders are disqualified for their speeches. Today, we have witnessed a new low for our constitutional democracy," the TMC Supremo had earlier said.
Congress President Mallikarjun Kharge welcomed the TMC's decision to attend the meeting, saying that anyone who wants to "protect democracy" is welcome.
"I thank everyone who supported this. That is why, I thanked everyone yesterday and I thank them today as well. We welcome anyone who comes forward to protect democracy and Constitution and safeguard the people. We extend heartfelt gratitude to the people who support us," Kharge said.
Meanwhile, opposition MPs were seen wearing black in protest of the Centre's handling of the Adani issue and Rahul Gandhi's disqualification.
Earlier this year, Congress MPs, including Rahul Gandhi, dressed in black to protest the Centre's price increases, GST hikes on essential items, and unemployment. As part of their protest against the issues, they marched to the Rashtrapati Bhavan.
"The manner in which Rahul Gandhi's membership is being revoked is completely undemocratic," said Congress MP Manish Tewari. He can file an appeal in court. He was even given 30 days by the court.
Manish Tewari, a Congress MP, stated, "The way Rahul Gandhi's membership was revoked is completely undemocratic. He can file an appeal in court. The court even granted him 30 days to file an appeal. So, what was the rush to accept his membership? .. It's a dark day in our country's history. What occurred was unjust. This will be met with opposition.
Speaking to ANI, Samajwadi Party MP ST Hasan said, "What was the haste to disqualify Rahul Gandhi? He was disqualified within 24 hours. His family has a history. They fought the British, went to jail and sacrificed for the nation. Today he – their descendant – has to face this. You might have grievances but nothing should be done out of prejudice."
"If someone says, "Hasan is corrupt," does that defame the entire Hasan community? This is just face-saving. OBC community knows this. They are saying that what is happening is wrong, and that Rahul Gandhi didn't insult anyone. He should not have been disqualified hastily," he added.