Cyclone Mandous: Heavy Rain Warning, Schools Shut in Tamil Nadu
9 December, 2022 | Pranay Lad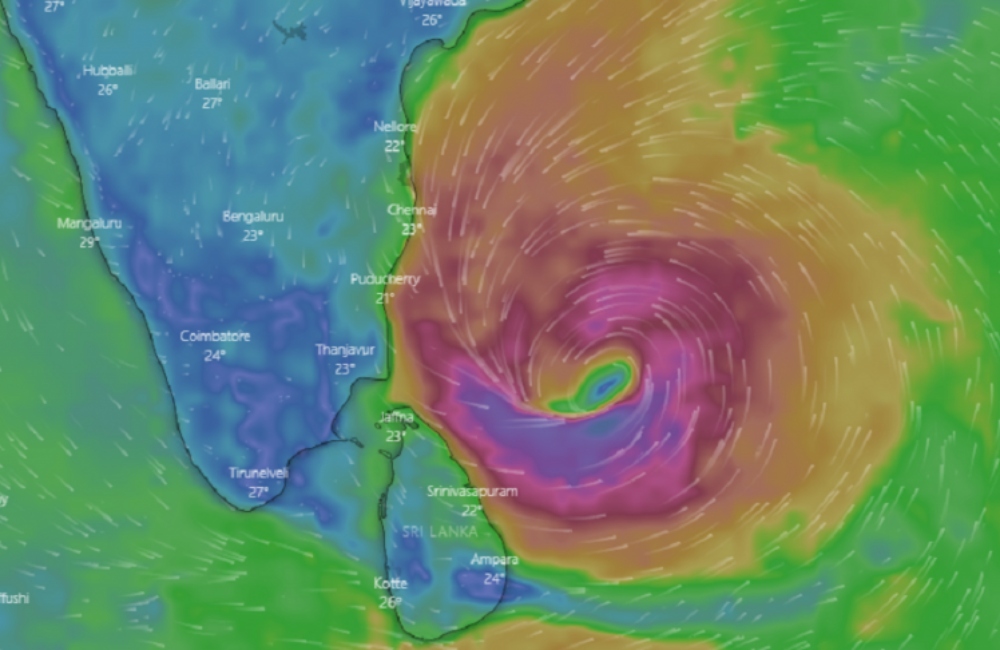 Cyclone Mandous will travel between Puducherry and Sriharikota around midnight.
Tamil Nadu is braced for severe rainfall as Cyclone Mandous is scheduled to strike close the Chennai coast tonight at midnight. The state administration has issued an alert and deployed resources in sensitive regions.
In light of the heavy rain threat, schools and institutions are shut today in 12 districts, including Chennai, Thiruvallur, Chengalpattu, Vellore, Ranipettai, and Kancheepuram. The northern half of the state has been experiencing mild to moderate rainfall since the previous night. Chennai experienced 52.5 mm of rainfall till 5:30 am.
All parks and playgrounds are to be closed till further notice, per an order from the Chennai city government. It has also advised people not to visit beaches today and not park their automobiles beneath trees. All stores on the beaches have been shut too.
As many as 5,093 relief centres, including 169 in Chennai, and 121 shelters have been opened across Tamil Nadu.
The weather service predicted this morning that Cyclone Mandous will pass close to the coast of Chennai between Puducherry and Sriharikota between tonight evening and early Saturday. It is anticipated to lessen by this afternoon.
Extremely heavy rainfall is anticipated in portions of Chengalpattu, Villupuram, Kancheepuram, and Puducherry. Red alerts have been issued by the weather office in 13 of the state's districts. The cyclone is feared to produce the uprooting of trees, resultant power outages, and floods.
People have been warned by the Tamil Nadu government to stay away from needless travel and to always have a flashlight or candle, batteries, dried fruit, and water on hand.
It has also requested that all precautions be taken, including prior notice of the release of extra water from reservoirs.
The National Disaster Response Force (NDRF) has dispatched its troops to 10 districts. Boats and tree cutters have been dispatched in dangerous regions. Fishermen have been ordered to keep off the sea for three days.
The Coast Guard (Eastern Region) also has taken numerous steps in view of the storm, a defence release stated. Fishing boats are being repeatedly urged to return to port and all oil rigs and offshore sites have been instructed to safeguard the safety of the personnel, the announcement stated.
The cyclone is also forecast to deliver rainfall in numerous districts of Andhra Pradesh, including Nellore, Tirupati, and Chittoor. Yesterday, during a review meeting, Chief Minister Y S Jagan Mohan Reddy urged the district collectors to exercise caution.
Puducherry Chief Minister N Rangasamy also convened a review meeting in view of the storm. The state has opened 238 assistance centres, he has stated. Additionally, NDRF staff members have arrived in Puducherry.
The recent cyclones to impact the Tamil Nadu coast were Nivar in 2020, Gaja in 2018, Vardha in 2016, and Thane in 2011.