Cyclone Mandous: Completes Landfall, Likely to Weaken into Depression
10 December, 2022 | Pranay Lad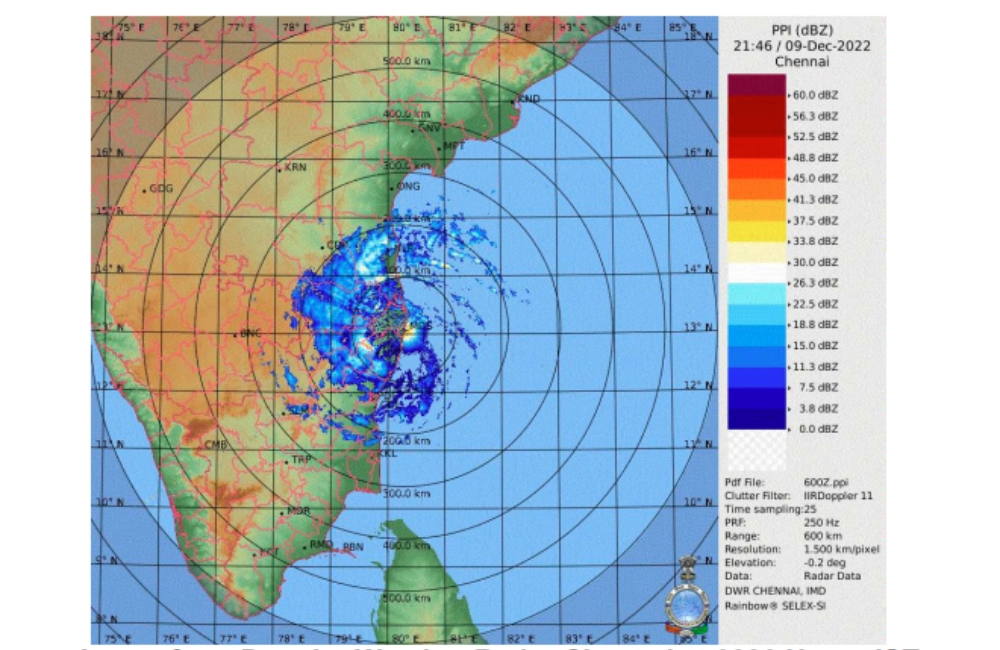 The India Meteorological Department (IMD) announced on Saturday that Cyclone Mandous had made landfall.
Cyclone Mandous on Friday evening, made landfall off Mamallapuram, causing moderate to severe rains in coastal Tamil Nadu. Following the landfall, Mandous is expected to diminish into a deep depression and then a depression on Saturday.
IMD tweeted at 4:48 a.m., "Cyclone MANDOUS rear sector has gone into land and the landing process has been finished. It is highly likely to travel approximately west-northwestward and gradually diminish into a depression by midday on December 10th.
Several areas of Chennai are experiencing heavy rains and severe gusts as a result of Cyclone Mandous making landfall off Mamallapuram.
"Cyclone Mandous crossed the shore and is in deep depression and its strength is reducing," stated S Balachandran, DDGM, RMC Chennai. "As it moves towards the northwest, places in northwest districts would experience strong winds of 55-65 kmph, which will further reduce by evening to 30-40 kmph."
People were asked not to leave until Cyclone Mandous began to diminish, according to the Greater Chennai Corporation (GCC).
According to the report, about 65 trees fell in three hours, and low-lying areas are being treated for water stagnation using motor pumps.
Notably, members of the National Disaster Response Force are prepared.
MK Stalin, the chief minister of Tamil Nadu, stated on Friday that all precautions had been taken in light of Cyclone Mandous.
In addition to routine monitoring of the situation, the administration has taken all necessary precautions, according to Stalin.
Despite the intensity of the storm, Tamil Nadu Chief Minister MK Stalin arrived and inspected the state emergency operations centre at Chepauk.
He said that district-level surveillance of the cyclone had also been implemented.
The monitoring of the storm has also been deployed district-by-district. "Whatever the circumstance may be, Government will assure the security of the people," stated Stalin.
Stalin exhorted the populace to cooperate with the state and heed its directives.
In the meantime, the Dindigul Collector has declared Saturday a vacation for Sirumalai and Kodaikanal's schools and institutions.
As cyclone Mandous is anticipated to reach Puducherry and Sriharikota on Saturday around midnight or early in the morning, heavy rainfall and high gusts were observed in Puducherry on Friday.
In light of the "Mandous Cyclone," the IMD had anticipated that the highest wind speed will cross up to 85 kmph and had issued a red alert.
Tamil Nadu, Puducherry, and Andhra Pradesh are the three states that have received red alerts. The storm is being monitored by the Karaikal and Chennai Doppler Weather Radars.