Death toll from earthquake in Turkey and Syria exceeds 25,000
12 February, 2023 | Pragati Singh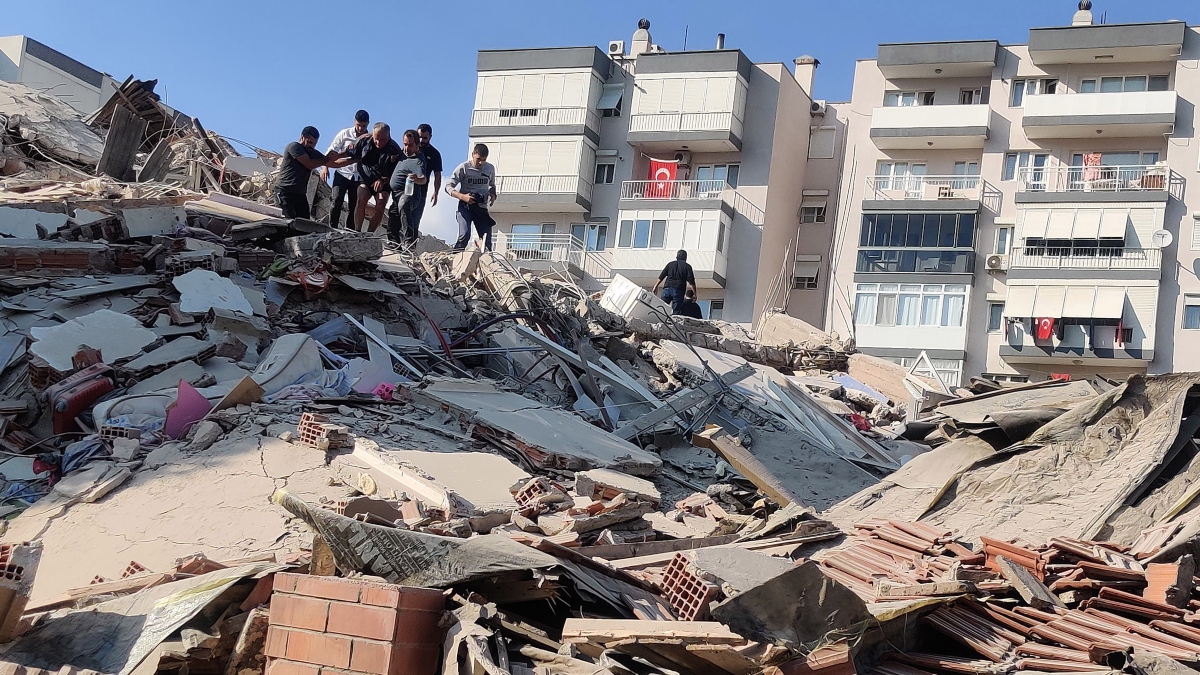 Dead toll from last week's horrific 7.8-magnitude earthquake in Turkey and Syria topped 25,000.
The dead toll from last week's horrific 7.8-magnitude earthquake in Turkey and Syria topped 25,000 on Saturday (local time), according to CNN. According to Turkish President Recep Tayyip Erdogan, the number of those slain in Turkey has grown to 21,848. On Saturday, Erdogan said in the southeastern city of Sanliurfa that 80,104 people had been hurt.
According to the White Helmets civil defence group, the overall number of dead across Syria is 3,553, including 2,166 in rebel-held territories in the northwest. According to Syrian official media, 1,387 people have died in government-controlled areas of Syria.
According to CNN, the overall number of injured individuals in Syria throughout all impacted regions is 5,273, with 2,326 in government-controlled areas and 2,950 in rebel-held areas. Meanwhile, Ukrainian President Volodymyr Zelenskyy paid a visit to the Turkish Embassy in Ukraine on Saturday to mourn those who perished as a consequence of the tragic earthquake that killed over 25,000 people.
"Please accept my sincere condolences from me personally and on behalf of the people of Ukraine. The awful tragedy that took so many lives in one moment caused deep pain in our hearts. We share the pain of the Turkish people and help in this difficult time. Eternal memory to the deceased. We wish those who suffered, a quick recovery," Zelenskyy said.
During his visit, he also met with Turkish Ambassador to Ukraine Yagmur Ahmet Guldere.
According to CNN, Zelenskyy stated in his statement on Saturday that the Ukrainian State Emergency Service is assisting with debris cleanup in Turkey. He also stated that the Ukrainian Embassy is investigating information concerning Ukrainian people in Turkey who may have been affected by the earthquake.
Rescue efforts in rebel-held parts of northwest Syria have ended, according to the volunteer group White Helmets. A long-running civil conflict has hindered relief operations there. The Syrian government approved transporting aid to rebel-held areas on Friday, but no details were provided. Workers in Turkey are still attempting to extract people from the wreckage, with some heartbreaking success stories.
However, several groups suspended rescue efforts on Saturday owing to security concerns.
Recovery in Turkey following the deadly earthquake has now reached the "humanitarian phase," according to Jamie LeSueur, the head of emergency operations at the International Federation of Red Cross and Red Crescent Societies.
As his team transitions from search-and-rescue efforts, LeSueur told CNN from Gaziantep that the most pressing requirements for people affected in Turkey are food, health, and water.
"We've now entered into the humanitarian phase. That is going to last for a couple of months, where we'll still try to meet people's basic needs," LeSueur said.
The United Nations' top humanitarian official called this week's deadly earthquake in southern Turkey and northern Syria the "worst disaster in 100 years" to impact the area. Martin Griffiths, the official, made the statement to media on Saturday during a visit to Kahramanmaras, Turkey.
"The response as you have seen here, and as your viewers have seen, is also unique," Griffiths added. "There has never been an international response, a Turkish response to a natural disaster as we see here in these terrible days."
Meanwhile, due to security concerns, Germany has paused rescue and relief efforts at the site of a fatal earthquake in Turkey, after a similar action by Austria earlier Saturday, according to CNN. The German Federal Agency for Technical Relief (THW) has suspended its rescue activities owing to a change in the security situation in the Hatay region, according to a statement issued on Saturday.
It had been working in collaboration with International Search and Rescue (ISAR) Germany and Turkey's Disaster and Emergency Management Agency (AFAD)."In the last few hours, the security situation in the Hatay region has apparently changed. There are increasing reports of clashes between different groups. The search and rescue teams of ISAR Germany and THW will therefore remain in the joint base camp for the time being. ISAR and THW will resume their work as soon as AFAD deems the situation to be safe," read the statement.
The Austrian Army also cited security concerns in delaying operations, according to CNN. According to the Austrian Forces Disaster Relief Unit, the Austrian Army has paused rescue efforts in Turkey owing to a "increasingly dangerous security environment" (AFDRU).
"The expected success of saving a life bears no reasonable relation to the security risk. There is increasing aggression between groups in Turkey," Lieutenant Colonel Pierre Kugelweis of the AFDRU said in a statement Saturday.
"There was no attack on us Austrians. We're all fine … The mood among the helpers is good, given the circumstances … We would like to help, but the circumstances are what they are," Kugelweis continued.
"We keep our rescue and recovery forces ready. We are ready for further operations," Kugelweis added, stating that a scheduled return to Austria for Thursday remains in place.