Documentary on India's glory under PM Modi to be aired on Doordarshan
13 April, 2023 | Vaishali Sharma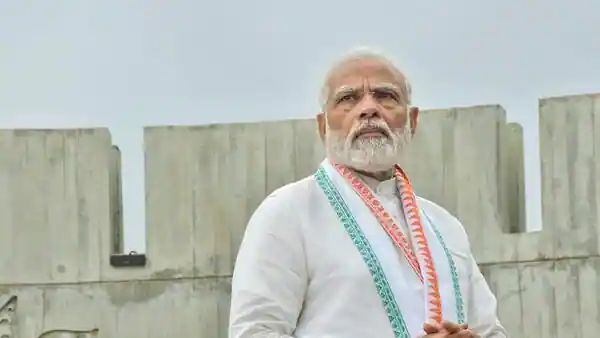 In continuation with the Azaadi Ka Amrutkal theme, national broadcaster Doordarshan will soon be launching a two-part series titled "Dharohar Bharat Ki".
A two-part series titled "Dharohar Bharat Ki" will soon debut on national broadcaster Doordarshan as part of the "Azaadi Ka Amrutkal" theme.
The series, which will air on April 14-15, will focus on India's rich cultural and historical heritage under the current Modi regime, which has placed special emphasis on conserving India's rich civilisational and cultural heritage, glorifying India's freedom fighters, and the supreme sacrifice of India's soldiers.
"Our soldiers devoted their entire lives and sacrificed their every being to safeguard every inch of our motherland. Their sacrifice cannot just be measured in words; its grandeur and import have to be brought made alive to inspire future generations," Prime Minister Narendra Modi said in his interaction in the documentary.Over the years the Modi government has laid an emphasis on showcasing India's glorious heritage. Right from setting up the National War Memorial to honour the sacrifice of our soldiers to the Police Memorial as a mark of respect to the fallen policemen, has been to imbibe the clarion call by the prime minister.
Spiritual sites like Ram Janmabhoomi, Somnath Temple, Mahakal Temple Corridor, Kashi Vishwanath Temple Corridor, and Kartarpur Sahib Corridor have been some of the most prominent steps undertaken to protect India's cultural and religious heritage.The documentary will showcase the huge strides made by India in the last few years for the revival of our spirit of cultural unity and pride.Ascertaining the security as well as the sanctity of venerable patriotic sites, such as the Jallianwallah Bagh; resuscitating the splendid fervour of our civilizational centres such as Ram Janmabhoomi, Kashi Vishwanath Dham; Somnath Dham and Kedarnath Dham; according to respect to such spiritual sites such as the Karatrpur Sahib; celebrating the lives of freedom fighters at inspirational sites such as the Cellular Jail; centre-staging the contribution of Netaji Bose through the grand Netaji statue at India gate canopy; and honouring the legendary contribution of our patriots – past and present – such as the War Memorial are some of the themes that the documentary will present.
The documentary "Bharat's Renaissance" reflects this very idea. While our collective pride has revitalised us with a sense of belonging, especially in recent years, it is critical for today's youth to fully understand the significance of our freedom fighters' sacrifices and their honourable commemoration," sources say of the idea behind this series.
In essence, the two-part documentary is a visually compelling celebration of India's vast and vibrant culture, revitalizing, embracing, and thus celebrating our rich and diverse heritage.