Drone Sighting ThreeFold Along Border with Pak 
27 December, 2022 | Pranay Lad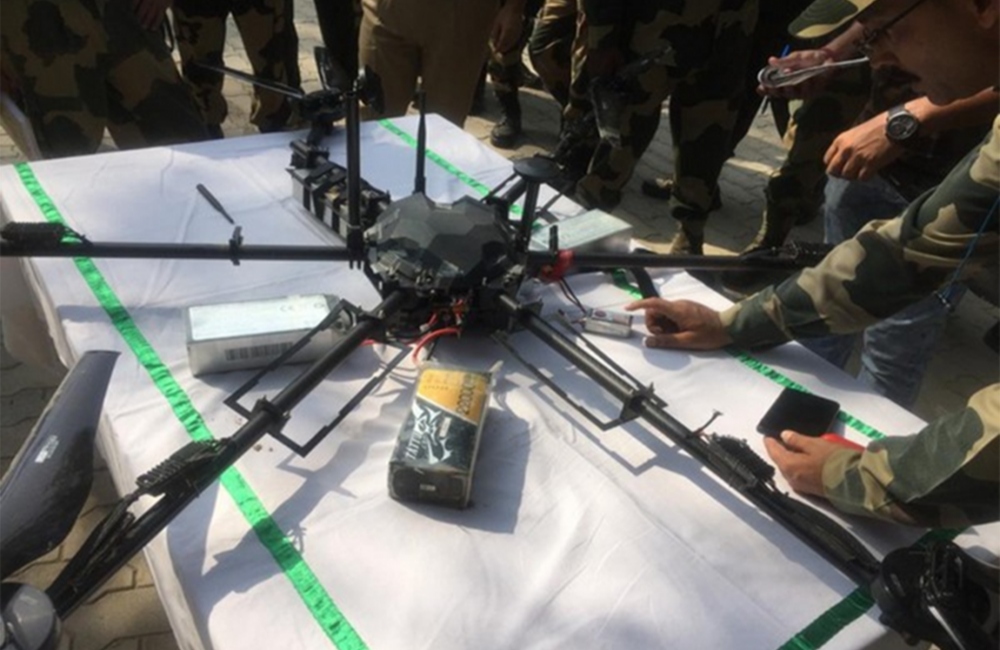 Drone sighting occurrences along the India-Pakistan border have increased by a factor of three, with 311 observations of such Unmanned Arial Vehicles (UAVs) made as of Dec 23 this year.
There have been 311 occurrences of such Unmanned Arial Vehicles (UAVs) as of December 23 this year compared to 104 in 2021, a threefold rise in drone sighting incidences along the India-Pakistan border.
In addition to this data compiled by the Border Security Force (BSF), which is responsible for securing the 3,323 km India-Pakistan border, drone sighting incidents have quadrupled since 2020, when 77 UAVs were spotted along the Pakistani border and were a significant source of smuggling drugs, arms, and ammunition into India. The majority of the drone sightings in Punjab were concentrated in locations 2 to 10 kilometres from the international border.
A stockpile of weapons and ammunition, including seven grenades, two magazines, 60 rounds, and other weapons, were also found, along with over 22 similar drones that were shot down by alert BSF soldiers. Nearly 45 kg of heroin was also found in the area.
According to sources, 311 of the 492 UAVs or drones that were spotted on the India-Pakistan border between January 1, 2020, and December 23, this year, were seen this year, 104 in 2021, and 77 in 2020.
369 UAVs were spotted in Punjab, 75 in Jammu, 40 in Rajasthan, and 8 in Gujarat out of the total drone sightings.
Maximum drone sightings in Punjab were recorded in the districts of Amritsar (164), Gurdaspur (96), Ferozpur (84), and Abohar (25). A total of 35 drones were spotted in Indreshwar Nagar, 29 in Jammu, and 11 in Sunderbani under the Jammu boundary. 32 drones were spotted in Sri Ganganagar, Rajasthan, seven in Barmer, three in each of Bikaner and Jaisalmer North and South, two in Bhuj, and three in Sri Ganganagar.
The statistics also showed that 206 drones in total were seen between July 1 and December 23 of this year. In August, most of them—45—were spotted, then 44 in September, 38 in October, 36 in November, and 24 in December. With only 19, July saw the fewest drone sightings.
The locations of 60 of these sightings were in Amritsar, 55 in Ferozepur, 39 in Gurdaspur, 23 in Abohar, 10 in Sri Ganganagar, 6 in Indreshwar Nagar, 5 in Jammu, 3 in Barmer, 2 in Jaisalmer North, and 1 in Bikaner.
According to BSF officials, Pakistan is using drones to transfer guns, explosives, and drugs across the border from Pakistan.
When top security and intelligence officials met in Srinagar in October for a security assessment, they alerted Union Home Minister Amit Shah about the increasing drone activity across the border.
The state police and the intelligence agencies disagree with the BSF's assertion that it has been successful in thwarting drones from Pakistan that were delivering weapons, ammo, and explosives across the international boundary in the Jammu sector.
Various AK series assault weapons, pistols, MP4 carbines, carbine magazines, high explosive grenades, and drugs that were brought into Indian territory from Pakistan by the drones that have been shot down so far have been confiscated by the security forces.
The drones are also used to drop packs of Afghan heroin for financing terror activities in the Valley and Punjab, according to security agencies, BSF intelligence inputs, and Jammu and Kashmir Police personnel.
According to information obtained, Lashkar-e-Taiba and other terrorist organisations with bases in Pakistan and camps on both sides of the international border and who are supported by the Inter-Services Intelligence are responsible for the transit of weapons, explosives, and narcotics (ISI).
According to information obtained, the Home ministry ordered all relevant authorities to address drone activity from across the border. Law enforcement and security services have also been ordered to keep a close eye on such moves.