ED questions Sonia Gandhi: 56 MPs among 349 Cong members held for protesting in Delhi
22 July, 2022 | Pravina Srivastava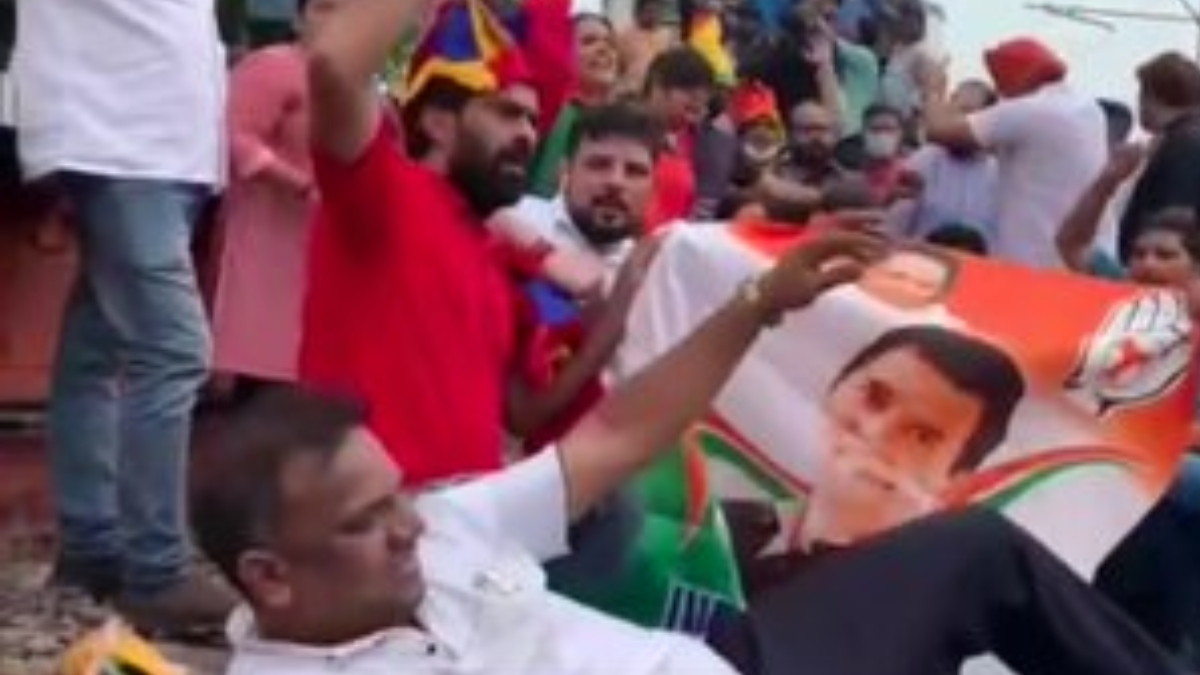 Delhi Police said on Thursday that it had detained 349 Congress officials, including 56 MPs.
Following the leaders' protests in capital over the ED summons to the Congress interim chairwoman Sonia Gandhi, Delhi Police said on Thursday that it had detained 349 Congress officials, including 56 MPs.
"To preserve public order in the region, a total of 349 officials or employees of the Congress party, including 56 Hon'ble MPs, were held from various locations under section 65 DP Act. All of them have since been freed after completing the requisite requirements. The appropriate competent authority has been notified of the custody of the honourable MPs and MLAs " stated Delhi Special Commissioner of Police Sagar Preet Hooda.
Enforcement Directorate demanded a personal presence from Sonia Gandhi.
"According to information obtained from a number of sources, INC members may stage protests in support of their party leader in this respect. Large gatherings along Akbar Road in New Delhi are not authorised due to prohibitory orders under section 144 of the Criminal Procedure Code that are in effect in the region of New Delhi District, according to a letter given to the event's organizer, the All India Congress Committee (AICC). Additionally, they were advised that only AICC office officials or personnel would be allowed inside the office following proper identification by AICC volunteers "stated police officials.
To prevent any adverse incidents, a sufficient law and order setup was made in the New Delhi District.
Around 11 am, several AICC employees began congregating for the protest at numerous sites, including RML Hospital, Akbar Road, Maulana Azad Road, Man Singh Road, and Tolstoy Marg. The protesters were given the proper information on the prohibitory order in place in the area and asked to disperse. Police demands were ignored by the demonstrators, who persisted in their illegal gathering. They were thus stopped and imprisoned for disobeying legal instructions.
Among those held were senior Congress figures P Chidambaram, Ajay Maken, Manickam Tagore, KC Venugopal, Adhir Ranjan Chaudhry, Shashi Tharoor, Sachin Pilot, Harish Rawat, Ashok Gehlot, and K Suresh.
Following the rally, Congress workers in Nagpur were also detained.
In Bengaluru, the Congress protest descended into violence after a vehicle was allegedly set on fire in front of the ED office by members of the Youth Congress.
At New Delhi's Shivaji Bridge train station, Congress members also stopped a train and blocked railroad tracks.
In order to disperse Congress members and leaders who were protesting the questioning, Chandigarh Police also deployed water cannons.
Party leader Jairam Ramesh said that in an act of mass solidarity with Sonia Gandhi, party MPs and CWC Members had threatened mass arrest outside the party's headquarters.
Congressmen said that the administration had abused its investigative powers to smear political rivals.
Ashok Gehlot, the chief minister of Rajasthan, who is also in Delhi, criticised the investigation and claimed that because Sonia Gandhi is older than 70, ED should have gone to her home to interrogate her.
"They are suspending the dharna, the demonstration, for the first time in the country," he remarked.
Party leader Sachin Pilot accused the government of misusing its agencies. In a democracy, we have the right to demonstrate, but that freedom is also being curtailed, he claimed.
After being held in New Police Line, Kingsway Camp, all MPs and Congress leaders were ultimately freed.