Fin Min tables Economic Survey 2023: 7 Key Takeaways
31 January, 2023 | Pragati Singh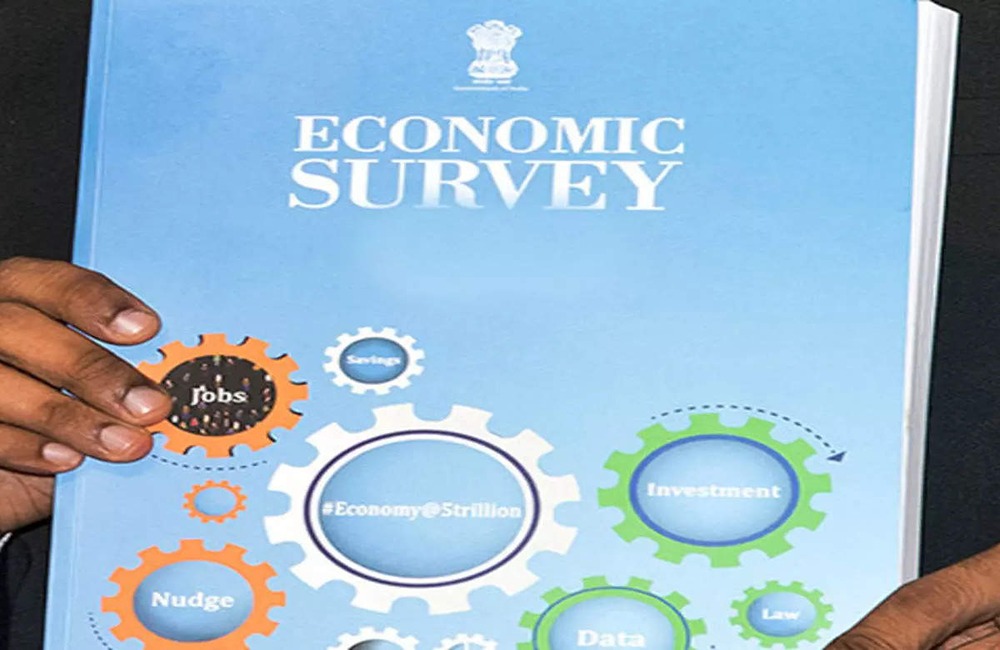 The Union Finance Minister Nirmala Sitharaman tabled the Economic Survey 2022-23 in Parliament today, which projects a baseline GDP growth of 6.5% in real terms in FY24.
The Union Minister for Finance & Corporate Affairs Smt. Nirmala Sitharaman tabled the Economic Survey 2022-23 in Parliament today, which projects a baseline GDP growth of 6.5 per cent in real terms in FY24. The projection is broadly comparable to the estimates provided by multilateral agencies such as the World Bank, the IMF, and the ADB and by RBI, domestically.
Here are the 7 key points made in the survey:
GDP growth: India's GDP growth is expected to remain robust in FY23 at 7 per cent (in real terms). This follows an 8.7 per cent growth in the previous financial year. GDP forecast for FY24 to be in the range of 6-6.8 %, depending on the trajectory of economic and political developments globally. Economic Survey 2022-23 projects a baseline GDP growth of 11 per cent in nominal terms and 6.5 per cent in real terms in FY 24.
Agriculture: Private investment in agriculture has increased to 9.3 per cent in 2020-21. In 2021–2022, institutional credit to the agricultural sector increased even more, reaching 18.6 lakh crore. Institutional Credit to the Agricultural Sector grew to 18.6 lakh crore in 2021–2022 in terms of credit growth.
Manufacturing: Manufacturing and investment activities consequently gained traction. By the time the growth of exports moderated, the rebound in domestic consumption had sufficiently matured to take forward the growth of India's economy. Private Consumption as a percentage of GDP stood at 58.4 per cent in Q2 of FY23, the highest among the second quarters of all the years since 2013-14, supported by a rebound in contact-intensive services such as trade, hotel and transport, which registered sequential growth of 16 per cent in real terms in Q2 of FY23 compared to the previous quarter.
MSME: The Survey says, the credit growth to the Micro, Small, and Medium Enterprises (MSME) sector has been remarkably high, over 30.6 per cent, on average during Jan-Nov 2022, supported by the extended Emergency Credit Linked Guarantee Scheme (ECLGS) of the Union government. It adds that the recovery of MSMEs is proceeding apace, as is evident in the amounts of Goods and Services Tax (GST) they pay, while the Emergency Credit Linked Guarantee Scheme (ECGLS) is easing their debt servicing concerns. Apart from this, increase in the overall bank credit has also been influenced by the shift in borrower's funding choices from volatile bond markets, where yields have increased, and external commercial borrowings, where interest and hedging costs have increased, towards banks. If inflation declines in FY24 and if real cost of credit does not rise, then credit growth is likely to be brisk in FY24.
Inflation: According to the Economic Survey, retail inflation will be back within the RBI's target range in November 2022, due to the government's multi-pronged approach to taming price increase. While the advanced world experienced high inflation in 2022 for the first time in three to four decades, India capped the rise in prices by lowering the export duty on petrol and diesel, waiving customs duty on cotton imports, and other measures. Borrowing costs may remain 'higher for longer,' and entrenched inflation may extend the tightening cycle. India's inflation management has been particularly noteworthy, especially in comparison to advanced economies that are still dealing with sticky inflation rates.
Foreign Direct Investment: In the first half of FY23, foreign direct investment (FDI) in the manufacturing sector slowed. However, inflows remained well above pre-pandemic levels, owing to structural reforms and measures to improve the ease of doing business, making India one of the world's most appealing FDI destinations.
Employment: Increasing employment creation has been observed, and the urban unemployment rate has decreased. Net registration numbers in the Employee Provident Fund scheme have increased. In both urban and rural areas, labour markets have recovered beyond pre-Covid levels, with unemployment rates falling from 5.8 percent in 2018-19 to 4.2 percent in 2020-21.
The Indian Economic Survey 2023 paints a positive picture of the Indian economy, with strong growth expected across various sectors. The government is taking steps to support and sustain this growth, through reforms, policies, and initiatives aimed at improving the business environment and boosting investment.