Firefighting ops at Chandni Chowk market go on for more than 24 hours
26 November, 2022 | Riya Girdhar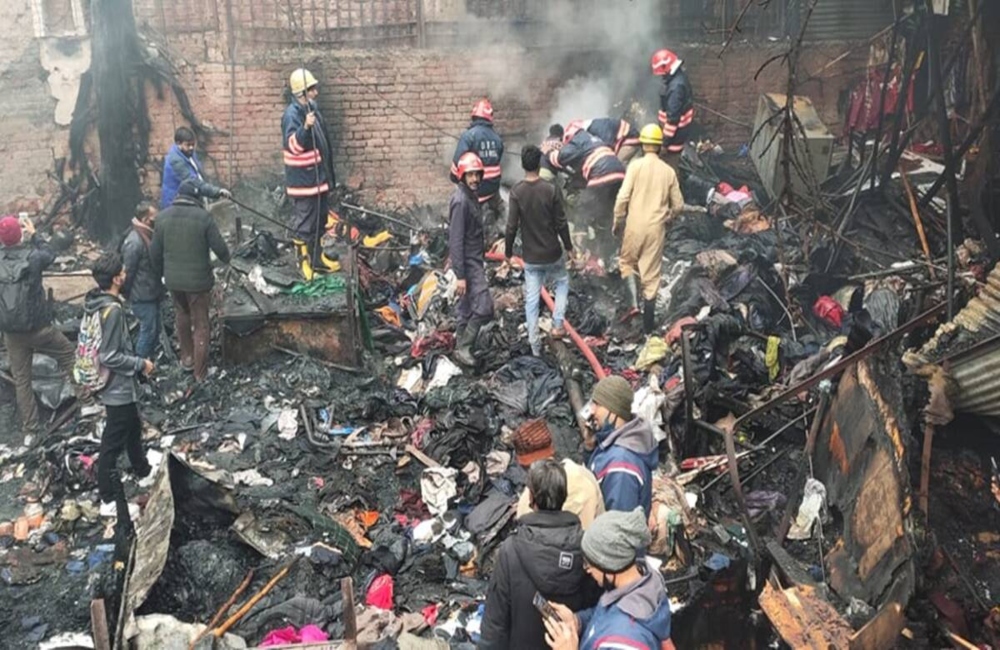 According to the Delhi police, the fire, which started about 9.20 p.m. on Thursday, destroyed 150 stores and caused four structures to fall.
The Delhi Fire Service is still working to cool down the area where a large fire broke out at Chandni Chowk's Bhagirath Palace market more than 24 hours ago.
According to the Delhi police, the fire, which started at 9.20 p.m. on Thursday, damaged 150 businesses and caused the collapse of four buildings. Local shopkeepers have estimated the worth of the damaged items in crores.
DFS Chief Atul Garg clarified reports that the fire had re-ignited on Friday night, saying: "The fire is burning as before, and cooling activities are underway just as they were throughout the day. The main distinction is that at night, even dim flames may be seen from a distance, and a new fire is reported.
According to DFS sources, cooling efforts may continue for many more hours, maybe well into the early hours of Sunday, as a result of the collapsed structures. According to a source, it is taking longer than normal to put out the fire since everytime building debris is removed, the items beneath become exposed to oxygen and begin to burn.
Along with top members of the Delhi Police and DFS, Lieutenant Governor of Delhi Vinai Kumar Saxena visited the scene on Saturday morning. According to him, these regions are dangerously prone to fires because of the dangling wires, overloaded circuits, outdated structures, lack of water, and narrow roads.
In order to properly address these concerns with the active participation of residents and other stakeholders, in places like Chandni Chowk, Sadar Bazar, Pahar Ganj, etc., I have formed a multidisciplinary team that will look into possible solutions and deliver a report within 30 days.
In an earlier tweet in Hindi, Delhi's chief minister Arvind Kejriwal said, "This event at Bhagirath Palace market at Chandni Chowk late yesterday night is terribly terrible. The firefighters have been putting up a lot of effort to put out the fire since last night. I receive updates on this from the district administration frequently.