Injury Time: Are the People Running Football Running It into the Ground?
23 November, 2022 | Adarsh Tripathi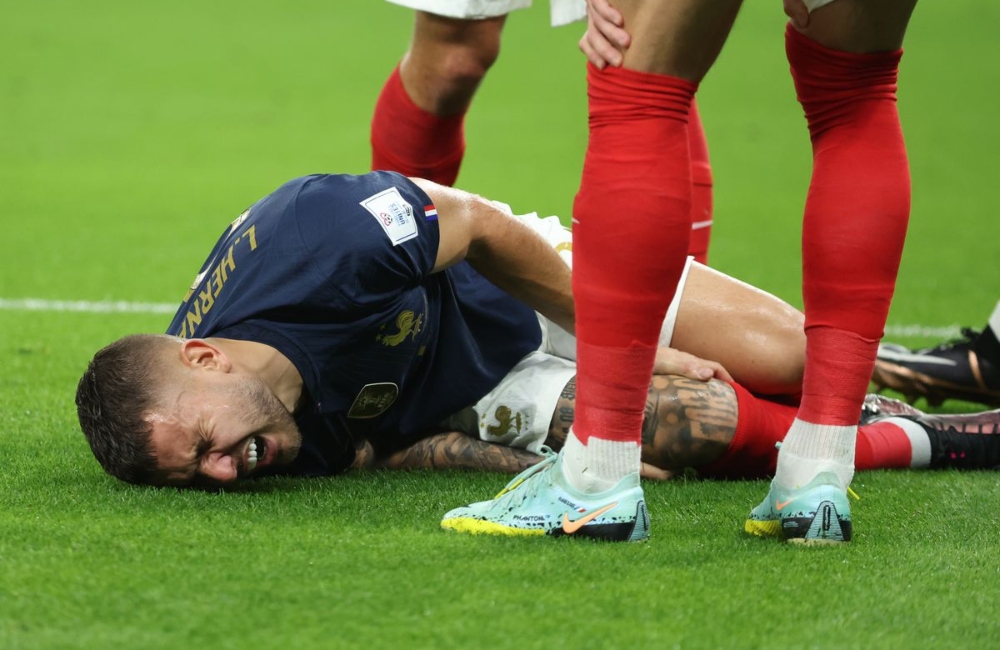 All these injuries to the biggest stars in football bring out a much bigger question. Are football's custodians interested in taking care of the players?
As the world's greatest show, the FIFA World Cup, gets underway one cannot help but notice a number of stars pull out injured from a tournament many players wait their entire lives for. Defending champions France is already without the Player of the Year Karim Benzema, alongside a whole host of first-team stars like PSG defender Presnel Kimpembe, Premier League midfield duo N'golo Kante and Paul Pogba, and RB Leipzig's mercurial midfielder Christopher Nkuku. Joining this star-studded list of players on the physio's bench is left-back Lucas Hernandez, who is now out of the tournament with a torn anterior cruciate ligament, which puts him out for at least a month and definitely out of the World Cup. While France in particular seems to have no trouble replacing these otherwise irreplaceable players with the likes of Antoine Griezmann, Aurelien Tchouameni, Eduardo Camavinga, and Adrien Rabiot coming into the squad, other teams may not fare as well as Les Bleus.
Senegal will sorely miss captain Sadio Mane. South Korean captain Heung Min Son is currently racing against time to feature in football's showpiece event. Morocco will be without Marseille hotshot Amine Harit, while Mexico will miss Jesus Corona's tireless work down the wing. Argentina, one of the favorites to win the tournament, will be praying for the fitness of Roma star Paulo Dybala in time for their next match, as will Canada for star right-back Alphonso Davies.
All these injuries to some of the biggest stars in football bring out a much bigger question that needs to be asked of the organizing bodies of football. As UEFA pushes for more and more matches, adding a whole new continental tournament called the UEFA Conference League among other plans like an expanded Champions League to include 36 teams rather than the current 32. This would mean 4 more matches for all the teams in the Champions League, with most of the top teams already playing 50-60 matches on average in a year. And this doesn't just stop with UEFA.
South American COMNEBOL expanded their premier continental championship Copa Libertadores in 2017, with the number of matches in the tournament going up from 138 to 156. The Copa Sudamericana, the second tier of South American continental football, saw a dramatic increase in matches from 105 in 2020 to 157 in 2021. There are even talks of integrating the United States' Major League Soccer teams into the South American championship, which is bound to increase the number of matches even more.
A recent report by FIFPRO points to this increase in back-to-back games and the overall number of games being played by players every year as a serious risk that players face. Players who play two matches a week dramatically increase their risks of a muscle injury, which is being witnessed now in the World Cup. Frequent injuries to players risk their overall fitness and game, and the administrators of football seem to have no interest in the well-being of the players as long as they bring in the money. When a team like Barcelona, and subsequently Spain, can ask a 19-year-old starlet like Pedri to play 75 games in a season, it is absolutely necessary that they give him a break, which they eventually did after 3 games of the 2021/22 season. It takes but a few years for this consistency to become an expectation, which will then result in a much increased risk of injuries.
Undoubtedly, the improvement of recovery methods means that injuries like a torn ACL no longer simply end careers, but they still impact the overall fitness of players. Many players who have suffered injuries like this have not come close to their potential before the injury, including the likes of Philippe Coutinho, Mario Gotze, and Ruben Loftus-Cheek among many many others.
This dramatic increase in matches will eventually prove to be a detriment to football itself. Modern football is run largely by the people who control the money, and to someone who needs to be wary of their bottom line and reel in bigger profits, the equation is simple. More games = bigger tournaments. Bigger tournaments = more sponsors and bigger deals. Football needs better administrators, and it is high time that organisations like FIFA and UEFA take better care of the players who bring them these buckets full of cash that they are chasing.