Former Karnataka CM Jagadish Shettar joins Congress
17 April, 2023 | Pragati Singh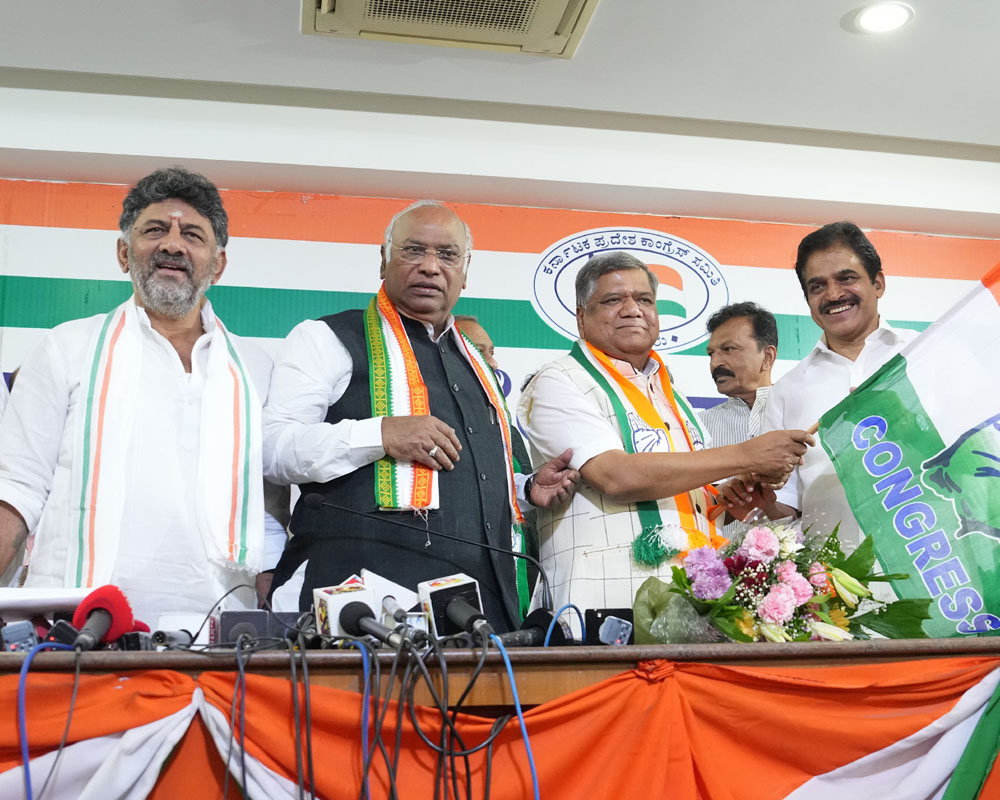 Despite his membership in the RSS and the Jana Sangha, he is a non-controversial figure.
Former Karnataka Chief Minister Jagadish Shettar joined the Congress party on Monday, just a day after leaving the Bharatiya Janata Party (BJP). This morning, Shettar arrived at the Congress office in Bengaluru. His induction into the party was witnessed by Congress President Mallikarjun Kharge, Karnataka State Congress President DK Shivakumar, and State Assembly Leader Siddarama
ah.
Speaking on the occasion, Kharge said, "I do not need to give more introduction about Jagadish Shettar. His joining will boost the enthusiasm of the Congress, He is the person who not only wins alone, he is a person who is capable to win more seats."
Despite his membership in the RSS and the Jana Sangha, he is a non-controversial figure. We have collaborated. Our goal was 150, and now that Shettar has joined us, it is certain that we will meet that goal.
"There will be no demands from Jagadish Shettar, we do not offer anything. He (Jagadish Shettar) will have to agree with the principles and the leadership of the party. We want to keep the country united and only Congress can do that," Karnataka Congress president DK Shivakumar told reporters this morning.
Notably, Randeep Singh Surjewala, Siddaramaiah, and Karnataka Congress chief DK Shivakumar met former CM Shettar in Bengaluru after he resigned from the BJP on Sunday.
In this regard, Jagadish Shettar took to Twitter and said, "Fed up with the political events of the past few days, I have resigned from my MLA seat and will discuss my next move with the activists. As usual, I believe that your love and blessings will always be with me".
Read Also: Joining Congress wholeheartedly" Ex-Karnataka CM Jagadish Shettar after jumping BJP ship
Congress leader Randeep Singh Surjewala said on Sunday that Jagadish Shettar had been humiliated and that the BJP had collapsed like a house of cards. On Sunday, Shettar submitted his resignation as an MLA to Karnataka Assembly Speaker Vishweshwar Hegde Kageri in Sirsi.
According to Karnataka Chief Minister Basavaraj Bommai, BJP President JP Nadda and Union Home Minister Amit Shah promised Shettar a high-level position in Delhi.
"Jagadish Shettar has been a senior and an important leader in this region. JP Nadda and Union Home Minister had promised a big post in Delhi to Shettar. Everything would have been fine if the former CM had continued," Bommai told media persons in Hubballi.
According to Bommai, some candidates are being denied tickets as opportunities are given to the younger generation.
Shettar, a six-term MLA from the constituency, was reportedly advised by the party to step down and not seek re-election as MLA from the Hubli-Dharwad Central segment, prompting his supporters to express their displeasure with the party's high command. After announcing his resignation on Saturday, Jagadish Shettar also stated that there was a conspiracy against him, which is why he was denied a ticket.
"There is a conspiracy against me, will tell everything after resigning," Shettar told ANI.
After being left off the BJP's candidate lists, Shettar issued an ultimatum to the party, stating that if he was denied a ticket from his preferred segment, he would reconsider his political future. Meanwhile, former Karnataka Chief Minister BS Yediyurappa said on Sunday that if Shettar returns to the BJP, he will be welcomed. Karnataka assembly elections will be held in a single phase on May 10, with results expected on May 13.
Follow US : Twitter