France prepares for Bastille Day Parade with PM Modi as chief guest, tight security arrangements in place
11 July, 2023 | Anupam Shrivastava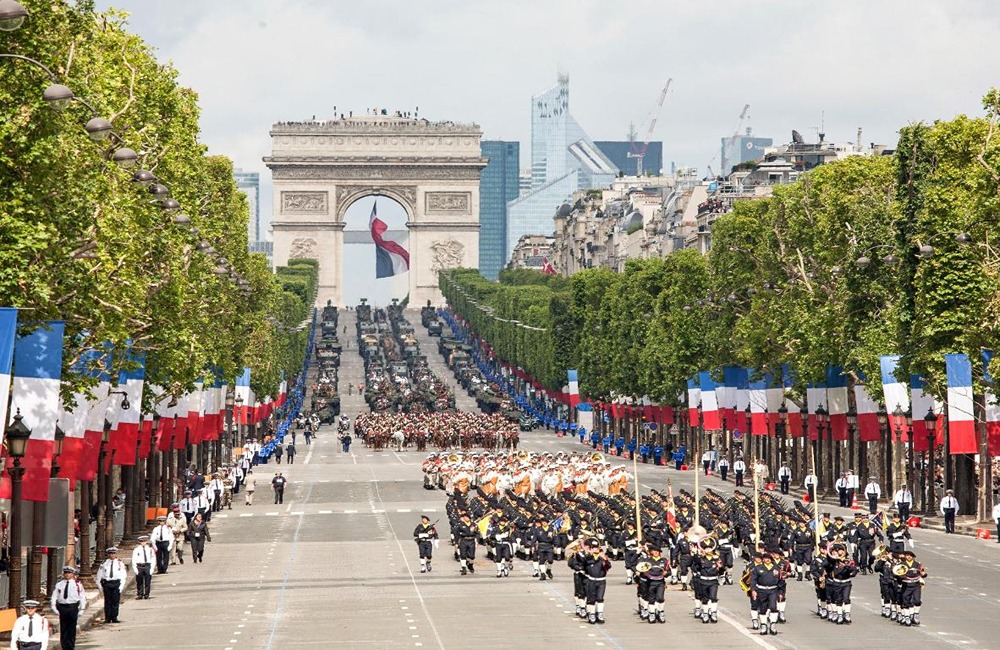 Prime Minister Narendra Modi will attend this year's Bastille Day Parade in France as the guest of honor.
On the invitation of French President Emmanuel Macron, Prime Minister Narendra Modi will attend this year's parade as the guest of honor. The Indian Armed Forces tri-service contingent, which will march with their French counterparts, traveled to France on Thursday.
The military parade honoring Bastille Day, also known as the July 14 military parade or Défilé militaire du 14 juillet, is a French military parade that has taken place in Paris on the morning of July 14 every year practically without fail since 1880.
From Place Charles de Gaulle, which is centered on the Arc de Triomphe, the procession proceeds down Avenue des Champs-Élysées to Place de la Concorde, where the President and other government officials are seated legislators, the mayor of Paris, and ambassadors from other countries visiting France are among the participants.
A week after riots broke out due to the killing of a teenager in a Parisian suburb, thousands of French protesters violated a prohibition to march in central Paris against police violence.
On Saturday, police dispersed the 2,000 demonstrators from Paris' enormous Place de la Republique, sending a number hundred down the open Boulevard Magenta, where they could be seen calmly marching.
For the festivities honoring France's national day on July 14, the government issued a regulation on Sunday banning "pyrotechnic articles."
The action follows rioting caused by the police killing of Nahel M, 17, last month in Nanterre.
Official fireworks displays planned by municipal governments are exempt from the restriction.
"To reduce the possibility of severe disturbances, the sale, possession, movement, and use of fireworks during the celebrations on July 14 will be outlawed nationwide until July 15, inclusive, according to a proclamation issued in the French official gazette.
During the unrest-filled week, which saw some of the worst urban violence in France in over 20 years, fireworks were a standard weapon.
And even during regular hours, on the evening of Bastille Day, young people throwing firecrackers have frequently disrupted events in public spaces and streets.
In addition to the ban on fireworks, Prime Minister Élisabeth Borne announced that a "massive" security presence would be set up to maintain order and "protect the French during these two sensitive days."
She said to the daily Le Parisien that many people were "quite worried" about the prospect of more violent occurrences occurring during the national holiday.