The cricketing universe is ablaze with anticipation as the hashtag #GGHomecoming sweeps through social media, uniting fans, pundits, and players alike in eager discussion. Gautam Gambhir, a name synonymous with cricketing excellence, has stirred a whirlwind of excitement, with enthusiasts across Instagram, Twitter, and Facebook joining the chorus of speculation.
Instagram, the visual storyteller's haven, has seen an explosion of creativity as fans share posts, stories, and artworks, all centered around #GGHomecoming. The hashtag has become a visual spectacle that not only celebrates Gambhir's cricketing prowess but also reveals the depth of love and support he commands.
On Instagram, users have shared their excitement, with one fan exclaiming, "When the past meets the future! Gautam Gambhir's potential reunion with KKR is sending shockwaves through the cricketing world! Are you ready for the epic comeback? #GGHomecoming #IPL2023 #CricketTalk #ExpectTheUnexpected." Such posts reflect the overwhelming enthusiasm for Gambhir's return.
Twitter, the epicentre of real-time conversations, is abuzz with discussions about #GGHomecoming. Influencers, pundits, and cricket enthusiasts have taken to the platform to express their opinions and excitement. This surge in tweets propelled the hashtag to trend in India, potentially reaching 23 million people and igniting passionate debates about Gambhir's potential reunion with Kolkata Knight Riders (KKR).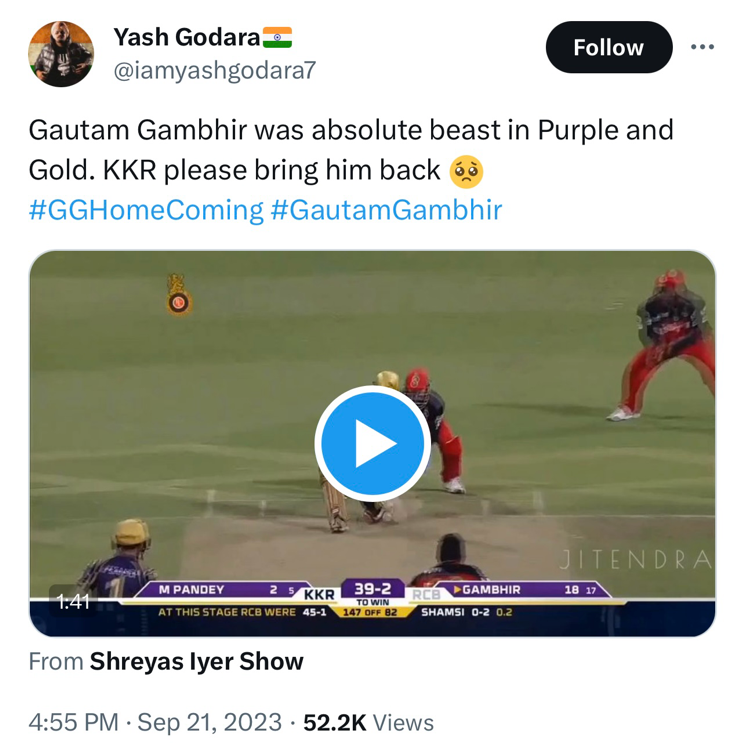 KKR's loyal fanbase has joined the chorus of anticipation, calling it a true "Homecoming" for Gambhir. Their eagerness to see this rumour become reality is palpable, with many expressing their support and longing for their hero's return. The same excitement can be seen among the Facebook users and Youtubers for the same thing.
Adding fuel to the fiery speculations was a recent clandestine meeting between two giants, Gautam Gambhir and Shah Rukh Khan (SRK). Gambhir, who had captained KKR to two IPL titles in 2012 and 2014, met with SRK, triggering an avalanche of rumours and conjecture. The most notable development was Gambhir's Instagram post featuring himself and SRK together, a snapshot that reached over 11 million people and further fueled speculations.
Gautam Gambhir's journey is etched in the annals of cricketing history. His contributions to India's victories in the 2007 ICC T20 World Cup and the 2011 ICC Cricket World Cup are nothing short of legendary. These moments stand as a testament to his impeccable cricketing acumen and his ability to shine in high-pressure situations. Beyond his playing career, Gambhir's role as a mentor is unparalleled. As the guiding force behind the fledgling Lucknow Super Giants (LSG) in the IPL, he transformed them into a formidable contender, leading them to the playoffs twice.
In conclusion, #GGHomecoming is not just a hashtag; it's a phenomenon that has united cricket enthusiasts across the globe. The anticipation, fueled by Gambhir's 7 million-strong Instagram following and the trending prowess on Twitter, underscores the profound impact he has had on the sport and its global community. As we eagerly await any official announcement, the cricketing world remains in suspense, yearning for the potential homecoming of a cricketing legend, mentor, and an enduring icon of the game. For KKR fans, it's not just anticipation; it's a heartfelt longing for their hero's return, a true "Homecoming" for Gautam Gambhir.
Also Read: India Win Toss, Opt to Field Against Pakistan in Blockbuster World Cup Match; Shubman Gill Returns
Catch all the Latest Business News, Breaking News Events, and Latest News Updates on NewsX