At the BRICS Banquet, Global Leaders Hail PM Modi for the Chandrayaan-3 Triumph
24 August, 2023 | Shubhi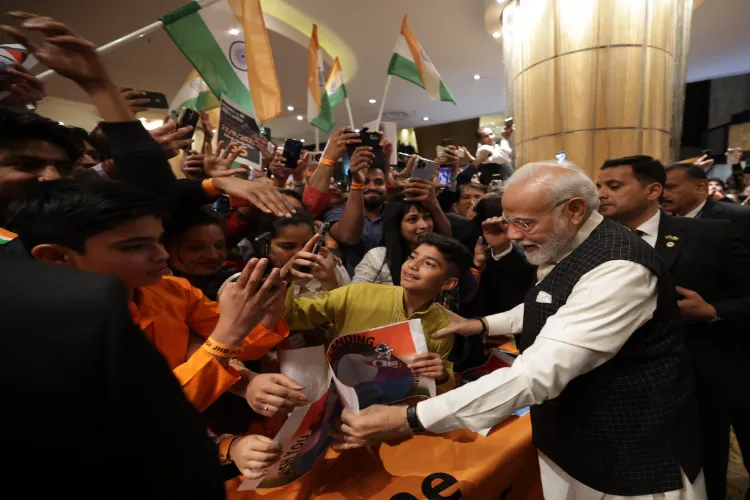 PM Modi celebrates Chandrayaan-3 achievement, congratulates world leaders
During the BRICS Summit dinner in Johannesburg, PM Modi received congratulations from world leaders, including Bangladesh's PM Sheikh Hasina, for Chandrayaan-3's achievement. Earlier, PM Modi expressed happiness over South Africa's diaspora, showing enthusiasm for India's space achievements.
"Feeling the fervor all the way from Johannesburg for Chandrayaan-3! The enthusiasm of our diaspora in South Africa for India's achievements in the space sector is truly gladdening," PM Modi tweeted on August 23. On August 23, the Prime Minister posted images of his interactions with the Indian diaspora assembled at a Johannesburg hotel.
Furthermore, Chandrayaan-3 accomplished a smooth lunar touchdown.ISRO tweeted: "Chandrayaan-3 Mission: 'India, I reached my destination, and you too! Chandrayaan-3 has successfully soft-landed on the moon! Congratulations, India!"As the Vikram lander, carrying the Pragyaan rover, gently landed on the moon's surface, it marked a significant advancement in India's space journey, serving as a fitting culmination of ISRO's years of hard work.
This achievement positions India as the fourth nation, following the US, China, and Russia, to achieve a successful lunar landing. Notably, India secures a unique position in history by accomplishing the first-ever landing on the moon's southern hemisphere.Nationwide screenings of the smooth landing were coordinated, spanning educational institutions, science centers, and public venues. ISRO provided live coverage on its website, YouTube channel, Facebook, and DD National TV.
On July 14, the spacecraft took off from Sriharikota's Satish Dhawan Space Center in Andhra Pradesh. Following Chandrayaan-3's triumph, PM Modi personally called ISRO chairman S. Somanath from Johannesburg, South Africa, to convey his congratulations. He also expressed his intention to visit the Bengaluru facility to personally commend the entire team.
"Somnath Ji, your name is Somnath, which is associated with the moon, and therefore your family members will also be very happy today. Many congratulations to you and your entire team from my side," PM Modi said in the telephone conversation. "Please convey my greetings to everyone. If possible, I would personally greet you very soon," he further said. During his presence at the BRICS Summit in South Africa, the Prime Minister engaged in the online live broadcast of Chandrayaan-3's landing.
Also Read: India Takes Historic Lunar Leap: Chandrayaan-3 Lander Successfully Lands on Moon's South Pole