Greece Wildfire: Two Pilots Die After Fire Fighting Plane Crashes
27 July, 2023 | Gautam Thakral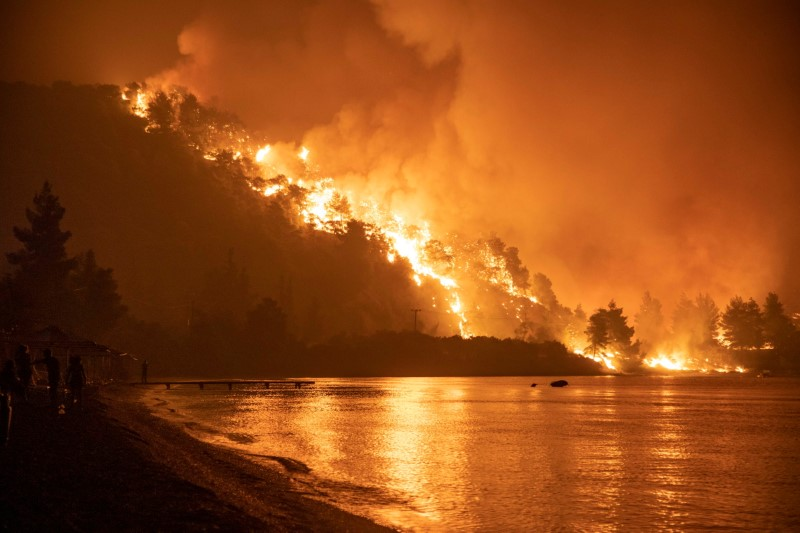 Two Greek air force pilots died in a jet accident while tackling forest fires on Evia island during a heatwave affecting the Mediterranean and Algeria.
On Tuesday, while tackling forest fires on the island of Evia, Greece two air force pilots perished in a jet accident, according to Al Jazeera.
The incident happened when Greece was battling wildfires on three main fronts, including the popular tourist islands of Corfu and Rhodes, as well as other flames in the midst of a heatwave that affected most of the Mediterranean area and claimed scores of lives in Algeria.
The nation's air force issued a statement stating that their water-bombing plane, a Canadair CL-215, crashed on Tuesday at 2:52 p.m. (local time) while carrying out a firefighting operation near Platanistos.
The plane's captain, 34, and co-pilot, 27, were both found dead after the event, according to a search operation that was launched in the region, according to Al Jazeera.
Loss of life in Greece
The loss of life in the line of duty of the Air Force officers and pilots of the firefighting aircraft CL-215, which was operating in Evia, has been recognised by the Armed Forces with a three-day period of mourning, according to a statement from the defence ministry.
According to sources, experts from the World Weather Attribution organisation stated on Tuesday that if it weren't for climate change brought on by human activity, the current heatwaves would have been virtually unavoidable.
The country in the Mediterranean is "at war" with the flames raging through it, according to Prime Minister Kyriakos Mitsotakis, who made the declaration on Tuesday.
"We must remain vigilant at all times during the upcoming several weeks. The prime minister said to the legislature, "We are at war, and we will reconstruct what we have lost. Those who were harmed will get compensation.
In addition, he stated that the nation still had "another three difficult days ahead" before the high temperatures are expected to subside, according to Al Jazeera.
While fighting the forest fires, nearly 30 people—including 10 soldiers—died in Algeria. The deaths were reported on Monday when some areas of the North African nation reached 48 degrees Celsius.
According to Al Jazeera, the Algerian interior ministry reported 97 fires in 16 regions that were sparked by ferocious winds and scorching temperatures.
Also Read: Naypyidaw: Former Leader Aung San Suu Kyi transferred to "state-owned residence" from Naypyidaw prison
Catch all the Latest Business News, Breaking News Events and Latest News Updates on NewsX)