Gujarat bridge collapse: Death toll rises to 132
31 October, 2022 | Pravina Srivastava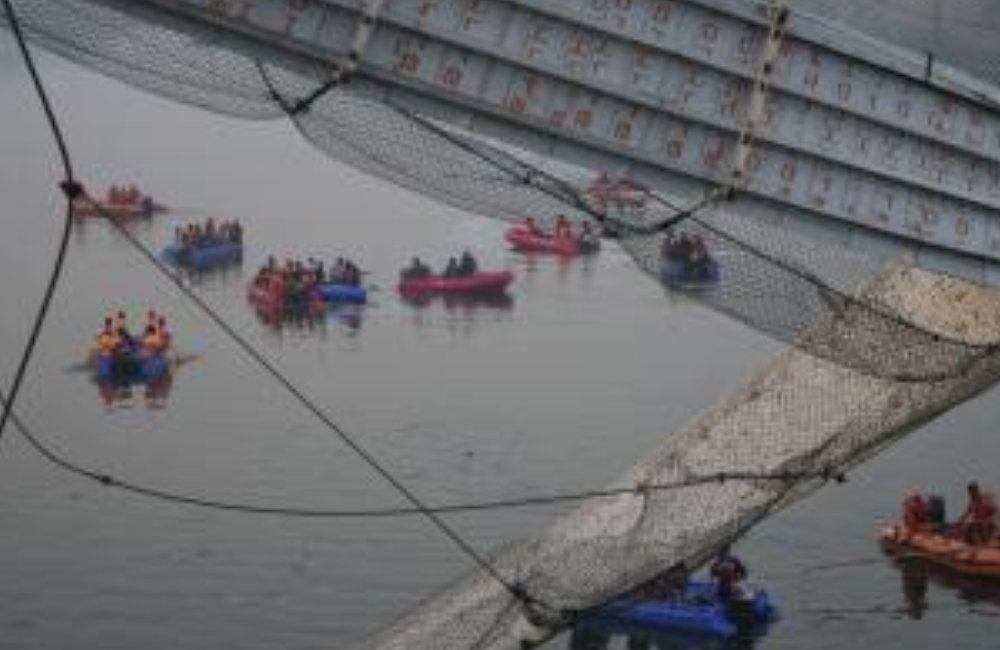 Gujarat Home minister Harsh Sanghavi today announced that there were now 132 fatalities associated with the fall of the Morbi hanging bridge
Gujarat Home minister Harsh Sanghavi today announced that there were now 132 fatalities associated with the fall of the Morbi hanging bridge.
Gujarat Home Minister also said that a criminal investigation into the event had begun. Under the direction of the Range IGP, an inquiry has started today. More than 200 people spent the whole night working on search and rescue efforts, according to Sanghavi.
After the bridge fell, teams from the Army, Navy, Air Force, NDRF, and Fire Brigade searched through the night for the Garkaw victims in the Macchu river, authorities stated.
Following the incident, at midnight, the Chief Minister Bhupendrabhai Patel, Minister Brijeshbhai Merja, Minister of State Shri Arvindbhai Raiyani, Minister of State for Home Affairs Harshbhai Sanghvi, and Minister of State Shri Arvindbhai Raiyani arrived at the scene and personally oversaw the rescue effort while providing instructions.
In addition to this, teams from other locations started showing up at the location. The injured were given emergency care at the Morbi Civil Hospital by over 40 medical professionals from several clinics, Rajkot PDU Hospital, and Surendranagar Civil Hospital.