Chandigarh: Tricolour unfurled at Khalistani leader Gurpatwant Pannun's residence as a part of 'HAR GHAR TIRANGA' Campaign
12 August, 2022 | Riya Girdhar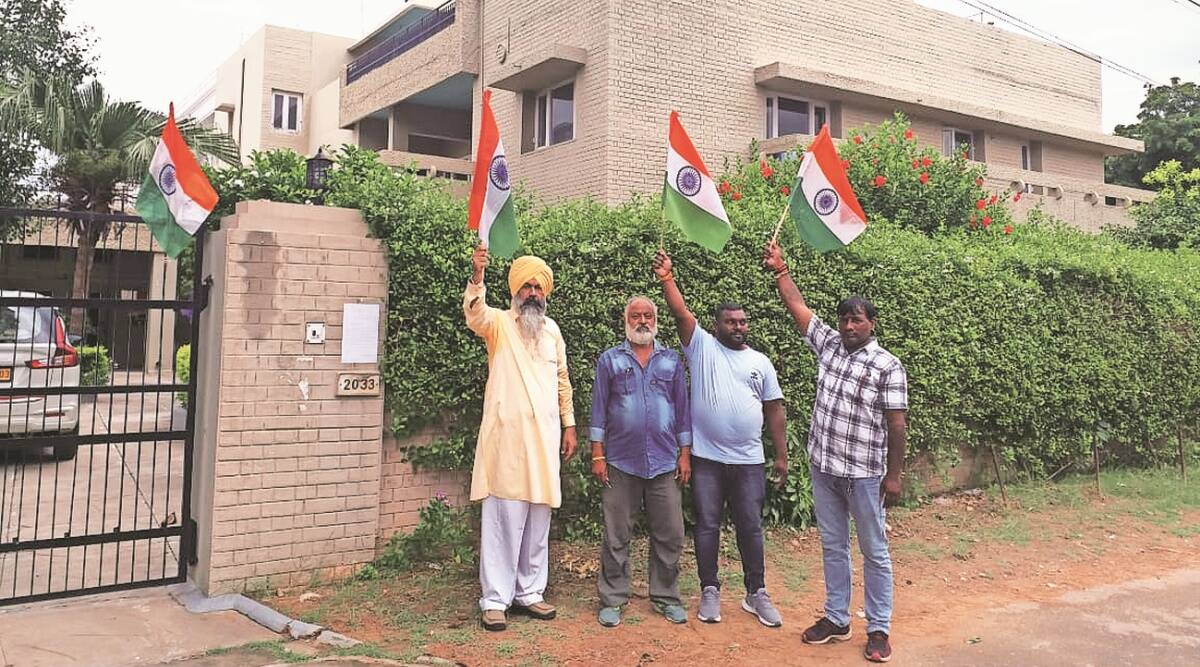 A few days ago, Pannun declared in a message that anyone flying a Khalistani flag in a prominent place would get $1,000.
Har Ghar Tiranga: The tricolor was raised on Thursday at Gurpatwant Singh Pannun's home in Chandigarh's Sector 15 as part of the current "Har Ghar Tiranga" campaign, which the federal government initiated in advance of the country's 75th Independence Day. Congress supporters arrived at Pannunn's home in Ludhiana under the leadership of Congress leader Gursimran Singh Mand, and they raised the Indian flag at the front gate.
The tricolors were carried by them, and they reportedly shouted "Bharat Mata ki Jai" and "Inquilab Zindabad" in front of Pannunn's home. This happened a few days after Gurpatwant Pannunn, the leader of the outlawed group Sikhs For Justice (SFJ), demanded that Khalistani flags be flown on Independence Day in place of the "Har Ghar Tiranga" campaign.
On August 15, Pannunn attempted to incite the people of Punjab to burn the Tricolor. Simranjit Singh Mann, the leader of the Shiromani Akali Dal (Amritsar), had also demanded that the "Har Ghar Tiranga" campaign of the Centre be boycotted. "On August 14–15, please hoist the Nishan Sahib at your residences and places of business. Sikhs are an own and distinct community, according to Deep Sidhu, who is not present among us, Mann was quoted as saying.
The Indian government has apparently been "challenged" by SFJ to replace the tallest Tiranga at the Attari border with the Khalistani flag. Gurpatwant Singh Pannunn of the SFJ made yet another declaration regarding the "Khalistan Referendum" in which he stated that they will be launching a "Ghar Ghar Khalistan" campaign from August 15 until January 26, when the Khalistan Referendum will take place in Punjab.
Another SFJ video making the rounds on social media also features SFJ's Pannunn claiming that the Tricolor will be destroyed and that the Khalistan flag will fly from every house in Punjab. It is noteworthy that the SFJ has already provided financial incentives to anyone who hoists the Khalistani flag in significant Indian locations. They promised 125,000 dollars in November of last year to anyone who would raise the Khalistani flag during the first day of the winter session of the Indian parliament.
THE SIKH FOR JUSTICE GROUP
The SFJ, a Khalistani group with US headquarters, has been outlawed in India since 2019. The government has been conducting a number of campaigns to commemorate 75 years of India's independence as part of the Azadi Ka Amrit Mahotsav. However, some radical groups have derided and rejected the idea.
This step taken by the Congress leaders has proven to be a momentary revolution in challenging the existing terrorist groups like ISIS and the SJF
Read Also: China's envoy in Sri Lanka created controversy over Chinese research ship arrival
Follow us on Twitter