A Glorious Century Rests at the Feet of God: PM Modi on Mother's Demise
30 December, 2022 | Pranay Lad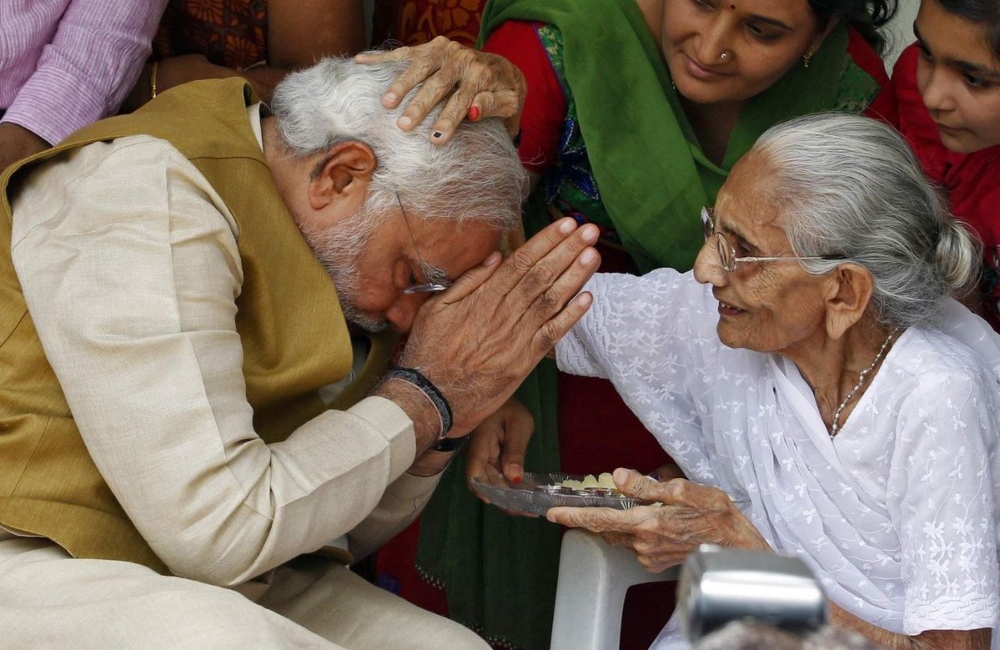 Heeraben Modi, mother of Prime Minister Narendra Modi, passed away on Friday at the age of 99.
Heeraben Modi, the mother of Prime Minister Narendra Modi, died away on Friday at the age of 99, two days after being hospitalised at Ahmedabad's UN Mehta Hospital. PM Modi posted on Twitter, "A magnificent century lies at the feet of God."
"In Maa, I have always sensed that trinity, which encompasses the path of an ascetic, the symbol of a selfless Karmayogi, and a life devoted to ideals," PM said with a photo of his mother.
"When I saw her on her 100th birthday, she told me one thing – always remember – work with intellect, enjoy life with purity," he continued.
On Wednesday, PM Modi's mother—who turned 99 in June of this year—was hospitalised in Ahmedabad, Gujarat's UN Mehta Hospital's Institute of Cardiology and Research Center. The PM also paid a visit to his mother's hospitalised condition.
Heeraben Modi was born in Vadnagar, Mehsana, Gujarat, on June 18, 1923. She has one daughter, Vasantiben Hasmukhlal Modi, and five sons: Prime Minister Narendra Modi, Pankaj Modi, Soma Modi, Amrit Modi, and Prahlad Modi. Pankaj Modi, the younger brother of the prime minister, and Heeraben Modi had a home in Raysan, a hamlet close to Gandhinagar.
This year, on the occasion of her birthday, the Prime Minister said in his blog post titled "Mother": "Today, I feel incredibly fortunate and glad to report that my mother, Smt. Heeraba is turning 100. This year will mark the 100th anniversary of her birth. Last week would have been my father's 100th birthday if he had been living. As my mother's centennial year begins, it will be a significant year.
"I am certain that my parents are to be thanked for everything positive in my life and in my character. I'm overwhelmed with nostalgia as I sit in Delhi right now, the blog stated.