Massive Landslide in Kullu District of Himachal Pradesh Causes Multiple House Collapses
24 August, 2023 | Akshara Tyagi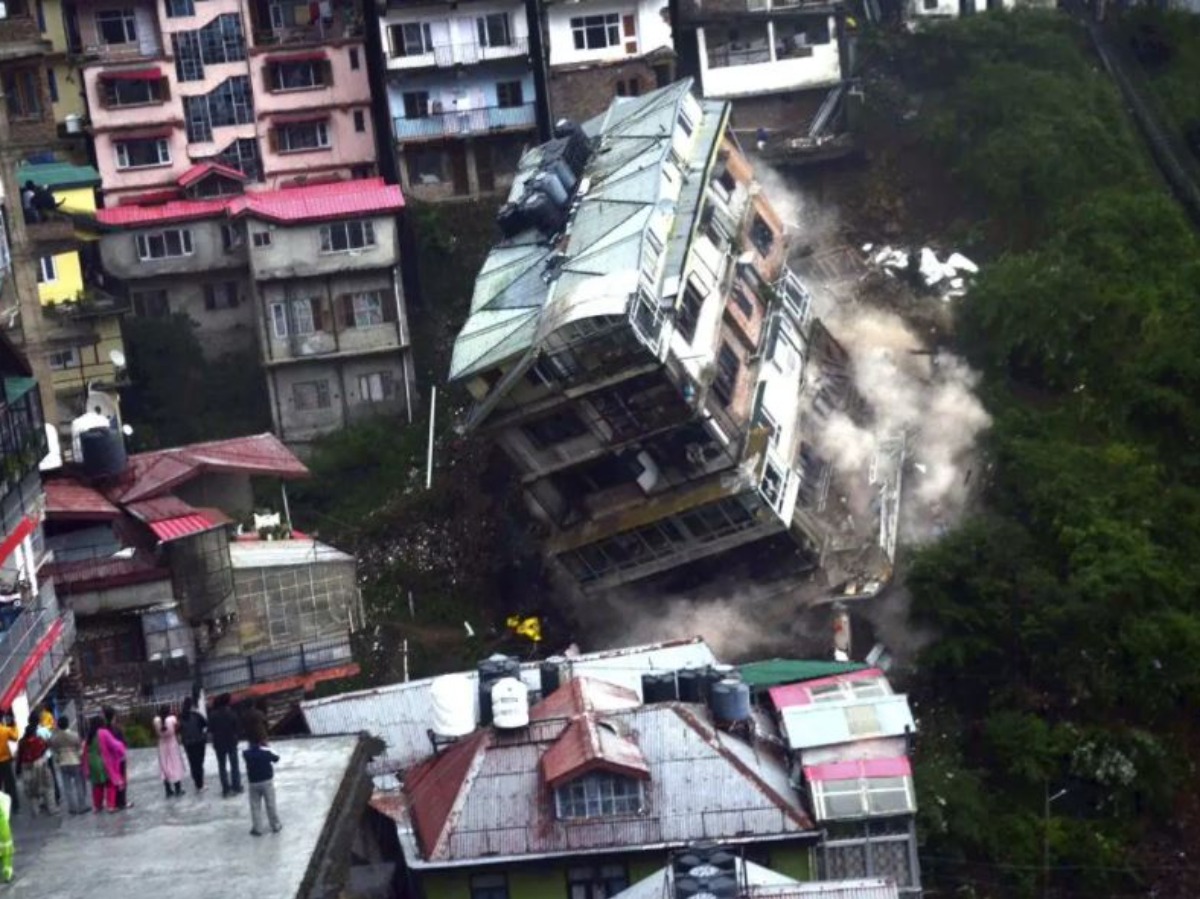 Landslide causes house collapse in Kullu district, Himachal Pradesh
Numerous houses crumbled due to a significant landslide in Himachal Pradesh's Kullu district on Thursday. The viral video showcasing the landslide's destructive impact was verified by the police. The clip exhibits houses collapsing in a cascading manner in Anni town of Kullu district. As per authorities, there have been no immediate reports of casualties or injuries resulting from the incident thus far.
"Several houses collapsed due to a landslide in the Anni town of Kullu district," a police officer told ANI. Additional information is pending.
The Himalayan region has witnessed extensive devastation and fatalities due to the heavy rainfall-induced landslides and cloudbursts. In the meantime, heavy rainfall in the district led to the impairment of the Kullu-Mandi Highway on Thursday, according to an official statement. Numerous vehicles became stranded along the route.
"There is a traffic jam stretching to nearly 5-10 kilometres. We have nothing to eat or drink. People are starving here. The snarl should be cleared soon," a commuter told ANI.
According to an official, the Public Works Department is making efforts to swiftly restore regular traffic flow.
"The road connecting Kullu and Mandi has been damaged. An alternative route via Pandoh has also been damaged. Hence, the movement of traffic is suspended for now," Sakshi Verma, Superintendent of Police, Kullu, said
Previously, the Indian Meteorological Department (IMD) issued a red alert, forecasting intense to extremely heavy rainfall in Himachal Pradesh spanning two days from Thursday. During this monsoon season, the state has recorded 113 instances of landslides.
As per a government report, a cumulative total of 224 individuals have lost their lives due to monsoon-related incidents in Himachal, with an additional 117 fatalities in rain-associated accidents. Recent information provided by the state government reveals that the ongoing monsoon havoc has resulted in a financial loss of Rs 8014.61 crore since the monsoon's onset on June 24.
Also Read: Rajat Kumar Pruthi: Leading the International Security Organisation with a Vision for Safety and Growth
Catch all the Latest Business News, Breaking News Events, and Latest News Updates on NewsX)