ICC U-19 T20 WC 2023: India appears firm favorite heading into finals against England
29 January, 2023 | Pragati Singh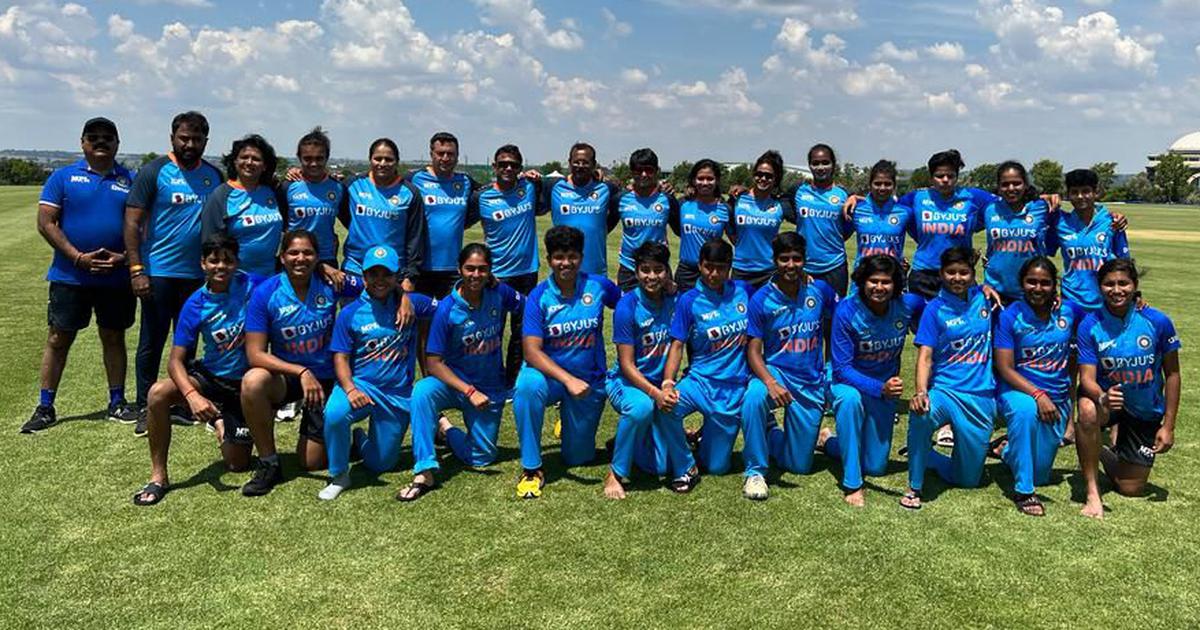 Shweta Sehrawat (#1) & Shafali Verma (#4) dominate the ICC Under-19 T20 World Cup 2023, as the highest scorers.
In the very first season of the ICC Under-19 T20 World Cup 2023, Indian batter and Vice-captain Shweta Sehrawat shone brightly amongst the 16 participating teams, amassing the highest total of 292 runs in the inaugural edition. The Mahipalpur, (Vasant Kunj, South Delhi) resident has hit three half-centuries with the aid of 49 fours and two sixes, boasting an impressive batting average of 146 after facing 207 deliveries. Sehrawat is followed by England's Grace Scrivens with 289 runs in 215 deliveries and Pakistan's Eyman Fatima at third with 159 runs. In the list of top scorers, Indian skipper Shafali Verma is placed fourth, having played six matches and scored 157 runs in 78 balls with the help of 25 fours and six sixes.
This was revealed at DAFA NEWS Cricket special show on NEWSX. The INDIAN SPORTS FANS Cric Data Metrix analysis. According to sports data scientist Kamran Muzzaffer, "This unique data examines all the legit deliveries bowled in an insightful manner with the comprehensive representation of data." This data covers all 40 matches played by 16 participating countries in South Africa.
The Indian Sports Fans Cric Data Metrix uniquely dissects the inning into three different parts, Over 1-6, Over 7-16, and Over 17-20. This helps the fan to understand and analyze the game in a statically led and rational manner.
Over 1-6
In the 1-6 overs, Shafali scored 127 runs in 66 balls with a strike rate of 192.42, the highest average at 31.75. Shefali played 26 dot balls out of these 66 balls, but still managed to hit 23 fours and 3 sixes. Shweta Sehrawat follows closely behind, having played five times in 1-6 overs and scored 93 runs in 85 balls, playing 49 dot balls and hitting 17 fours. Her strike rate was 109.41. Soumya Tiwari comes second on this list, having played only twice, but scoring 26 runs in 18 balls with a strike rate of 144.44.
Over 7-16
Shefali played 12 balls and scored 30 runs at a strike rate of 250.00, hitting 2 fours and 3 sixes. However, Shweta was the star of the show, playing 104 balls and scoring 149 runs at a strike rate of 143.27, with an average of 74.50 and 25 fours. Richa Ghosh also made her mark, playing 3 innings and scoring 69 runs off 57 balls with an average of 69.00.
Over 17-20
Shweta Sehrawat was unstoppable, scoring 47 runs off 19 balls with a strike rate of 247.37, including 6 fours and 2 sixes. She was a force to be reckoned with in these overs.
India's best bowler in the tournament has been leg-spinner Parshvi Chopra, who has taken 9 wickets in 5 matches so far. She was the player of the game in the semi-final against New Zealand, taking three wickets for 20 runs. She is currently fourth on the list of top wicket-takers of the tournament.
The Indian team has played six matches thus far in the tournament, including the semi-finals, and has emerged victorious in five of them. Unfortunately, they were unable to overcome Australia in their match. Nevertheless, they have managed to defeat New Zealand (semi-finals), Sri Lanka, Scotland, the United Arab Emirates, and South Africa.
Shweta Sehrawat shone in the U-19 World Cup, with her impressive scores of 92(57), 74(49), 31(10), 21(29), 13(17), and 61(45). She was the leading run-scorer of the tournament and is undoubtedly the future of Indian cricket.