"Ready to die than live under these duffers…" Imran Khan before his arrest
9 May, 2023 | Pragati Singh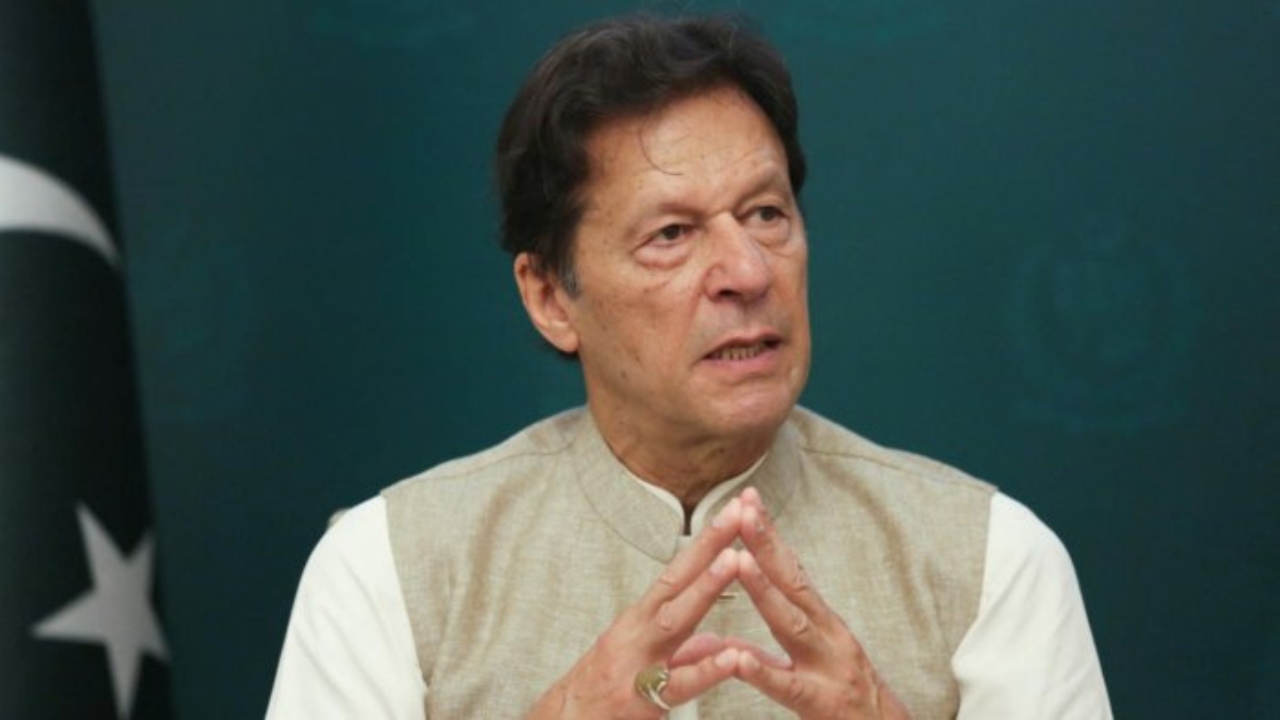 The Pakistan Tehreek-e-Insaaf chief increased his allegations against a serving senior military officer, whom Khan has accused of hatching an assassination plot on several occasions.
Former Pakistan Prime Minister Imran Khan, who was arrested by Rangers outside Islamabad High Court on Tuesday, had earlier stated that the Shehbaz Sharif government wants to imprison him and that he is prepared to do so. "I am ready to die than live under these duffers, the question is are you ready? There is no case on me. They want to put me in jail, I am ready for it," Imran Khan said in a video posted on his Twitter handle.
"My reply to ISPR and attempts by PDM (Pakistan Democratic Movement) and their handlers to arrest me for two reasons: one, to prevent me from campaigning because Insha Allah when elections are announced I will be doing jalsas; two, to prevent me from mobilising the masses for street movement in support of Constitution if PDM government and their handlers refuse to obey the SC and violate Constitution on holding of elections," he added.
The Pakistan Tehreek-e-Insaaf chief increased his allegations against a serving senior military officer, whom Khan has accused of hatching an assassination plot on several occasions. Imran Khan responded to the ISPR and "attempts by PDM and their handlers" in his video. He stated that he was leaving for the federal capital to appear before two courts.
His biting retort comes a day after the Inter-Services Public Relations (ISPR) said Imran's "irresponsible and baseless allegations" against the said military officer were "extremely unfortunate, deplorable, and unacceptable."
During a rally on Saturday, the PTI chairman accused a senior intelligence official of orchestrating a murder plot against him. "I am on the roads despite verifiable threats to my life. I have already escaped an assassination attempt once. On the second occasion, I was able to sniff out murder planning," he had said.
This was not the first time the former premier made such claims. Following an assassination attempt last year, Imran held Prime Minister Shehbaz Sharif, Interior Minister Rana Sanaullah, and a senior intelligence official responsible for the attempt and demanded their resignations.
"Before I leave, I want to say two things. Firstly, the ISPR has issued a statement that the institution has been disrespected — the army has been disrespected [by] naming an intelligence officer who has tried to kill me twice," Imran Khan said.
"ISPR sahib, listen to me carefully. Respect is not [confined] to a single institution; respect should be for every single citizen.
"This man tried to kill me twice and whenever an investigation is carried out, I will prove that it was this man and there is a whole gang with him," Imran said, adding that the nation was well aware of who was standing with the officer in question.
"My question is: [Despite being] a country's ex-prime minister — because this man's name has come forward — [why was] I unable to register a first information report (FIR)?" he added.
Imran Khan said that the truth would only surface once an investigation is carried out. "If he was innocent, it would have been revealed," the PTI chief said, terming the officer in question to be such a "powerful personality" that he was unable to register a case despite being in power in Punjab.
He said that two senior police officials had refused to become a part of the joint investigation team (JIT) formed by the Punjab government to investigate the attack on his life in Wazirabad. "Who was behind it? Who was this powerful?"
When the JIT determined that three shooters were involved in the incident, he claimed that the team was "sabotaged" and that four Counter-Terrorism Department (CTD) officials changed their statements.
"The prosecutor general investigated. He said action should be taken against the four because they tried to sabotage [the JIT]. Who was behind them? Who was this powerful?"
Imran Khan also claimed that the Inter-Services Intelligence (ISI) had taken over the Judicial Complex in Islamabad the night before he was scheduled to attend a hearing in the Toshakhana case in March.
The chairman of the Pakistan Tehreek-e-Insaaf has already stated that he did not disembark from his vehicle because "unknown people" were positioned nearby with plans to kill him.
"I will prove that ISI [officials] were present in CTD uniforms and lawyers' garb. I will prove that a brigadier, who I will not name, was there to monitor everything. What was the ISI doing there?"
"I will show that ISI [officials] were present, dressed in CTD uniforms and lawyers' attire." I will demonstrate that a brigadier, whom I will not name, was present to oversee everything. "What exactly was the ISI doing there?"
Imran Khan claimed that the mother of slain journalist Arshad Sharif had obtained the names of the intelligence officer and the gang in which he was involved, but that no investigation was conducted because he was a "holy cow" and thus above the law.
"ISPR sahib, when an institution takes action against black sheep, it improves its own credibility. An institution which catches corrupt people strengthens itself."
He stated that when a doctor or an employee does something wrong at Shaukat Khanum Memorial Hospital (SKMH), action is taken.
"It is my army, my Pakistan not just yours. It is our army," Imran asserted. He also bemoaned the crackdown on those who were outspoken in their criticism of the military establishment, claiming that it was harming the institution.
Imran Khan went on to say that there was no need for a large contingent of police and other officials to accompany him to court in Islamabad.
"If someone has a warrant, come to me directly […] I am prepared to go to jail […] spending so much money as if a major criminal… is coming to Islamabad. Do us a favour and don't stage such a drama and directly provide a warrant," he said, asserting that he was mentally prepared to go to jail.
He also stated that the plan devised by "Dirty Harry" involved a gang of people, and that if God so desired, he was willing to die at their hands. He concluded his video by urging the nation to "get ready."
In a shocking turn of events, PTI chief Imran Khan was arrested in the Al-Qadir Trust case while attending two hearings at the Islamabad High Court (IHC) on Tuesday afternoon.
Imran was arrested in the "Qadir Trust case," according to Islamabad police, who issued a statement quoting Inspector General (IG) Akbar Nasir Khan. The police chief also stated that the situation in Islamabad was "normal," adding that Section 144 had been imposed in the city and that violators would face consequenc.
Following the Tosha Khana scandal, which involved the auctioning of 112 precious gifts that Imran Khan and his wife Bushra Bibi kept at nominal prices from the treasure house, another scandal involving the ousted PM, his wife Bushra Bibi, and their close aides Zulfiqar Abbas Bukhari and Zaheer Ud Din Babar Awan has emerged, exposing the malpractices, legal gaps, financial speculation, and operational issues of the Al-Qadir University Project Trust
"Former PM Imran Khan has been abducted from Court premises, scores of lawyers and general people have been tortured, Imran Khan has been whisked away by unknown people to an unknown location, CJ Islamabad High Court has ordered Secy interior and IG police to appear within 15 min in the court," tweeted PTI Vice President Fawad Chaudhry.
PTI lawyer Faisal Chaudhry first confirmed Imran's arrest to Dawn.com, prompting IHC Chief Justice Aamer Farooq to order the Islamabad police chief, interior ministry secretary, and additional attorney general to appear in court within 15 minutes.
The PTI's official Twitter account also shared a video of Imran's lawyer, who was "badly injured" outside the IHC, saying that he was shot. It also posted a video with images from Imran's alleged arrest. "Pakistan's brave people must come out and defend their country," said the party.