Indian hockey team beat Spain in FIH Men's Hockey Pro League
7 November, 2022 | Pranay Lad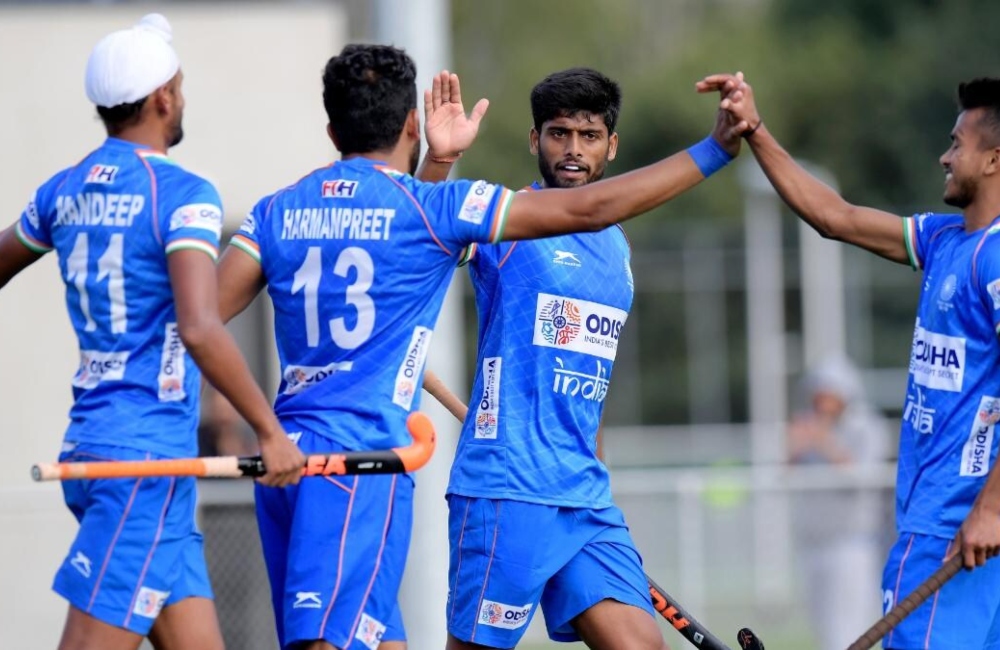 In the FIH Men's Hockey Pro League 2022-2023 game on Sunday at the Kalinga Stadium in Bhubaneswar, the Indian men's hockey team defeated Spain in an exciting 2-2 (3-1 SO) victory.
India's captain Harmanpreet Singh scored twice  (7′, 32′). Spain's captain Marc Miralles and Pere Amat each scored a goal in normal time to take the game into a shootout, where India easily defeated their opponents thanks to goalie Krishan Pathak, who stole the show.
Mandeep Singh received the ball from Jugraj Singh and attempted to enter the circle for India's first opportunity in regular time, but was stopped by the Spanish defence. India was awarded a penalty corner following a left flank assault, but Jugraj Singh's attempt narrowly missed the target.
A few minutes later, India's Shamsher Singh produced another penalty corner, and this time Harmanpreet Singh scored to give India a 1-0 lead.
With Spain behind by one goal, they played with a sense of urgency to get the equaliser. Jordi Bonastre gave his side an early opportunity for a penalty corner, but Manpreet Singh blocked the effort. Deep within India's half, Spain attempted to push, but Raj Kumar Pal did brilliantly to hold onto the ball.
Spain Alvaro Iglesias was in front of the goal when captain Marc Miralles from the left wing provided a wonderful opportunity. However, India's goalkeeper Krishan Pathak produced a spectacular save to foil Spain, and India maintained its 1-0 advantage at the break.
With Mandeep Singh driving deep into Spain's half and collecting an early penalty corner, India started the second half by posing a danger to the Spanish defence.
India increased their advantage thanks to another set piece conversion from Harmanpreet Singh, who again enthralled the Bhubaneswar audience. Krishan Pathak made two outstanding stops to prevent the opposition from scoring from back-to-back penalty corners. Late in the third quarter, Marc Miralles gave his side their first point by breaking the chains.
Only 15 minutes remained in the game when Spain made a strong push deep inside India's circle to score the equaliser and win another immediate penalty corner. Spain wasted the chance to put pressure on the hosts because Marc Miralles was unable to get a hold of the ball.
As he dribbled by Spanish players inside the circle, Abhishek generated a risky opportunity, but the ball barely missed the mark. With a late goal by Pere Amat, Spain evened the score and forced a Shoot-Out.
India's first try was successful thanks to Harmanpreet Singh, while Spain's first effort from Joaquin Menini was stopped by Krishan Pathak.
With his second shot, Raj Kumar Pal increased India's advantage, but Rafael Vilallonga also missed for Spain.
Gerard Clapes scored for Spain after Shamsher Singh missed for India. Marc Miralles' attempt was blocked as India won the game and the bonus point after Abhishek made it 3-1.